Download Axes.io APK and start your journey to become a legendary ax warrior through constant survival. This is a battle royale, where your weapon is your ax.
A Crisp Analysis Of Axes.io
AXES.io is a survival battle royale game where your only weapon will be an ax. You will not be dropped on an island with just clothes on your back; you will also have your ax. You can throw your ax at enemies to defeat them. You should be the last player standing to emerge victorious and complete the game.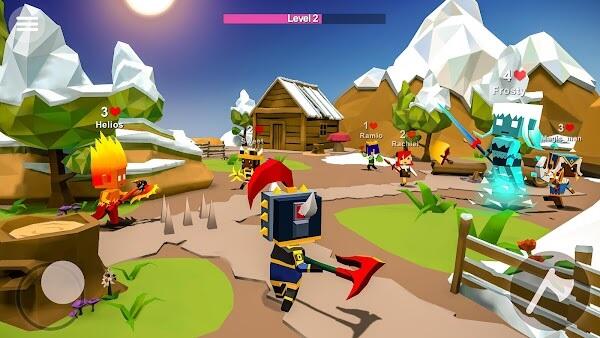 On winning a game, you level up your character. Your aim should be to level up to the maximum and complete all game levels. This is a multiplayer game, and you would be competing with other players worldwide. You need to complete all levels to become the overall victor – the legendary ax warrior. There are several character options for your in-game avatar. The weapon range is limited to axes, but there are lots of axes for your fight.
Engaging Gameplay
AXES.io offers an exciting and new kind of gameplay that you would not usually expect from most traditional battle royales. You can only depend on axes, which are your primary weapons, and throw them at enemies to damage them. Your aim should be to survive the game and defeat your enemies and opponents. The last man standing wins. Others lose and gain nothing. Though losing may give you experience points that help you level up, the amount is insignificant compared to what's your winning trophy.
8-bit 2D Graphics
The 8-bit 2D graphics of this game is one of its unique offerings. This means that the game is not heavy from the graphics point of view and can be run on even older phone and tablet models, which do not have high hardware specifications.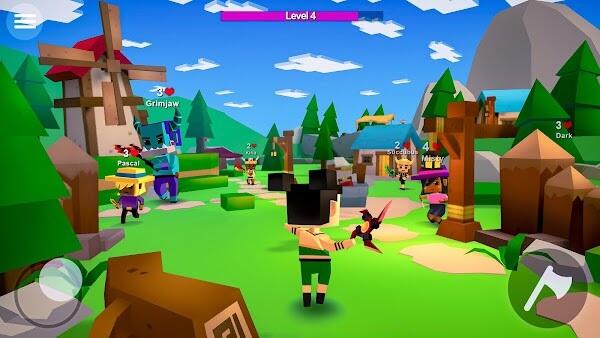 Further, the game is really simple and easy to play and can be played by people of all ages. The 8-bit graphics give off a retro arcade-like vibe and would feel nostalgic for many players.
Ax Battle Royale Is Here!
Most battle royales you have played to date would usually come with a wide range of weapons. Weapons like melee weapons, rifles, shotguns, pistols, and throwables, to name a few. However, this is very different in the case of AXES.io, as your main offensive weapon is an ax. Though there are different kinds of axes you can use, each with its unique skills, there is no other class of weapon to depend on. You need to throw your ax at your enemy to deal damage to them. However, the axes only travel straight distances, so your accuracy will be tested throughout the game.
Tons of Axes To Choose From
Your primary weapon throughout the game is an ax. However, there is a wide variety of axes for you to choose from. Each of them comes with different abilities and specifications and has different looks as well. With better weapons, your chances of surviving the battle royale increase significantly.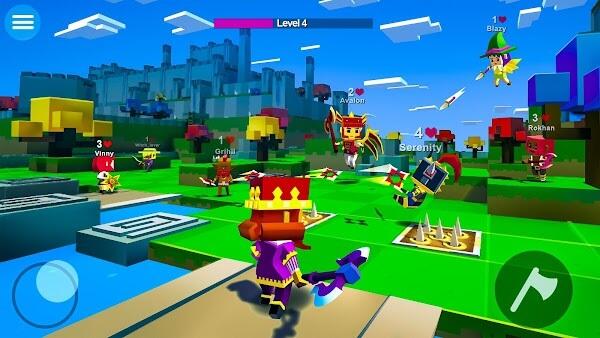 Level Up ASAP!
As you fight against your opponents, you level up and become stronger. One of your main objectives throughout the game is to level up and defeat stronger players in the battle royale and be the last man standing. After all, if you are unable to defeat your enemies, you lose the game! Winning games and defeating more enemies would naturally give you enormous amounts of experience points that help you level up. However, that does not mean losers get none! They, too, receive some experience points, but it is usually way less than what the winner gets. So you should always aim to be the last man standing in the game.
Colorful Gameplay
The colorful gameplay offered by the game is what makes it even more interesting and enjoyable to play. The distinct colors set the players apart from each other. Further, the colorful landscapes are a great way to escape from the dull and monotonous view of many other games. The color scheme is one of the best offerings of this game, making it enjoyable for young kids and adults alike! Further, the graphics and the colors give off a retro vibe, just like most arcade games. The feeling of nostalgia makes many adults also love the game.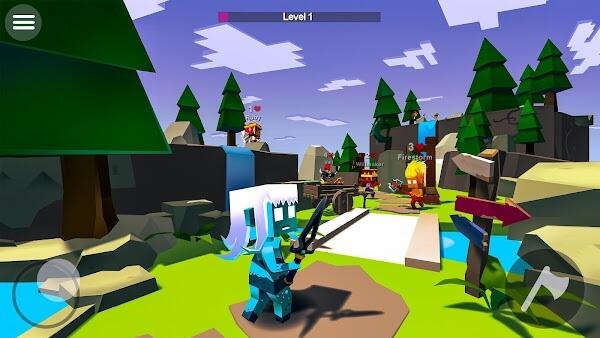 Third-person Point Of View
The game offers a third-person view of the whole gameplay. This is a bit different from most other battle royales, which offer both a first-person perspective or FPP view and a third-person perspective or TPP view. However, you soon get accustomed to the third-person perspective and will be able to easily win against your enemies on the battlefield. Many players often prefer the TPP view as they can see their own movements and actions in the game. A direct view can be very helpful in improving efficiency in dealing with the game character.
Beat Them Before They Beat You!
The game is an all-out battle royal, where your objective is to be better than the rest and be the last one standing. Without waiting for others or without relaxing, you need to take out all your opponents to become the winner. Your only weapon is your ax, and use it to its fullest potential for bagging the victory.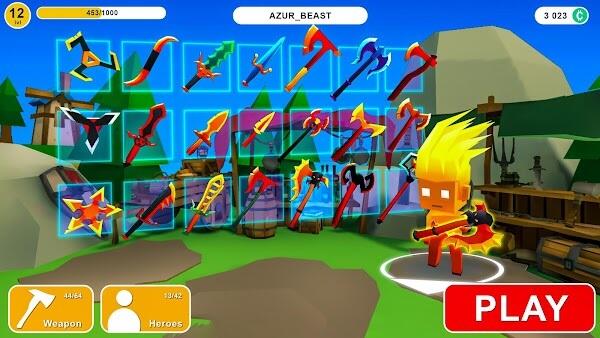 How To Play?
The game is pretty simple and easy to play. When you start with it, you will go through a tutorial stage to help you get accustomed to the game. The basic controls and other details you need to play the game will be introduced to you. The basics involve knowing how to move and throw your ax at your opponents. There will be pink crystals scattered throughout the map. You need to collect them to be able to level up your character and become stronger.
You can choose one of three available abilities to power up your game character every time you level up. The various available abilities include increased damage, additional poison damage, increased movement speed, and increased speed of your weapon, among others. The ability you choose needs to be implemented properly to help you win the game.
Conclusion
Now you must know quite a lot about the setting and concept behind AXES.io. However, suppose you want to experience the gameplay and better understand and know about the game. In that case, get a flavor of this game by playing it all by yourself. Download AXES.io on your mobile or tablet devices, or play it online to enjoy the game!