Download Angry Birds Friends APK today, a puzzle video game where you can compete with friends and against the world with access to twenty-four new levels every week!
An In-Depth Description of Angry Birds Friends
Angry Birds Friends was released as an exclusive Facebook game called Angry Birds Facebook and was released on the 13th of February, 2012. Angry Birds Facebook was later changed to Angry Birds Friends on the 23rd of May 2012. Angry Birds Friends on Facebook was a great way to join the community and share high scores and love for the game.
Angry Birds Friends is a multiplayer video game developed and published by Rovio Entertainment. It is the fourth game in the Angry Birds series and is available on Android, iOS, and Microsoft Windows platforms.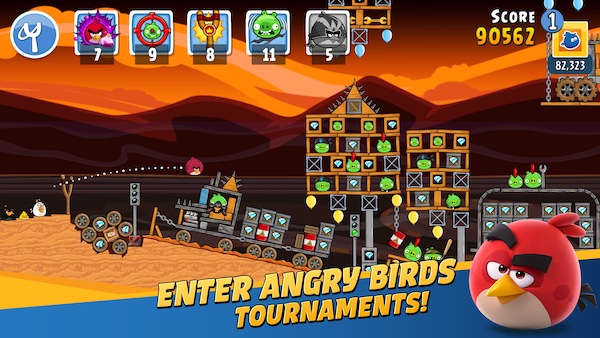 Angry Birds Friends features the usual tower-crumbling and classic bird-flinging from the original Angry Birds game with some additional features that users surely do not want to miss out on. You can participate in Angry Birds Friends tournaments and also go head-to-head against individual opponents competing for the Star Cup.
There is the piggy tower mode in the Angry Birds Friends game, and gamers have to make it past levels one to ten to unlock the tournament feature. Currently, the top floor is 36, with 110 levels filled with new Angry Birds action.
Gamers also get access to an Angry Birds Friends Halloween-themed game; dark forces have infested the pigs turning them into scary creatures and a beautiful day into a frightening night. You can also join the Angry Birds Friends Halloween tournament, a series of horror tournaments in Angry Birds Friends.
Angry Birds Friends requires that users log in to Facebook to sync their progress to their account, but you can choose to play without logging in to your Facebook account. Also, since gamers have access to new levels every week, the top three winners will earn in-game currency called Bird Coins. Gamers can use this currency to purchase different things like additional bird slingers.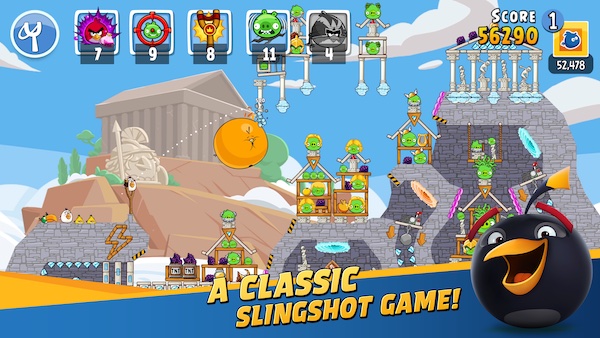 Do you think you have what it takes to emerge on the top of the leaderboards in this game?
Download Angry Birds Friends today and find out!
Features of Angry Birds Friends
Let us look at some things to expect when you play the Angry Birds Friends game; the best way to enjoy this game is if you use Facebook.
Did you know that in August 2012, Rovio Entertainment partnered with Green Day, a punk band? Twenty new levels of Angry Birds Friends were released on Facebook and featured all the band members. It also featured Green Day's latest single, and this exclusive track became an Angry Birds Friends song. All the levels were later removed in December 2012.
Facebook Integration
The major feature of the Angry Birds Friends game is the Facebook integration; players can play with their friends using Facebook, which is why a Facebook login is usually required. Facebook is a viral social media network, so it is no surprise that people love this feature, but some reviews state that it would have been equally nice to have Google+ integration.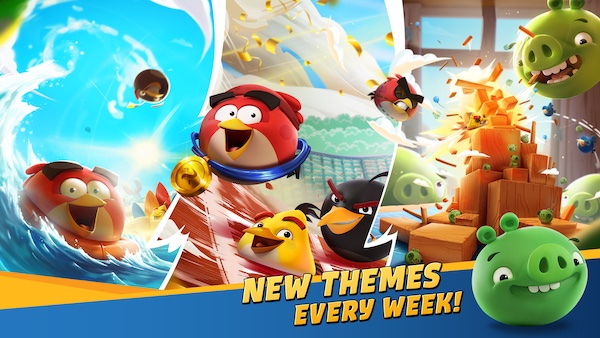 Angry Birds Friends on Facebook makes the game even more enjoyable for users; they can send gifts (power-ups) and invites to their friends and enjoy a fun game together (it is a multiplayer game). There are different power-ups in the Angry Birds Friends Game, such as bird power-ups and slingshot power-ups. So, you can give your friends any power-ups, and they can also choose to send some to you.
Tournaments
The best way to enjoy an Angry Birds Friends game is by competing in tournaments; do you think you have what it takes to emerge as the winner in these competitions? Unfortunately, the weekly contests are not precisely between two people; you play the new levels every week, and your Facebook friends will do the same; whoever scores the highest point at the end of the week is the one who wins.
You can participate in the special themed tournaments every week or the new competitive matches every Monday, Thursday, and Saturday. There is also the Star Cup tournament, where you challenge and play against other Angry Birds Friends players head-on.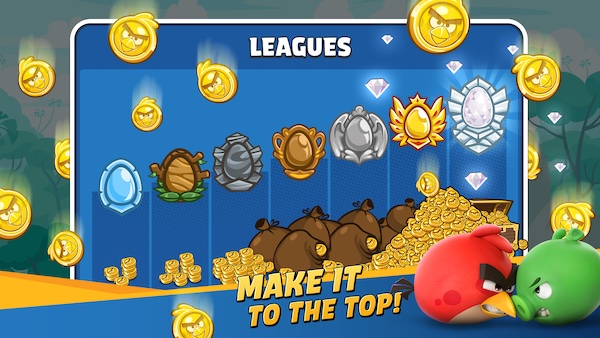 Players get free power-ups, special slingshots, and effects in the Star Cup tournament for every level. They can also collect feathers (feathers are rewards you get when you win a Star Cup game) to level up their birds and achieve more scoring power. Lastly, players get more rewards when they win several matches in a row.
Angry Birds Friends Gameplay
As stated above, the Angry Birds Friends Gameplay is the usual 'shooting birds at pigs' like the original Angry Birds game. The only difference is that there are more tournaments and new levels to participate in. When players engage in a tournament play, they can open a tab (on the right-hand side) to see who is winning the game.
So, if you are a die-hard fan of the original Angry Birds game, you should know that this is a replica with the same old birds and new birds (that were introduced in later versions).
Graphics
Everyone loves a game with impressive graphics as this adds to the entire gaming experience, and luckily, you will not be disappointed with the Angry Birds Friends graphics.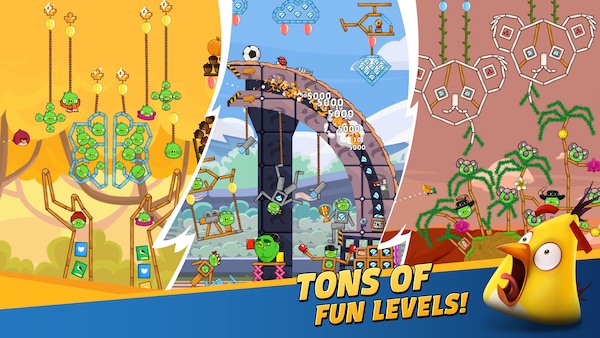 It is the same as most of the other games in the Angry Birds series; fun sound effects, sharp graphics, and bright colors. The upgrades in the game make the graphics look a lot better and cooler from whatever device anyone uses.
Conclusion
There you have it; all you need to know about the impressive and fun Angry Birds Friends game. Download the Angry Birds Friends game today and get to shooting pigs with birds! This game is a force to be reckoned with, so what are you waiting for?