Download World Conqueror 4 APK, a turn-based military game about World War II. Now, you can appreciate and experience the cruel but true nature of wars from your device.
An In-Depth Description of World Conqueror 4
World Conqueror 4 is a rekindled version of World War II where players can mobilize troops, go into battle, and become commanders while appreciating the war's cruel but true side. The World Conqueror 4's initial release date was on the 24th of August 2017; this game was published by EasyTech and is said to be one of the best war strategy games.
World Conqueror 4 features some interesting historical events, such as over one hundred historical campaigns, and players experience different historical moments: the North African Campaign, the battle of Stalingrad, the battle of Dunkirk, and the battle of Midway Islands. Purchase a World Conqueror 4 general and lead your army to achieve strategic objectives within limited periods and conquer the world with their help.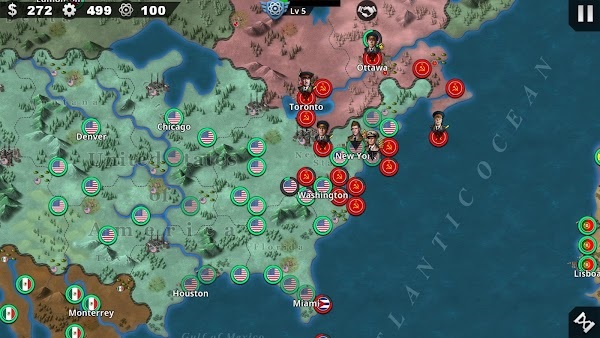 Unfortunately, no World Conqueror 4 multiplayer mode exists, but this does not stop players from enjoying an exciting game experience. Players start this game playing conquests in 1939, and you will have to complete these conquests and campaigns so you can have access to more content.
There is so much to look forward to in the World Conqueror 4 strategy game; here, you can experience World War II, 1939 and 1943, the Cold War 1950, and the Modern War 1980. Also, when you complete achievements, you receive rewards such as resources and, sometimes, medals. Think of it as history class but more exciting and tasking.
This fun and exciting strategy game is available on Android and iOS devices (iOS players get to experience terrorists with supreme combat ability in the 1980 conquests or the United Nations Campaigns); the World Conqueror 4 download process is straightforward, so you can get right to it!
World Conqueror 4 Guide
After reading through the in-depth description, the major thought on your mind will probably be how to win World Conqueror 4. Let us look at some of the World Conqueror 4 tips you need to know before downloading the game.
Game Modes
Like every other exciting game, World Conqueror 4 has game modes, three to be exact; Conquest, Domination, and Scenario.
Conquest: The Conquest game mode involves players leading nations to 'conquer' the world, and they can choose from four different types; 1939, 1950, 1943, and 1980. Players have access to the 1939 conquest immediately after they download the game. Still, they will have to complete a similar chapter in the Scenario mode so they can unlock the remaining contents.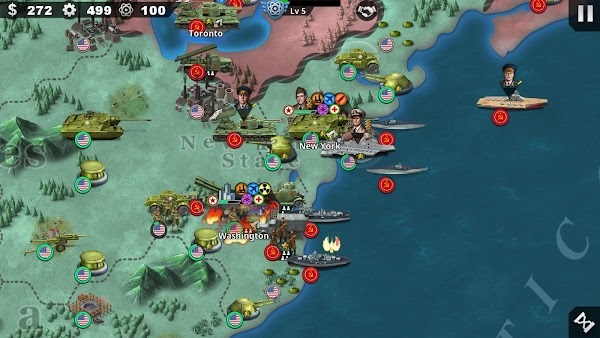 Players can choose a participating country in the Conquest mode to win the game, and the difficulty of these countries is divided into stars, with one star being the hardest and three stars being the easiest. They are Great Powers (three stars), Regional Powers (two stars), and Minor Powers (one star). At first, the Great Powers are the only ones who can produce heavy tanks.
Rewards are given to players depending on the difficulty of the country chosen and their ranks. When you finish a conquest, you will be ranked between the S, A, B, C, and D ranges. You will get greater rewards if you successfully finish a conquest against a low-star country.
Domination

: in the Domination mode, players get to handle different tasks such as trading resources, engaging in and completing challenges, playing exercises, handling invasions, campaigning for famous generals, etc. When you complete some tasks in the Domination mode, you will receive resources and in-game monetary rewards; the more you complete, the more resources you will get.
Invasions involve playing daily battles (infantry, tank, naval combat), and it comes with three levels of difficulty (easy, moderate, and challenging). Missions are daily tasks that, when completed, players will receive resources as rewards. In Exercise, players must purchase and deploy their troops and, if completed successfully, get landmark buildings and resources.
When Challenges are completed, players receive rewards based on their completed challenge. Players do not need to purchase and deploy their troops in this game aspect. Lastly, players can trade their resources for other items they need.
Scenario

: this is the last game mode, which is about Mainline Campaigns and tutorials. It has two levels, the normal and hard; the latter can only be unlocked after completing the former. The tutorials help players and teach them all they need to know about the game and rewards, while the Mainline Campaigns consist of events from World War II, the Modern War 1980, and the Cold War 1950.
World Conqueror 4 Generals
The World Conqueror 4 generals can be purchased and assigned to your units. Their stars show where their strengths and weaknesses lie, and you should choose one with great stars and skills.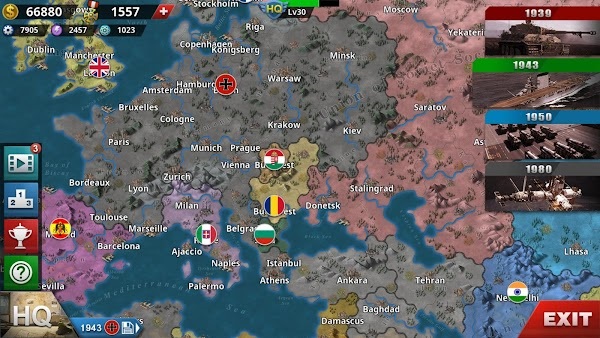 Erich Von Manstein:

he is the second-best tank general in the World Conqueror 4 game with a price of $13.99. He is a Marshall in the Gold (IAP) academy and has six full stars in his panzer and marching abilities. He was a German Field Marshall of the Nazi's armed forces in World War II.

Georgy Konstantinovich Zhukov:

another Marshall in the Gold (IAP) academy, and he costs $11.99. He was a Soviet Red Army General that became a Chief of General Staff, among other titles in the second World War. He has six complete stars in infantry and artillery.
David Dwight Eisenhower

: a Marshall in the Gold (IAP) academy, and he costs $9.99. He has six complete stars in his air force and navy abilities. He served as the 34th president of the US and was also an American Army General during World War II (a five-star general).
World Conqueror 4 Medals
Generals use World Conqueror 4 medals to improve their skills which are unlocked when the general completes achievements. There is also the medal reward players get when they complete tasks (domination), wonder milestones, and conquests. There are sixteen skill medals, some of which are freedom, honor, victory, knight, cross, patriotic, and hero.
Other Features of the World Conqueror 4 Game Include:
In the World Conqueror 4 game, there are 42 skills, 16 medals, 230 popular generals, 216 military units, and 50 countries.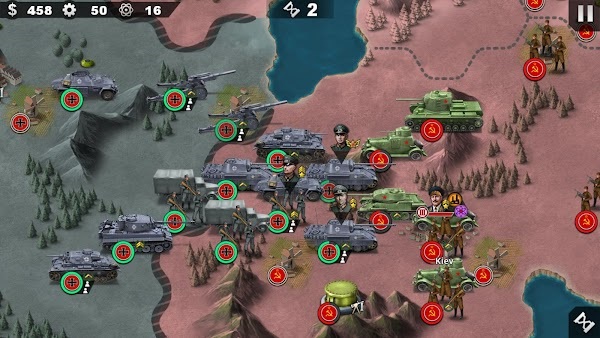 There are over fifty achievements waiting to be completed.

There are over one hundred campaigns, forty challenge battles, and 120 legion battles.

There is an automatic combat feature, and AI will command your army when turned on.

There are about 175 technologies, including space weapons, missiles, and nuclear bombs.
Conclusion
Download the World Conqueror 4 game today; deploy troops, purchase generals, create strategies to win battles, become a commander of your army, and experience World War II from your mobile device. This game has tons of positive reviews, so you will never be disappointed.