Download Voila AI Artist APK latest version and transform your favourite photos into beautiful and funny characters as reconceptualized with Artificial intelligence.
Voila AI Artist
Voila AI Artist is a digital photo editing application for Android and iOS users. If you have ever used Snapchat and the likes, you would have an idea of what to expect with the Voila AI Artist app. It exploits Artificial intelligence to reimagine the photos users upload into stunning cartoon replicas. Users can select their preferred theme from the myriad of themes available on the platform and create cartoon images.
About the app
Voila AI Artist cartoon photo app is very easy to use with its intuitive user interface. You don't need to be tech-savvy to navigate the app. Artsy and creative people would Voila AI Artist because it can create caricaturized digital images of faces like Cartoon avatars. Voila AI Artist is a fun platform and can easily show you what you'd look like if you were a cartoon or a 15th, 18th, or 20th century renaissance painting.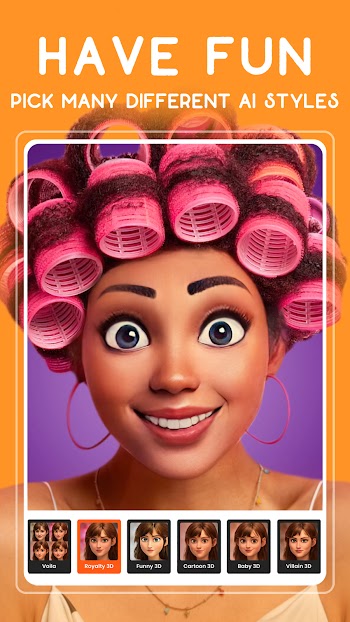 Although the app doesn't have advanced filters like other editing apps, it combines user creativity with AI. The app has eight different filter features, namely 3D cartoons (Pixar or Disney style), Renaissance paintings, celebrity cartoons, portrait 3D cartoons, prehistoric cartoons, Kpop toon, 2D cartoons (Disney lookalike) and caricatures. For each of these features, there are sub-variants. For example, the renaissance filter has three different variants you can choose from the 15th, 18th, and 20th centuries.
Users cannot manipulate their images beyond the filters on the platform, like tweaking the appearance of their hair colour or nose contour. The app also has a unique feature that allows users to search for celebrity images and transform them into famous cartoon characters or renaissance paintings. This is where it gets fun, Voila AI Artist, can reimagine Brad Pitts's photo as a Disney princess (Frozen or Cinderella, your choice), and the outcomes are always stunning and hilarious.
Voila AI Artist app download is relatively easy and the first step to accessing the features of the app. After downloading, install the app and start using it immediately. The app doesn't require users to create accounts by providing their email and other personal information.
After installation, you will be presented with the different cartoon features available on the app. Select your preferred cartoon feature and upload a photo. You can choose existing images from your gallery or use your phone camera to take a new one.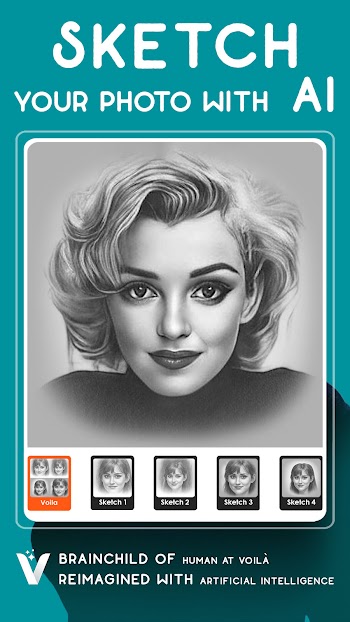 If you choose a preexisting photo with more than one face, an error message will pop up that reads, "ooooops… several faces have been detected. Select one to continue :)." It is only the photo you selected that would be edited. This means that Voila AI Artist can only manipulate one face at a time. Once you are done with your edits, you can instantly share the images on your social media platforms or save the photo to your phone.
Features of Voila AI Artist
Voila AI Artist has several features, and they are listed below.
Fun edits
With one click on the Voila AI Artist platform, you can transform your new and old photos into art within a few seconds. The edits are pretty diverse. You can turn all your favourite pictures into 3D, 2D, Renaissance, Prehistoric, and Kpop toons cartoons. After making edits, you can immediately share them with friends and family. This app is addictively fun in its entirety.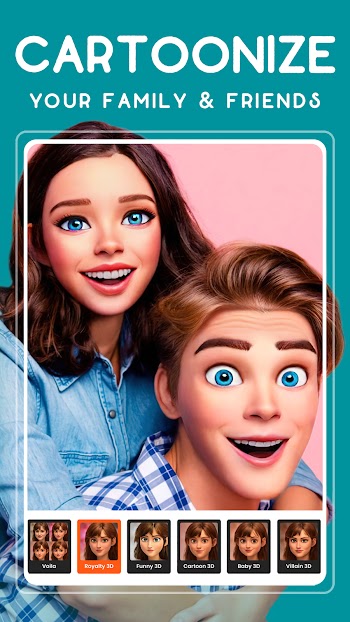 The edits might be cartoonish, but they will serve as the perfect avatar for your social media accounts. Instead of using your original photos as profile pictures on social media and standing the risk of the photographs being stolen by creepy internet users, you can use Voila AI Artist cartoons. Unfortunately, these edits cannot be used on pets as it only detects human faces.
Privacy settings
In this century, one of the most sought-after features is assurance that users' privacy is protected. User data in the wrong hands can be disastrous. The app doesn't request email or other personal information. But after the Voila AI Artist app download and installation prompts asking for access to your photos and camera will pop up. Allowing access gives the app permission to transfer and store your images whenever you want to use the app. However, the photos collected are deleted after 24-48 hrs, according to its privacy statement.
Voila AI Artist Pro
Voila AI Artist and its parent company also use the information collected for targeted advertising. When you use the Voila AI Artist online free app, you will notice that it is flooded with ads. Before, after, and in between every edit, there's an ad pop-up, which has interrupted several users' user experience. It is for this reason that the Voila Artist Pro was created.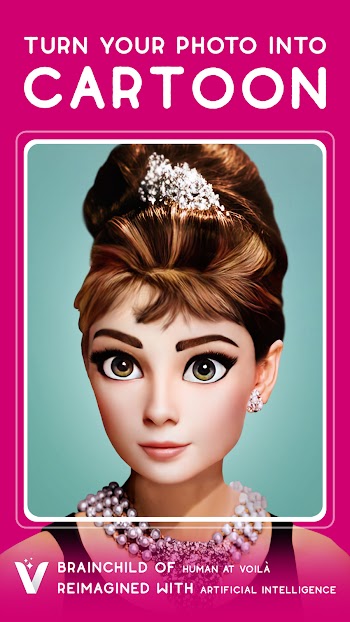 The Voila AI Artist pro is an upraded version of the Voila AI Artist free download with added functionalities like ads removal, turbo processing, watermark removal, and unlimited image creation. The Voila AI Artist free download uses over 30 seconds to edit features, but the Premium pro version accelerates the manipulation process to less than 10 seconds.
Voila AI Artist pricing
The subscription for the pro version is very affordable and has a free trial for the first three days. The subscription package differs for Android and iOS users. On the Voila AI Artist Android version, the subscription costs $2 per week, $4 per month, or $21 a year. While on the iOS version, it costs $3 per week, $6 per month, or $30 per year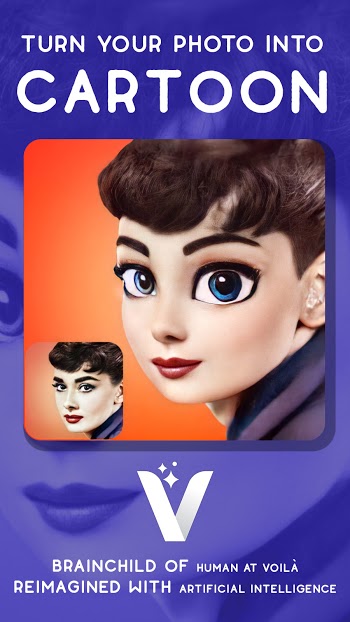 Conclusion
The Voila AI Artist is great for exercising your creative side without using a paintbrush and palette. You can turn your favourite celebrities into different ranges of animated characters on the platform. If you have ever wondered what Angelina Jolie would look like if she were the Monalisa, Voila AI Artist has features to execute the look flawlessly. Whether you use the Voila AI Artist free or pro version, you are opened to a world of possibilities to change your facial appearance as you deem fit. Have fun creating Disney and Pixar-style photos with the Voila AI Artist app today!