Download Surgeon Simulator APK, an anatomy and surgery simulation game. Practice and become a great surgeon, hold the scalpel and save the lives of ill-fated patients.
Surgeon Simulator Description
If you think fighting in horror games is scary, wait until you're faced with blood from performing surgeries. Surgeon Simulator will get you all worked up with blood as you struggle to become a powerful hero and save lives.
Play the role of a surgeon to perform surgeries from the simplest to the most complex. Since you will be dealing with the human body, brace yourself to graft, hold, dissect, touch, replace and manipulate internal organs. You can experience the game in two ways: as the doctor in the operation room and as the patient curious to find out what surgery is about. At the beginning of the game, you are bound to make mistakes, which would be corrected with dumb solutions. Nonetheless, you're expected to learn from the situation and gain experience.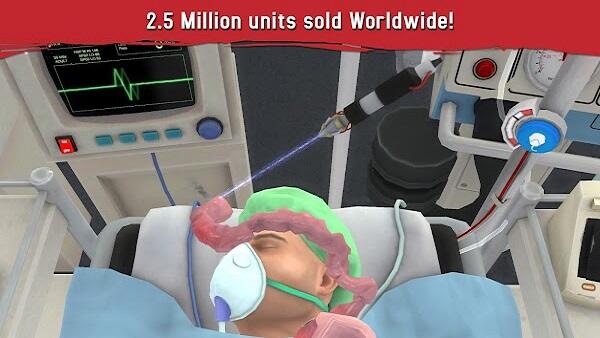 Surgeon Simulator for Android is divided into parts - surgery cases. Every case comes with a brief name and mission of the surgery team. These missions include heart transplants and kidney transplants but do not come with assistance or instructions. You would be faced with an operating room with medical equipment all over the place and a patient waiting to be treated. This scene will leave you overwhelmed and terrified, but you must maintain your cool.
Your first time in the operating room would be filled with mistakes. You would tremble when a tool gets in your hand and make mistakes due to confusion and panic. Dropping a tool is inevitable because of the tension you would encounter. However, these things will keep happening until you learn the necessary lessons. Behave like a true surgeon and play the game.
Surgeon Simulator Gameplay
Surgeon Simulator download follows a storyline centered on a person. On the complex parts of the patient, you would see hand movement and manipulations. The mobile version shows the hand movement of the surgeon, and it can be controlled by touching the screen. Drag it up and down, left and right, and touch the object to hold it down. The controls are not so complicated, pay attention to them, and you will get used to them in no time.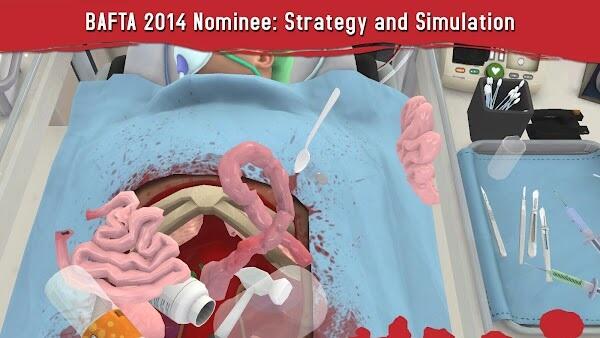 Game Surgeon Simulator has three major types of surgery; kidney, brain, and heart. Once you commence the surgery, clear every organ obstructing the part to be operated on. The next step is to replace the organ; pair them according to the surgery's requirements. The final step is post-operative management which is done to prevent the huge loss of blood from the patients.
Features of Surgeon Simulator
Let us talk about the features of Surgeon Simulator:
Learn and Practice as a Trainee
If you want to become a medical practitioner, this Surgeon Simulator free download is the perfect one. Medical trainees will find this game educational and interesting as it focuses on anatomy and operation. Gain access to learning about parts of the body and how the entire body operates.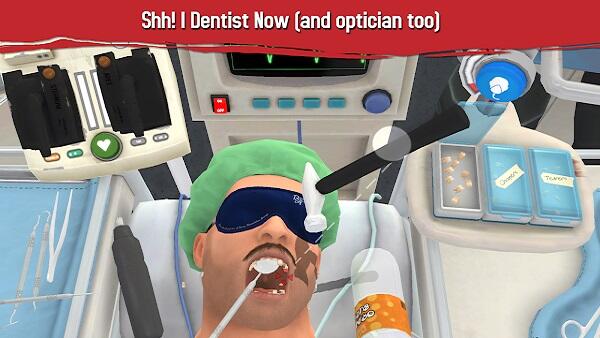 Open your mind to learning the different operation types, methods, and techniques as they can be applied in different situations for a successful operation. Equip yourself with various types of serums and medicines that could affect your body in some ways. As you perform realistic surgeries and operations on Bob the patient, practice the use of several medical equipments.
Operations with Difficulties
The game also includes different operations with distinctive methods for performing them and various sets of equipment to let players properly grasp the craft of the surgeon. You'll find detailed instructions on carrying out a successful procedure here. Make sure you commit all the information to memory to feel secure on the operating table.
Complete Operations for Awesome Rewards
Android players of Surgeon Simulator full are presented with numerous achievements in addition to the primary gameplay, which they can accomplish to get fantastic rewards. Having said that, you can take your time finishing them by giving each operation your all. Complete them to earn amazing prizes that we may show off to our friends.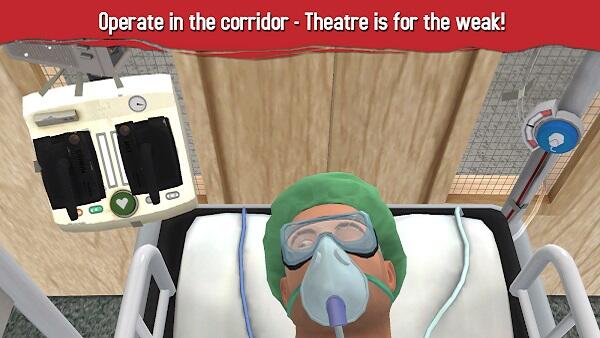 Different Languages
If English isn't your first language, you could have trouble understanding all the operation-related instructions and manuals. As a result, Surgeon Simulator's latest version allows players to select their own chosen language from a selection of possibilities. You may learn how to operate much more easily and comfortably using it.
Simple Controls
Surgeon Simulator Android includes user-friendly control options for Android gamers to be rapidly accustomed to the in-game elements. In spite of this, the interactive VR controls give you the feeling that you're actually in the middle of an operation and the patients' lives are in your hands. You'll gain a lot from familiarizing yourself with operational techniques.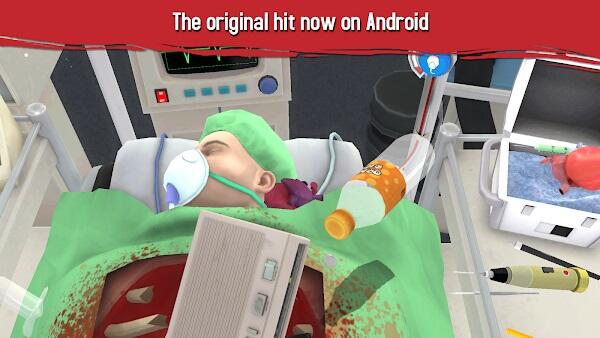 Buy Equipment and Items
Every doctor in Surgeon Simulator 2022 has accessibility to the AppShop, where they may buy additional equipment and gear to increase their chances of success. These would enable you to master the skill of operating more quickly and successfully handle more challenging circumstances. Therefore, if you can afford fresh enhancements, don't pass up your chance.
Final Thoughts
As a unique simulation game, Surgeon Simulator brings unique elements of humor and horror. As a medical trainee or an aspiring one, you stand a chance to learn important aspects of your field like operating and anatomy. Surgeon Simulator download for Android is the best way to get your brain active. Get your groove on and explore the exciting game.


Join Telegram Group
Download Surgeon Simulator APK, an anatomy and surgery simulation game. Practice and become a great surgeon, hold the scalpel and save the lives of ill-fated patients.