Download Raft Survival APK for Android or IOS and survive a clash with the elements and nature on the high seas with just a raft in this post-apocalyptic world.
Raft Survival
Raft survival ocean nomad is an amazingly realistic 3D post-apocalyptic world set in an open world environment. The goal is to survive against the forces at sea, human and animal enemies like pirates and sharks, all while on nothing but a raft which could fall apart at any time.
Explore an oceanic post-apocalyptic world in Raft survival with nothing but your trusty raft and scrap materials you stumble on after stormy nights. Get even more materials on the sea when you successfully overcome an attacking raft, boat, or ship with the weapons you possess.
Explore uninhabited islands as they appear on the map and get life-saving materials like fruits, wood for rafts, stones for weapons and other items, and also modern day weapons like swords, guns and missiles, and other such weapons that survived the apocalypse.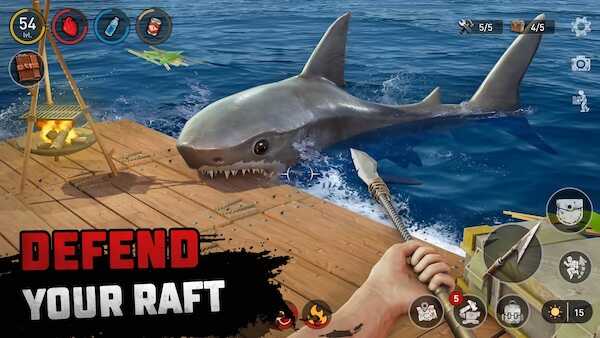 Encounter people trapped on several islands with no means of leaving or navigating the high seas, trade resources for information with them and discover more about what happened before you awoke on a frail raft in the middle of the ocean.
About
Raft survival was developed and published by Treaston Ltd on the 27th of July 2018. Over time, Raft survival grew in fame till the Raft survival latest version, the game update (version 1.211.0 released on the 28th of June 2022), now has an impressive 100M+ download record and a rating of 4.3 stars from over 871,000 reviews dropped online.
Being available for Android and IOS operating systems, Raft survival free download is a request supported by all devices on these platforms. The game is very famous in the class of action-survival games that run offline in an open world environment for single players.
Due to the moderate levels of violence in Raft survival, the game has been advised to be suitable for individuals 12 years of age and above.
Gameplay
Wake up on a rickety raft in the middle of the vast blue ocean, with no food, no supplies, and no memories of what happened before now. Somehow a great cataclysm event turned 87% of the earth into water. The mission is simple, survive long enough to adapt to life on the sea or become shark food.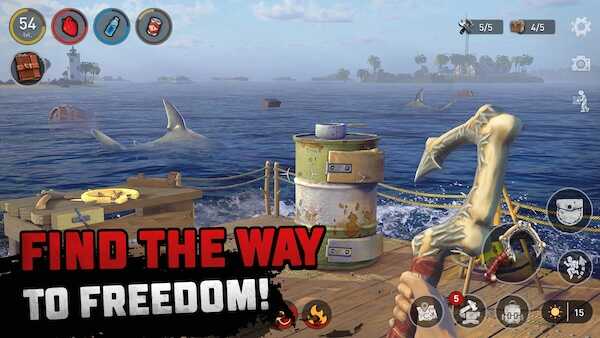 Craft everything you'll need, from weapons to accessories and tools for repairs. Repair your raft from damages done by storms and intelligent enemies who know to attack your raft first before you. Occasionally encounter islands and drop by to restock on much-needed resources and weapons to better defend yourself on the high seas.
You are also on a mission to find the rest of humanity stranded on islands as they may seem and learn the secret of what happened while you were unconscious and how the world changed so quickly to a water planet.
On launching the game, a tutorial program kicks in to educate the player on the game's mechanics and fine controls. Following this program, the player would stand a better chance at survival than if they decided to learn the game's mechanism on their own.
Features
Realistic 3D graphics: Raft Survival Ocean Nomad boasts highly realistic graphics to create a movie like perception of the events on screen being real.
Real world raft building techniques: Learn modern building techniques and construct sturdy structures to make yourself comfortable
Accurately simulated ocean conditions: the corresponding audio, scenery and simulation of the games adds to its appeal and boost players' immersion.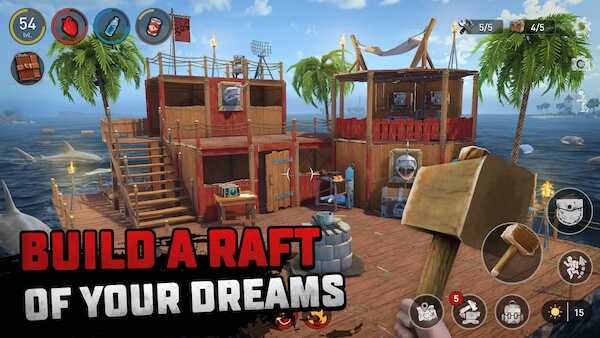 Open world environment: Open world environments in games refer to a situation where the player can move about realistically without hindrances or limitations to certain spaces. This open world element is most commonly understood by recalling the extreme interaction between player and environment in the GTA game series.
Shops: The game's internal shop system has a lot of resources priced at the game's currency system of coins. Other unique items require players to make payments in actual currency (fiat). No doubt this would make the gameplay a lot easier and more interesting, but where would the fun be if the player had a special version like Raft survival ocean nomad unlimited everything?
Tips and Tricks for a better gameplay
Catch items off the raft with your hook; diving into the sea to get them could be dangerous as a prowling shark would make a quick meal of your character. Worse still, it may be a trap.
Chest and Barrels you find floating around most times have much-needed resources like drinkable water, weapon, food, repair materials and records of the past.
Craft a dynamic weapon system: This is to allow a quick exchange of weapons from long range to short range. Resources are scarce, and so are ammunition, save bullets and other unrecoverable projectiles for long range attacks or extremely deadly opponents at mid range. Your sharp sword and other close range weapons can take on enemies that get on the raft.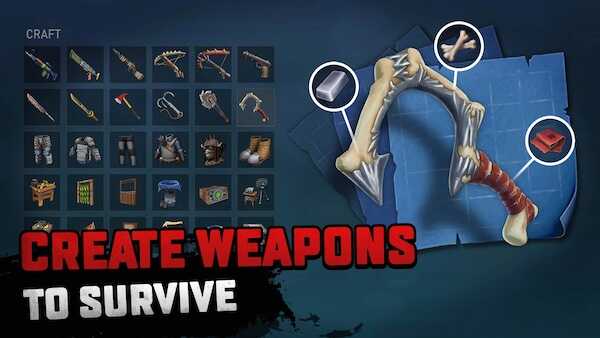 Build and Upgrade constantly: The only way to survive is to adapt and continuously upgrade your raft, tools and weapons to suit the ever-increasing game's difficulty level.
Learn as much as possible: Be on the lookout for messages and records of hospitable islands where you can learn more about the last and the world-altering cataclysm that brought the world to its liquid state.
Conclusion
For years man's sole goal has been survival. This has led him to create multiple ways to do things easily, and more efficiently than the primitive ways of the past. Raft survival tests to see if you can survive in a world where, man is forced to live at sea with its harsh waves, predators, pirates and limited resources.
Survive in this new water world where there is nothing but shadows of a time when lands covered the earth and countries were filled with people walking on them.
Play Raft survival ocean nomad game and experience an epic story of a man and the sea.