Download Modern Strike Online APK, a game that features various FPS and PvP action, easy-to-learn controls, outstanding shooter game graphics, and many combat modes.
An In-Depth Description of Modern Strike Online
Modern Strike Online is a multiplayer shooting game where dynamic and numerous battles await players. This game features the most intense PvP swat game battles and FPS shooting action against players from around the world. If you are a fan of shooting and fighting games, then Modern Strike Online is perfectly designed for you to show off your skills. With its PC-quality graphics, various combat modes, and easy-to-learn graphics, you will surely fall in love with this game.
Azur Interactive Games Limited published Modern Strike Online Android, and your goal in this game is to destroy your opponents and dominate the battlefield with your friends. One of the best ways to relieve stress is by playing intense games, and Modern Strike Online Android will do just that for you. It is a first-person game where all the images of the guns are designed vividly, and you can choose to play alone or online against friends to test your skills.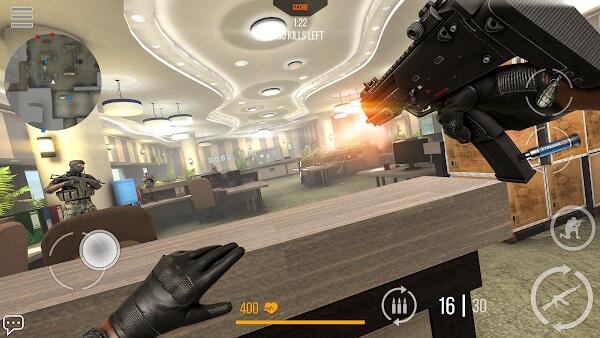 Modern Strike Online guarantees to give players a two-in-one experience – this FPS shooter game comes with a diverse and rich combat map system. It also has a wide variety of weapons and ammunition with different designs, so you can purchase whichever suits your style and gets the job done. There are seven different game modes in Modern Strike Online latest version, and they all have outstanding graphics and interesting gameplay.
These game modes are a single match, deathmatch, bombing, ghost mode, zombie mode, solo 1vs1, or you can play against AI to brush up your skills. Modern Strike Online Android has a wide variety of weapons and maps and battle maps. The game features fourteen different battle maps, each with varying tones of color, fighting styles, enemies, and landscapes. There are so many surprising things you will come across in each battle, so you should never let your guard down.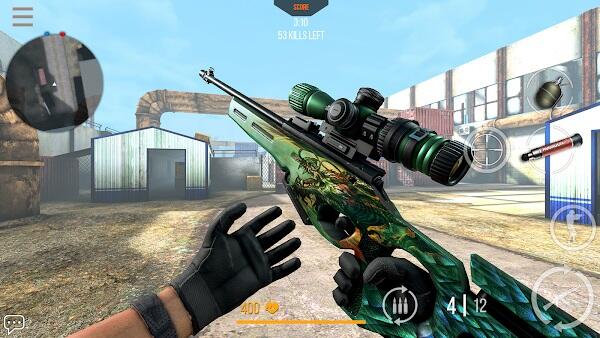 Dive into the amazing game world of Modern Strike Online and see what this exciting game has in store for you. Players can acquire more loot from their enemy when they drop their collections during battle – so they do not only get to defeat them but also win the loot. They can purchase weapons and ammunition from a separate store with new year-end deals, and they have additional support from Logan characters along with the top-notch safety of Snowfighters Helmet. Our site offers a straightforward Modern Strike Online download process so you can get right to it.
Features of Modern Strike Online
Let us look at some of the exciting features players enjoy when downloading Modern Strike Online.
Create a Perfect Weapon
Modern Strike Online has over seventy different weapons for every taste, and they all scream quality. You can find whatever you want to defeat your enemies with – pistols, shotguns, pistolas, rifles, sniper rifles, and many more to come in the future. These weapons deal terrible damage like AK 12 and SKS.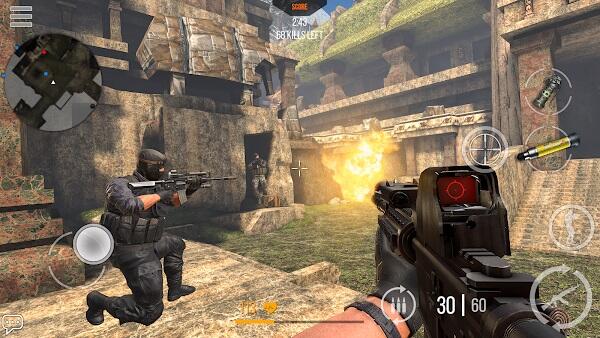 You can customize and upgrade your weapons for different game battles – you can change the color, gun body, silencer position, magazine design, and so much more. Upgrading some specific parts of your weapons could also change their combat characteristics. It would help if you took advantage of the customizing options when you first start playing the game and did not have many items in hand. You can maximize the destructive power of your weapons to win battles easily.
You should check out the detailed description of every weapon you have in hand, especially the notes on the rate of fire, recoil, ideal firing distance, and damage. This will help you to know what your weapon is capable of. The most optimal weapon choice depends on the battle you are fighting and the enemy you are fighting against. You have to choose a suitable weapon, giving you more than 50% of the victory.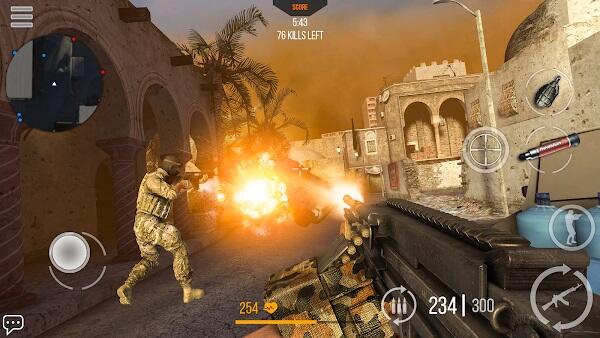 Character Customization
Everyone loves to customize the different characters in the games they play, and Modern Strike Online gives you the opportunity to create your ideal soldier. You can develop our character's skills and choose outfits – shoes, gloves, armor, hats, and many more – that will suit your taste. The Modern Strike Online latest version has over twenty characters with different outfits and positions.
Modern Strike Online has different types of skills – you will have to choose carefully depending on your taste right from when you start playing the game. The higher your score after every match, the more skills you can unlock and apply. Whenever you upgrade your character, their jewel will be raised higher, and they will be able to access special features such as speed increase, the ability to glow at night, etc.
Various PvP Game Modes
Modern Strike Online has several game modes, some of which are explained below.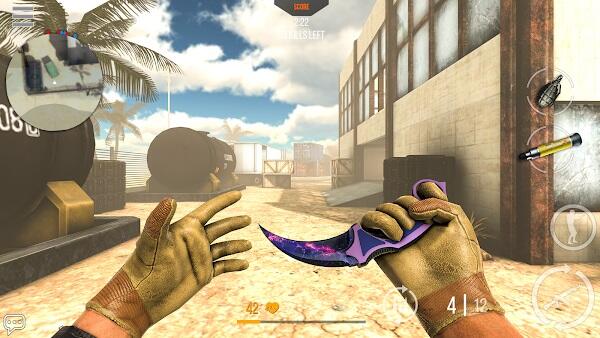 Deathmatch: in this game mode, it is every soldier for themselves. Only the most experienced soldiers can participate in deathmatch battles.
Team Deathmatch: in this game mode, two teams will battle against each other for dominance. At the end of the round, the team with the most point wins.
Bomb Mode: in this game mode, players get to fight in a style similar to PUBG and Call of Duty Warzone – a group of terrorists are planting a bomb, and a SWAT team is trying to stop them.
Graphics and Sound Effects
Modern Strike Online has detailed 3D graphics and indescribable sound effects. Every movement, scene, weapon, and fight are excellently displayed, and this guarantees to have players glued to their phones for hours. You get to hear different and exciting sound effects like the sound of your opponent's feet, your breathing, the plane roaring, a large number of people screaming in panic, gunshots, etc.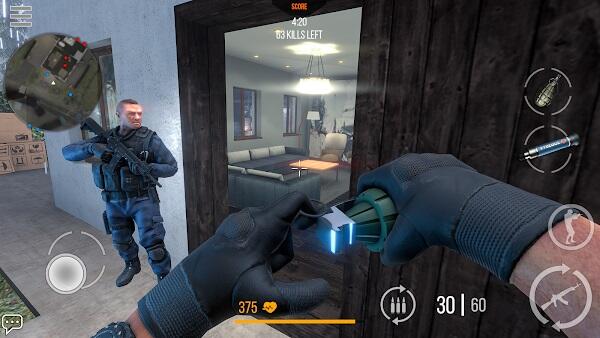 Other Features Include:
Players can access several skins to make their weapons look unique.
Log in to Modern Strike Online every day to claim free daily rewards.
There are over twenty characters, including navy seal, northern warrior, and battle medic.
Modern Strike Online features fourteen unique mission game maps.
Conclusion
Enjoy intense and exciting shooting action, improve your character's skills, upgrade your weapons, and explore different locations in Modern Strike Online. Our Modern Strike Online download process is straightforward – what are you waiting for? Hit that download button now!