Download Make More APK to enjoy the thrills and adrenaline of factory productions. Manage your factory workers to enrich your pocket and grow your factory.
About Make More
Make More is a simple game with casual gameplay. You only have to tap the screen nonstop to continuously manufacture different objects. It's a clicker game where players will assume the role of a typical factory worker and have to meet the production quota during each game. The lime manager determines the game's variety, who might switch up the item you produce and change the aesthetics.
The faster you tap, the more items you can produce, and the more you enjoy the game. Like a real-life worker, you'll be compensated for your labor, so you'll be able to earn decent wages when you play Make More! The more you earn can buy new works stations and increase your productivity. Depending on how much you can produce, your earnings will vary across different levels of the game.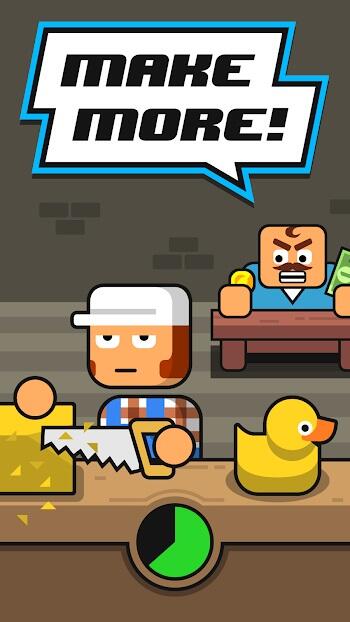 The game has an interesting feature that makes it more fun when you upgrade your workstation. So, you'll be kept company by characters from films, cartoons, and games, all of whom will continue to produce nonstop. In addition, you'll be able to hire more workers to increase your productivity and level up your items. So, like in real life, you make more money with every effort you add to your factory.
The Fingersoft game is free and can be played on Android devices. Make More! has millions of downloads across multiple platforms since its release. Unfortunately, the content is rated for anyone below the age of 3, which makes the game unavailable for anyone below the age. Additionally, you'll be able to play Make More! in over 45 languages.
Gameplay
The gameplay is simple; you only have to keep your factory running by constantly tapping on the screen. You'll assume a manager role, and your job is to manage the factory to ensure everyone's working to meet their quota. The game starts with the most basic production level, so you can grow the levels by increasing your workers, adding better items, and selling faster. You can manage all the operations on the main screen, so you don't have to move between multiple screens to play.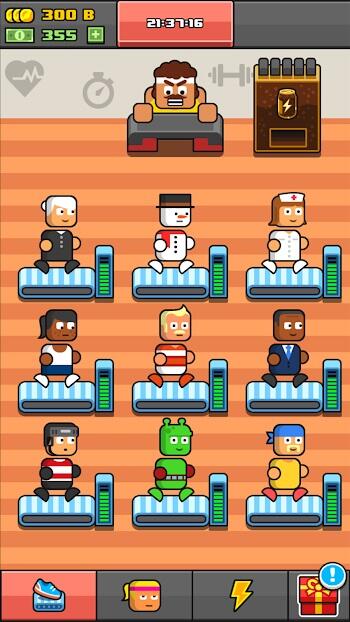 The game difficulty is also fair since you won't be experiencing any real challenges when playing. Some major challenges include worker disputes, which you can solve with different options. For example, you can play disco to reduce stress and ease the tension. You can also increase your employees' salaries and introduce multiple support policies. You also have a lot of tasks to complete, such as improving quality, exploring new markets, and ensuring productivity and production processes.
Game Features
The game might not have much to offer in terms of colors and visuals, but it does have exceptional features that make the gameplay fun for millions of players worldwide. Check out some of the features below: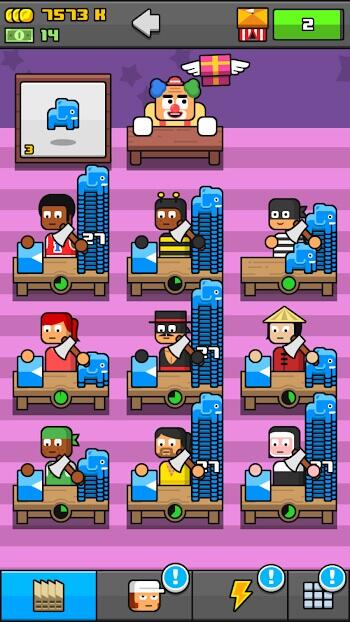 Graphics Quality
The graphics on Make More! is as simple as their gameplay. Its 2D graphics capitalizes on the game mechanics than the visuals. The design is, however, impressive and intentionally created to be as simple as possible. As a clicker game, players won't need any 3D action, which explains why to Make More! uses a 2D concept. The designers also did a good job with the workers' appearances. Players will see familiar characters from TV shows and games, such as Hitler, Donald Trump, etc. The game background is mostly plain, but the color is changed for different levels to offer some varieties.
Simple Gameplay
You'll be able to enjoy a straightforward game on Make More! As the title implies, you only have to make more to enjoy the game. You'll kick off gameplay by creating various items and earning a meager amount from this. You'll be able to level up your production process when you earn more money and invest in workmanship that can help scale your factory. You have various characters to choose from as your workers. The game doesn't have specific levels, but you can proceed up the chain the more you earn and invest.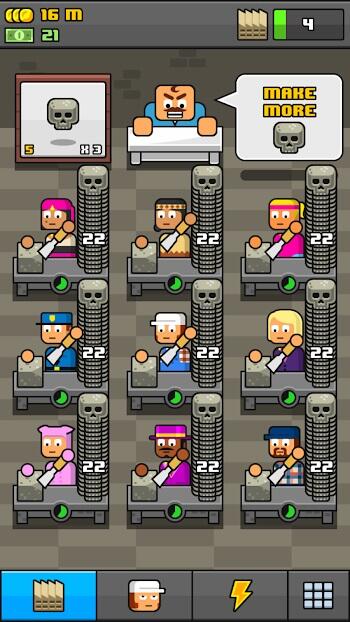 Upgrades
The game might not seem like the type to offer exquisite power-ups and upgrades, but it does have its upgrade mechanism. Players can upgrade their existing environment to create more income streams and produce more items from the factory. Although the items are for aesthetics, you can always change the items you produce and upgrade your workers (from the list of 200+ workers) to adapt better to the Make More! slogan. The goal is to make more; you can only do that by upgrading your workforce and uplifting their spirit to produce More.
Game Levels
As earlier mentioned, Make More! doesn't support levelling up as a method of increasing the difficulty. The pace depends solely on your desire and hunger to produce more. Depending on your pace, you'll have access to better workers, bonuses, and offers in the long run. The game allows two players to have different growth levels and productivity when they play for the same period because the choice of production and rate of growth will differ for each player.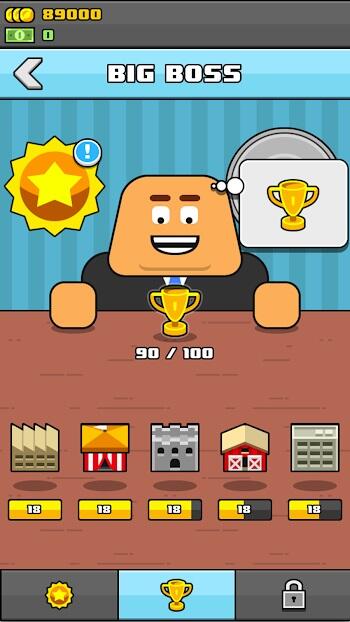 Factory Management
You'll assume the role of a productive factory manager in this game, so you have to exert some qualities of a good manager. You'll be able to hire and train your workers to produce more, which makes the game more interesting and spices up the challenges. You'll also be able to replace them with robots if they aren't performing well enough. The game allows you to run multiple factories simultaneously and make more crazy products.
Conclusion
Make More APK is an interesting and entertaining casual game with beautiful pixelated graphics. You'll be able to choose from a wide variety of items to produce, and your production limit is not capped, making the game ideal for killing time and a creative way to spend your leisure.


Join Telegram Group
Download Make More APK to enjoy the thrills and adrenaline of factory productions. Manage your factory workers to enrich your pocket and grow your factory.