Download Law Empire Tycoon APK to become a renowned attorney that advocates all cases and becomes wealthy in handling legal matters while leading an elite law firm.
Law Empire Tycoon Description
Law empire tycoon is an idle simulation game where you will have a memorable time. The idle simulation game does not only get you entertained in the gameplay, you also get educated in running legal matters, handling different cases, and dealing with legal practitioners intellectually. In law empire tycoon gameplay, you have to handle clients' legal problems and see to the affairs of your firm in expanding it.
This idle simulation game was developed by Codigames, known for producing different idle games over time. The game supports different mobile versions, Android and IOS, and is available in different languages, including English and additional 75 languages. It is a simulation game created to bring out the reasoning ability, management skills, and intellectualism in players.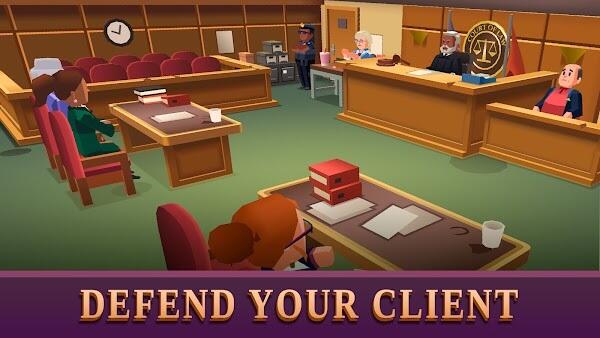 Law empire tycoon- idle game deals with management, whereas as a player, you have to deal with the legal issue faced by your clients after leaving a law firm to establish yours. In this professional adventure, you will arrive at a small law firm with few employees working under you. You need to become a legal luminary and earn a solid reputation to gain more clients to work for that will pay for your legal services.
To earn a reputation and get lots of clients to work for, you need to work on different matters that requires legal assistance, such as settling traffic fines, negotiating divorces or scam, handling criminal cases, and more. Being versatile in other areas will make you earn a good reputation and money, and you will have to expand your law firm and hire more lawyers to assist you in the dealings. And this will, in turn, make you efficient as there will be more clients to deal with and win their cases.
Duties to perform in Law Empire Tycoon
To get the law empire tycoon max level, you have to stand up to some responsibilities and task that is set before you to become a reputable legal luminary.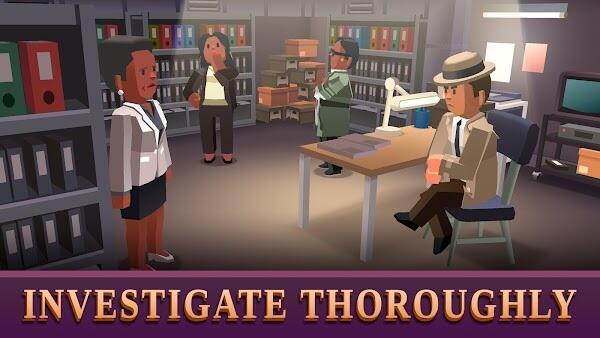 Meeting clients' Needs: as a lawyer starting his law firm, you have to work hard, investigate all matters track all leads to be successful. Your responsibility is to deal with clients' needs and defend them in court to have a fair trial. You will choose your cases, hire detectives, and interns to gather concrete evidence to convince the jury that your defendant is not guilty.
Win cases that will help you stand out: cases you think can help you gain a reputation should be accepted. Lawsuits related to robbery, fraud, drug trafficking, bribery, extortion, threats, murders, crime-related cases, and mafia-related crimes should be focused more on. Gather convincing evidence and demonstrate to the prosecutor that your clients are innocent of the accusation. To handle more cases of this nature, the prestige and law empire tycoon unlimited coins earned should be used to expand your firm.
Defend your work in court: all the research you carried out on a lawsuit must be presented and defended in court before the jury. Look for your defendant's acquittal, obtain necessary information from them and deal with prosecutors, proving them wrong. Get the judge convinced before hitting the mallet on the table to win the case.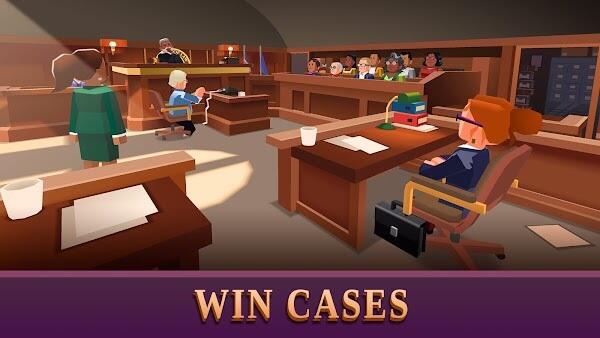 Manage your staff: to keep being relevant and winning more lawsuits, you will need the best team to work with. Hire competent lawyers, legal interns, and investigators according to the strategy and workflow you are dealing with for growth. You must manage your team wisely, congé incompetent ones for your firm to stand out as the best among others.
Join exclusive law clubs: as you gain prestige, accept invitations from other lawyers to join lawyers club. Accept the challenge thrown at you to prove your worth to them and gain more reputation among other lawyers. Scale up to the career ladder and maintain influential contacts.
Tips and Tricks to become the best law firm
To play this management game, you need to have the law empire tycoon download on your mobile device to use the tips that will help you scale the game. If you are starting the idle game, you need guides to help you out.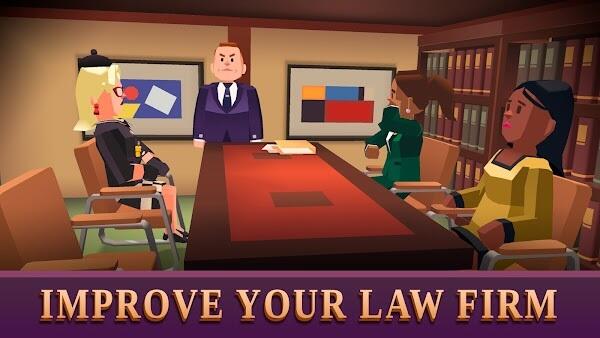 Keep the profit multiplier active: the mission is to earn more money and grow more profit for an upgrade, and you need the profit multiplier to do this. You can activate this boost by clicking the video icon on the lower left side of the screen. For 10 minutes of video watched, you will earn an extra 50% law empire tycoon unlimited money and gems.
Maintain a balanced cycle: some mechanics will ensure the complete success of the idle game and a balanced process to ensure the flow of income to maintain and grow the business. Everything starts from the reception when clients come in, having their concerns in the form of bubbles on their heads. As a start, you will only be able to handle traffic violation cases and move on to other matters as the law empire grows.
You will need several offices, and each office will need to be assigned different lawyers to handle cases to minimize the queues at each lawyer's office. The legal documents to process the case will be handled by the interns in the paralegal office and taken by the delivery workers to the lawyer who needs them. Cases with higher grade documents require building a file room or detective's office.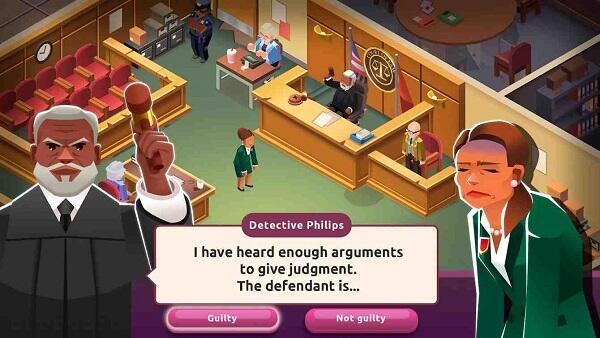 Let the quest guide you: the checkbox icon at the lower side of the screen is the law empire tycoon quest feature. It would help if you peeked into it to accomplish sets of objectives. Completing the target in the quest will earn you rewards.
Upgrade and research continuously: to keep developing your law firm, you need to embark on research and upgrade. The research and upgrade cost some money, but with the cash you have earned, you can easily do that.
Leave as little idle cash available as such money is best reinvested into any investment, whether for construction, upgrade, research or improvement.
Conclusion
If you like playing management games or idle games, law empire tycoon is a game that you should play as it will get you entertained and will also gain legal knowledge in the law empire tycoon update. The game is easy to play, but some strategic decisions must be made to earn the law empire tycoon unlimited gems for expansion and upgrade the law firm. As you transform your law firm and win more lawsuits, you will become the best law cooperation meeting clients' needs.


Join Telegram Group
Download Law Empire Tycoon APK to become a renowned attorney that advocates all cases and becomes wealthy in handling legal matters while leading an elite law firm.