Download Kingdom Wars APK for an exciting adventure into wars and battles. Use battle strategies and tactics to defend your tower against monster invasions.
Introducing Kingdom Wars
Kingdom Wars is an exciting and fun mobile game with an incredible world of mythical creatures and ancient empires. Like similar games, this is also a tactical game that allows players to create their tower, build numbers and wage war against the invading armies, which are monsters in this case. However, Kingdom Wars has basic graphics instead of sophisticated designs for a typical decisive game.
With millions of downloads on Google Playstore, Kingdom Wars is the favorite game for empire builders. It was designed and released by Springcones, and the developers have continued to roll out new features for everything updates of the game. There are over 400 stages you'll play on Kingdom War. You also get to control many units and characters during gameplay, which is fair considering how difficult it is to wage real wars.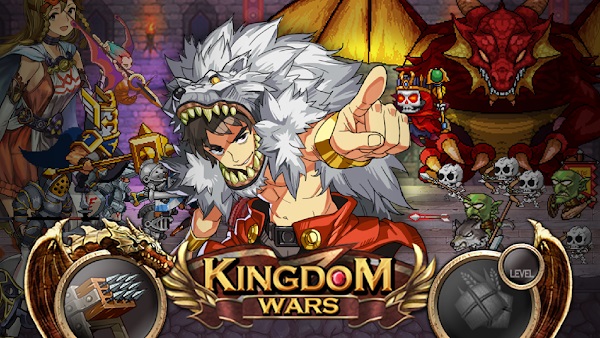 The game is a defense strategy game that gives you enough freedom to manifest your creative and tactical talents. Players also prefer to play the game because of the exciting plot and the unpredictable gameplay. Kingdom Wars is one of the most straightforward yet enjoyable war games you'll never get enough of if you love battle strategy games.
Build Your Kingdom
Like Stick Wars, Kingdom Wars also allows you to build an army that will help you fight against the enemies. The better you fight, the more features you unlock, and therefore you will get more soldiers and pieces of equipment to wage your war. In addition, up to 200 allies in the game are waiting to be recruited and join your army.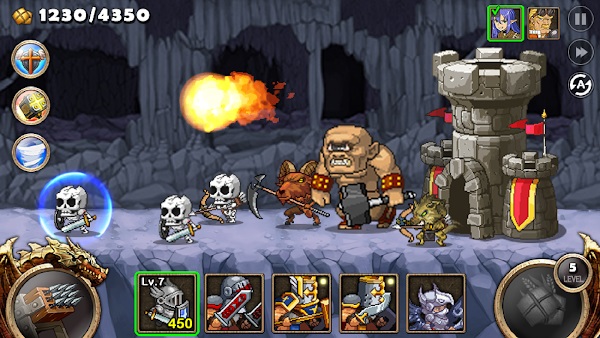 You can unlock all the game heroes and characters the more you play. The stronger your character, the less likely you will lose a battle. There are up to 400 New Levels in the game, too, so you never get bored playing since there are always new missions and empires to capture. Players can also go after treasures in each stage to Increase their treasure chest.
Why Play Kingdom Wars?
Players don't have to worry about storage space because Kingdom Wars doesn't take too much storage space.
You'll be able to enjoy the game since there are hundreds of levels you can play.
There is a reward for every action you take that lead to more game upgrades.
The game is entirely free to play.
There are no ads or unnecessary popups that might irritate players during gameplay.
The game has excellent graphics and animations.
Players can wage war with their empire against other players in the multiplayer modes.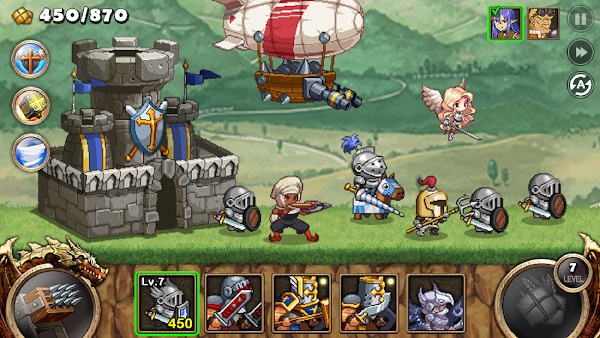 Features of Kingdom Wars
Although not like regular war games, Kingdom Wars still has thrilling features, which will leave a good impression on most players. You can check them out below:
Great Graphics and Visuals
Kingdom Wars has a rather basic graphics representation, but it's smooth and clean. There aren't too many details in the game visuals since you don't get to see 3D actions for the most part. So, brilliant graphics are ideal for a strategy game such as this. Each character, upgrade, weapon, and object are distinct and have unique movements, adding to the exciting game animation. There is also a realistic touch to the game's appearance since the monsters truly look like monsters.
Game Levels
There are over 400 levels in this game, ranging from easy to super tricky gameplay. Unfortunately, each level can be pretty difficult because you are always at a disadvantage against the monster and consistently tight on resources. The war results, therefore, lie in your game strategy and how good you are at commandeering your troops.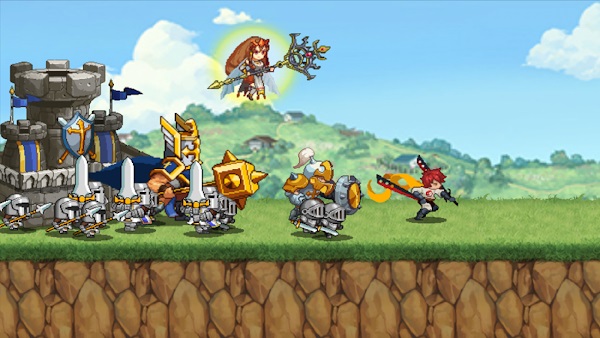 Game Upgrades
The game has an upgrade system, one of the most exciting features. The system is quite diverse and can get a little confusing if you're new to the world of war strategies. There are majorly two types of upgrades here, so instead of weapons and soldier upgrades, there are soldiers and citadels. For every victory, you get gold coins in return for the pillages. So, you can use these coins to level up and increase existing soldier strengths or buy new ones. You can also upgrade your citadels, the substantial troop for your defense.
Excellent Content
The game has excellent content built on a simple storyline; protect your empire from a monster invasion. Successfully defend your castles, and you win the game, while losing the castle means you lose the game. Like Dragon Storm, designed by the same developers, you must lead the whole army to safeguard your territory.
Many years ago, humans succeeded in defeating the monsters and banished them to the ground. Now, they have broken free of the shackles and accumulated enough numbers to launch an attack on humans, so it falls on a hero like you to save humans from the monster attacks.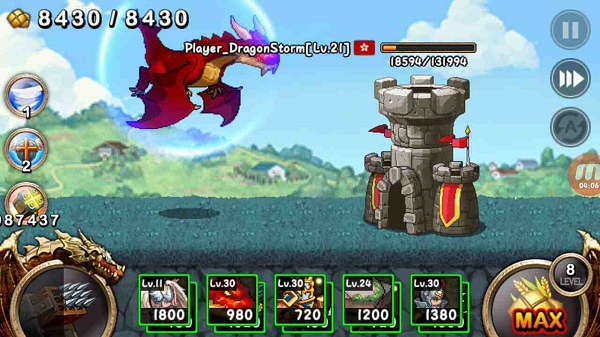 Unique Gameplay
As the sole controller of the game, you can enjoy the game's strategy and enjoy applying your unique tactics too. Although the game is more about castle protection, you'll still find tiny details in the gameplay that will make you appreciate its beauty. There are different strategies for different parts of the game too.
For example, the monsters have different skills in battle. They also have unique moves, shapes, sizes, and attacking skills. So it would be best if you waged wars understanding each of these game features. Since you don't control how your soldiers fight, you'll have to lead them by strategizing and managing when, where, and how the battle is fought.
Impressive Tactics
There is an overwhelming level of tactics in Kingdom Wars. You can get by the first few levels with easy gameplay, but the tactical requirements increase the more you play. Monsters like dragons, buffalos, and even horse-faced monsters have different attacks, so you need a solid line of attack and defense to keep your castle standing. Also, you can't have all the powerful soldiers and minions at once, so you must make wise decisions to keep your castle safe.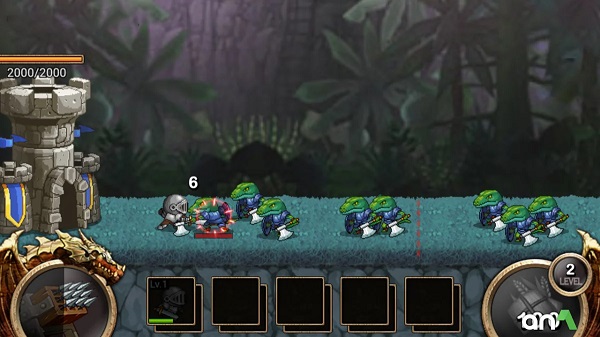 Conclusion
Kingdom Wars is a great battle game with good graphics, gameplay, and features. You get to keep your troops alive and well fed throughout your parade or lose the castle to invading monsters. It's an excellent game to download if you love tactical gameplay.


Join Telegram Group
Download Kingdom Wars APK for an exciting adventure into wars and battles. Use battle strategies and tactics to defend your tower against monster invasions.