Download Kingdom Rush Frontiers APK and dive into an adventure experience. Join the struggle in a fantastic offline td realm. Fight to defend your lands.
Game Description
Kingdom Rush Frontiers is a ferociously fast, enchantingly delightful game with award-winning gameplay; it took its tower defence success to a new level. The game is about being strategic; you'll have to defend exotic territories against the abyss's monstrous plants, dragons, and dreadful monsters - all while using showy towers, heroes, levels, and other goodies to annihilate your foes.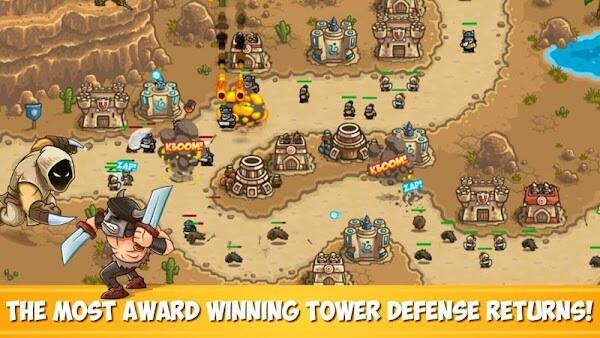 Kingdom Rush Frontiers follows the standard tower-defence strategy. Placing towers along a path to eliminate adversaries that emerge in programmed waves. The goal is to defeat all waves before they reach the end of the path, using the towers and specific powers. Allowing too many adversaries to pass will result in a 'Game Over.
Game Story
Frontiers pick off where Kingdom Rush left off. At the end of the pre-sequel, the wicked wizard Vez'nan is slain, and then a new evil takes his place and flees into the kingdom's untamed frontiers to the southeast. The plot unfolds gradually as you, the unnamed General in the King's forces, guide your men through thick jungle, vast deserts, and deep caves to face off against the game's new enemy, Lord Malagar, and whatever else lurks in the shadows.
Gameplay
Frontiers' gameplay is identical to that of the previous Kingdom Rush game, allowing previous game players to start playing immediately without having to familiarize themselves with the setup. In addition, the game retains the same tutorials. It thoroughly explains how things function so that new players may learn quickly.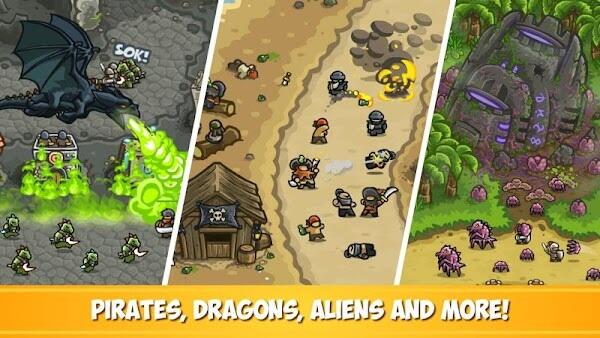 When you start from the beginning, you can decide to pick a problematic level. Veteran, Normal, Casual. The opponents' HP (Hit Points) alter as the difficulty increases. On each level, You can alter the difficulty level separately. The levels are depicted on a map that shows the in and out of the kingdom, and you are given a general notion of what the level is all about before you begin playing. The game has three different modes. The game's story mode is the campaign's default and primary mode. After beating this game with a three-star rating, 2 new modes would get unlocked: Iron and Heroic. These additional modes provide a variety of difficulties by varying the waves, adversaries, and towers accessible.
A finished level is given stars, depending on how well it was played. The amount of lives you have left decides the number of stars granted, with 3 for practically none, i.e., 18 to 20 life left, two for average performance, i.e., 17 to 6 left, and you get one for terrible performance, i.e., 5 to 1 left. Failure to save any lives leads to defeat. Both Iron and Heroic modes feature a single life, and completing them both awards one star.
The stars earned can be used for Upgrades. Each upgrade costs 1 to 4 stars, which would have long-term effects on spells and towers. Improvements can be purchased and reset anytime in the game, enabling you to select the most acceptable upgrades that suites each stage until you gather stars to purchase them.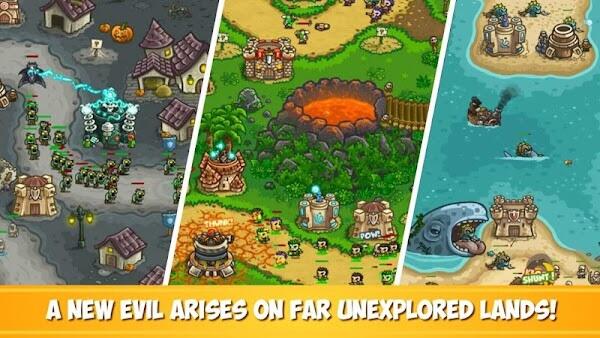 The game has an encyclopedia catalogue that records all new information, such as opponent data and tower. It also contains numerous essential tips, some tricks, and a link to Ironhide Studios' Strategy Guides (videos of the stages you've finished).
Game features
Attractive Graphics that make you want to keep playing
Generic Sound Design that goes well with the game
More than 18 Tower Capabilities! In this tower defence game, unleash pestilence clouds, death riders, or killer assassins to steal and combat with your enemies!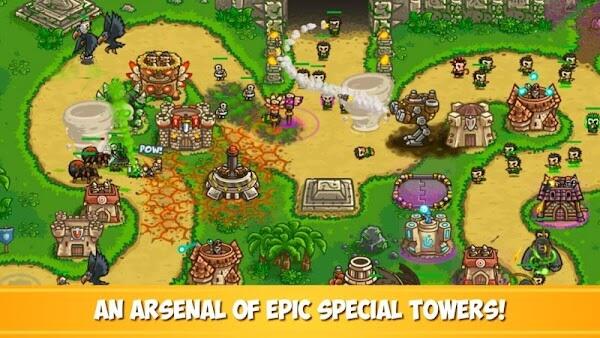 Eight Exclusive Tower Upgrades! Might Templars, Crossbow Forts, Black Magic, and even Earthquake devices will slice, sizzle, and stomp your enemies – The developer has told mixed things in this game.
The Upgrade System enables you to minimize or maximize your towers according to your chosen strategy.
In This Strategy Game, strengthen the frontier in incredible new places - maintain the line in jungles, deserts, and even in the underworld.
16 World Famous Heroes pick some of the strong champions and hone their skills! Each has distinct specialities that complement various styles of play and strategies
Unique Units and Structure at Each Level! Be on the lookout for the evil Black Dragon!
Over forty Enemies with epic and one-of-a-kind skills! Keep your wits about you as you battle tribal shamans, nomad tribes, desert sandworms, and the evil lurking in the underworld. This tower defence game features unprecedented action!
Outstanding Boss Fights
Army Hours With over Eighty Accomplishments! What more do you expect from the Kingdom Rush creators, Ironhide Games? You'll spend hours looking for spectacular achievements and Easter eggs!
Play it in Offline Mode! Is there no internet? Not a problem! You can engage in real-time action even when not connected to the internet!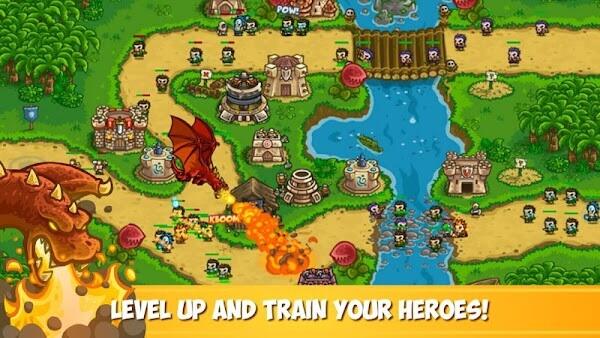 In game Dictionary! Learn everything you can about this strategy game and your opponents to devise the best way to defeat them. Then, learn about it and play it as an offline game!
Heroic, iron, and Classic Game Modes to test your tactical talents against your opponents!
Three Difficulty Levels! Do you really want to challenge yourself? Choose Hard difficulty to play as an offline game!
Conclusion
Since you'll have every reason to become addicted to this series (just playing the first game three times will do it). And while the initial few stages may appear lacking in quality, as new areas and tower-building choices become accessible, you'll fall in love with the game. It will take you weeks, if not months, to defeat one of the final bosses, especially if you are a wicked rotten trickster. But, even if you struggle to defeat the terrible bosses, you'll keep returning for more punishment because Kingdom Rush: Frontiers is so excellent.
It's not only deserving of the moniker "sequel to Kingdom Rush," but it's also one of the best tower defence games available anywhere, regardless of platform. It has approximately 1 million downloads on Google Play and numerous positive reviews; this game is one of the best from its maker.