Download Indian Train Simulator APK latest version and enjoy breathtaking sceeries as you pilot a train. It introduces a story mode & other numerous challenges.n
In-Depth Analysis of Indian Train Simulator APK
Indian Train Simulator is an immersive railway simulation game offered by Highbrow Interactive. This new version includes a story mode that revolves around the life of a loco-pilot. The challenges in the game will take you through picturesque locations across India.
It gives you the ultimate railway experience with its realistic locomotive simulations. You will even become a rookie assistant to a Karthik Kumar, the newest loco pilot in your company!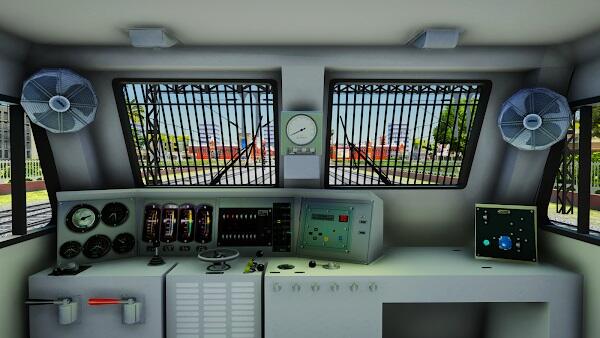 This game is highly lightweight (189M) and can be played even on devices with low specifications. However, it works best with Android 5.0+ devices.
A Hypnotic Gameplay!
One of the factors that make simulation games enjoyable is their ability to provide an authentic experience. Indian Train Simulator excels in this department as it offers an incredibly realistic locomotive simulation.
It has numerous stations, different locomotives, and a wide variety of wagons. The realism of the game is further enhanced by the inclusion of accurate cockpits for all the locomotives.
You will be required to fulfill different tasks in the game such as hauling heavy loads, passenger transport, and goods transport. The missions become progressively difficult as you advance in the game.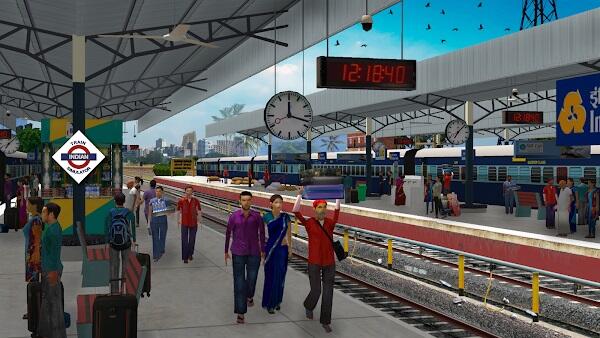 You need to plan your moves carefully and execute them perfectly to complete the missions. Fortunately, you will get generous rewards for completing the tasks successfully.
You can then use these rewards to upgrade your locomotives and wagons. Alternatively, you can use real money/ in-app purchases to unlock unique features and add a thrill to the gameplay.
Become a Rookie Assistant
In the course of your locomotive journey, you will meet different people who will have an impact on your career. One such person is Karthik Kumar, the newest recruit in your company.
As a rookie assistant, you will help him complete his training and become a fully-fledged loco-pilot. You will also get to experience the life of a trainee pilot through his eyes.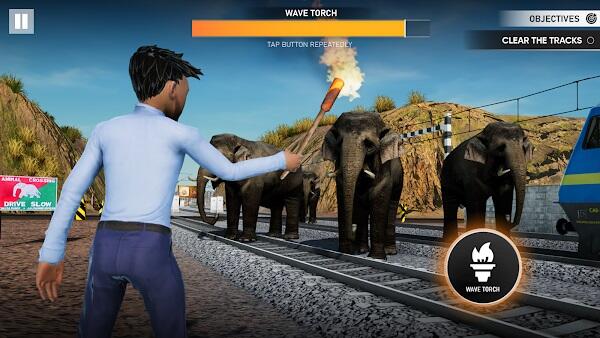 The game provides an in-depth look at the training process involved in becoming a loco-pilot. You will be required to complete various tasks, such as locomotive handling, speed control, and shunting.
The training missions are well-designed and provide a good challenge. They will help you learn the basics of locomotive handling and prepare you for the more difficult tasks that lie ahead.
Unique Features of Indian Train Simulator APK
An Engaging Story Mode. This mode provides an insight into the life of a loco-pilot and the challenges that he faces daily. The missions in the story mode are well-written and provide a good challenge.
More than 20 Challenge Levels. These levels will test your skills and abilities to the limit. You must be ready for surprises as you may encounter unexpected difficulties. The challenge levels are a good way to hone your locomotive handling skills.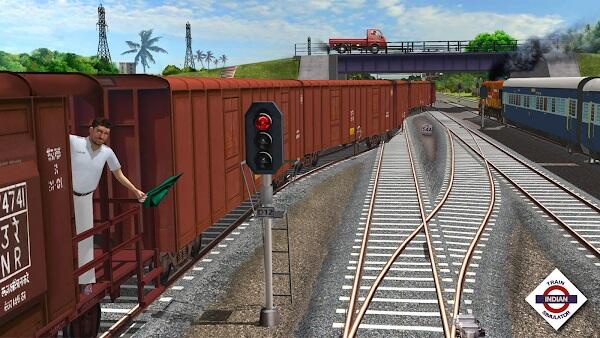 Numerous Scenarios. You will get to experience different scenarios such as night-time driving, bad weather conditions, and heavy traffic. These scenarios make the game more challenging and enjoyable.
Accurate Cockpits. All the locomotives in the game have been designed with accurate cockpits. This adds to the realism of the game and makes it more enjoyable.
User-Friendly Interface. The game has a user-friendly interface that is easy to navigate. Even beginners will be able to get started quickly and enjoy the game.
More than a Dozen Liveries. The game offers numerous livelies, including Duronto, Rajdhani, Gatiman, Double-Decker, Shatabdi, Garib Rath, Deccan Odyssey, Palace on Wheels, Mahanama, and Tejas Express.
Highly Diverse Trains & Numerous Stations
The game offers 32+ stations, including Cuttack, Chennai, Asansol, Bengaluru, Vishakapatnam, Mumbai, Howrah, Vadodara, Tata Nagar, New Delhi, Vijayawada, Agra, Hazrat Nizamuddin, Kolkata, Palwal, Solapur, Mathura, Anantpur, Jaipur, Pune, Sawai Madhopur, Borivali, Kota, Valsad, Ratlam, Surat, Dahod, Bharuch, Godhra, Anand, and Ahmedabad.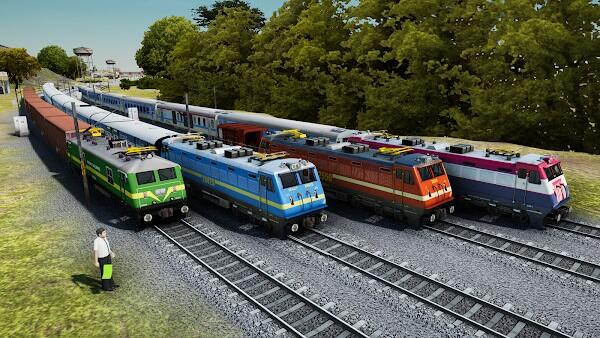 You will also get 18 locomotives to choose from, including WCAM-3, WAP4, WAM4, WAP7, WAG7 (Tiger Face), WDG-3A, WDG4, WAP5, WDP4, WAG7, and WAG9. This diversity makes the game more interesting and enjoyable.
Other Outstanding Features of the Indian Train Simulator
World-class signaling system
Track changing
Coupling / Decoupling
Double heading
Loco hood side selection
Over 25 camera angles
Sounds for horn and motion
Authentic passenger coaches
Dynamic time and weather
Intelligent AI trains
Controllable doors
Additionally, this game uses incredible 3D graphics and full HD resolution. It incorporates amazing sound systems that create a realistic environment.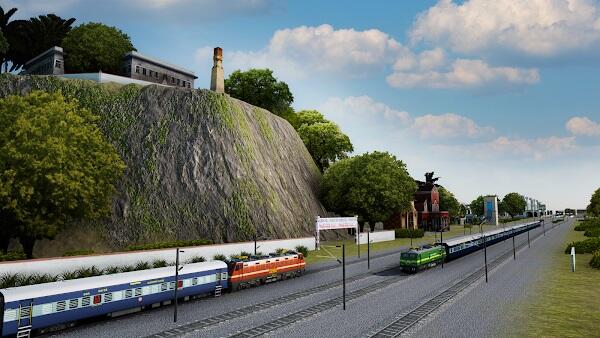 You will feel like you are driving a real train as you navigate various landscapes and terrains. The attention to detail is amazing, and you will be blown away by the beauty of the Indian countryside.
Indian Train Simulator APK Download
The Indian Train Simulator APK latest version of the original game. It offers the following benefits:
Indian Train Simulator APK Unlimited Money. This version provides all the money you need to spend on upgrading your locomotives and purchasing new ones.
Indian Train Simulator APK All Trains. You will have access to all the trains in the game, including the premium ones.
Indian Train Simulator APK All Levels. You will be able to play all the levels in the game without having to complete the previous ones.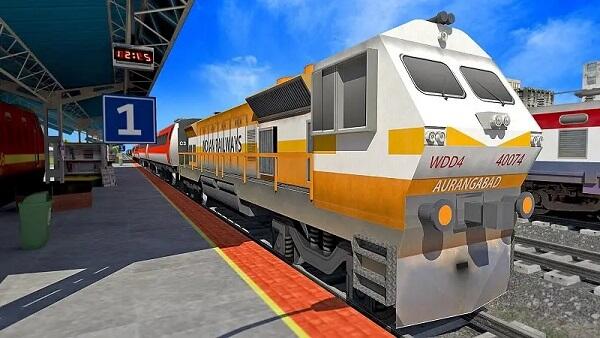 Indian Train Simulator APK unlimited money and gems. When using the Indian Train Simulator APK all versions, you will not need in-app purchases to get treasures. You will have an unlimited supply of them to use as you please.
No Ads. The Indian Train Simulator APK everything download will not display any ads while you are playing the game.
Indian Train Simulator APK Free Download
The Indian Train Simulator APK old version/ new version download files are available on various third-party websites. Click on the download link to begin the download process.
Once complete, enable unknown sources in the security settings of your device and install the file. Launch the game and access all the features mentioned above.
Conclusion
If you love trains and want to experience what it is like to drive one, you should try the Indian Train Simulator APK. It is an excellent game that offers a realistic and authentic experience. You will be blown away by the graphics, sounds, and overall gameplay.