Download Idle Theme Park APK for a simple but fun game. Combine game features and elements to create a fun-filled paradise everyone wants to visit.
About Idle Theme Park
Idle Theme Park Tycoon is a fun and explorative game that gives you the role of managing a successful theme park. The game has a clear objective: run a theme park and become successful. The game is similar to other idle simulation games, so if you've ever played one before, you should expect similar concepts but entirely different gameplay and storyline.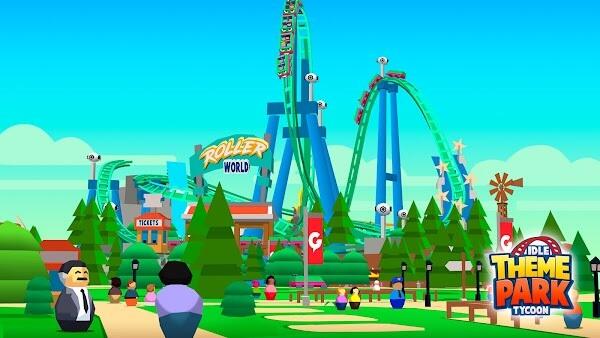 Here, you don't have to tap on the screen before earning money since there is a better approach. So rather than the continuous clicks on the screen, your theme park generates revenue when you open your gates for children to come and in, and they pay for ticket sales. However, you still have to start from a humble beginning and work to the top.
The theme park doesn't have all the sophisticated machinery and events for visitors to pay for, so you'll make little income when you start playing. However, you'll eventually be able to scale higher once you figure out how to run it successfully. Even though the game is free to play, you'll still have to pay for certain features if you find them convenient.
An exciting feature in this game is the ability of all elements in the park to be upgraded. It adds colour and fun to the game since you spend a long time upgrading your park elements. The game was developed by Codigames and has been around for a few years. It's free, strategy-based and available on both Android and iOS devices.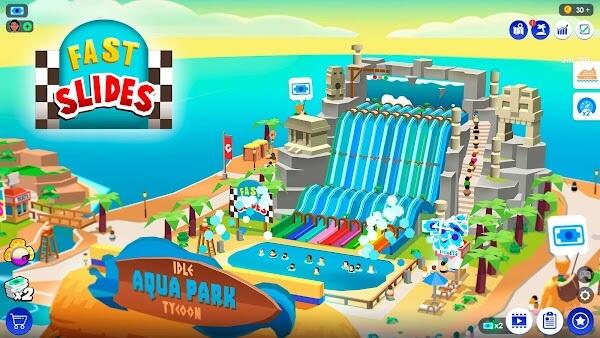 Codigames did a great job with the game graphics; many details go into the game development. Idle Theme Park has over 47 languages available for players worldwide. It also has a good rating of 4.5 on Playstore, with over 10 million players already downloaded the game.
How to Play
The game is pretty easy to play, as long as you have basic management skills. You'll be welcomed by on-screen instructions that will aid you in getting ready for the tasks ahead. The game starts with a small park with little entertainment stalls and empty buildings with no value. Slowly and steadily, you can convert this into an empire park that generates millions.
As you make money from this tiny stall, you can accumulate it and spend it on anything that can make your park become more popular and increase your revenue. It depends on your plan and strategy, but you need to add more buildings, side attractions, and playing zones or upgrade existing ones to grow your customer base and increase ticket fees.
Why Play Idle Theme Park Tycoon?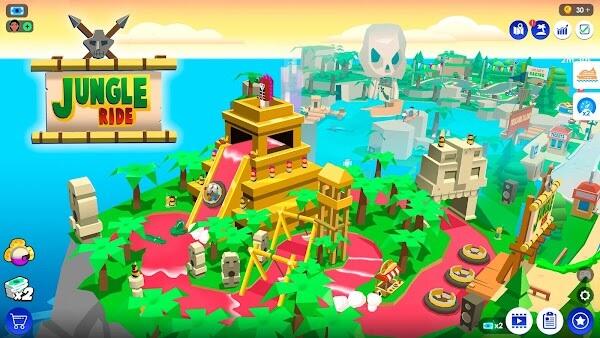 Players can play and complete various missions.
It has minigames and side attractions that will keep you occupied.
You can save your progress online and restore it whenever you change your phone.
There are impressive visuals and highly detailed and accurate info.
Upgrade and improve the game features with the in-game currency.
Game Features
Idle Theme Park Tycoon has many features that engage over 10 million players. Some of these are the unique gameplay experience and impressive graphics; others include: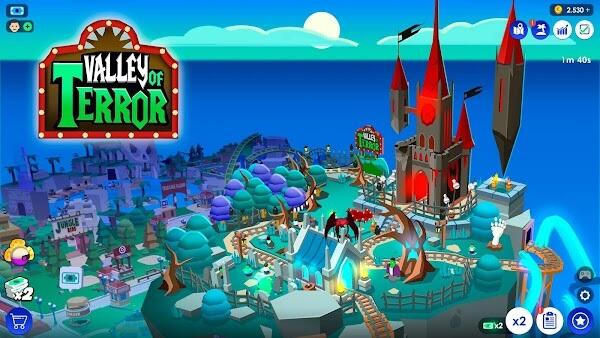 Easy Gameplay
The game is easy to play, and you don't need prior experience or guidance to find your way to the interface. The primary task is to create a thriving business, so it rests more on your strategy than the game features. As a new player, you'll be given a small park to build, and based on your method and preference, you can decide to erect new structures, hire new staff, get more popularity, or upgrade existing buildings. You won't get stuck playing, and your progress might just be influenced by the decisions you make for your business and how well you can execute your duties.
Great Graphics
The game has an excellent piece of graphics. A lot of effort is put into the game design to create the 3D view players love. The colour scheme is also exciting and befits the game's theme of a bright and colourful park. Although not necessary, the game elements also have as many details as possible, and you'll see people crowding up in the most exciting parts of your park. You'll also notice the movement of the toys and equipment, rather than a transfixed mode where nothing is lively.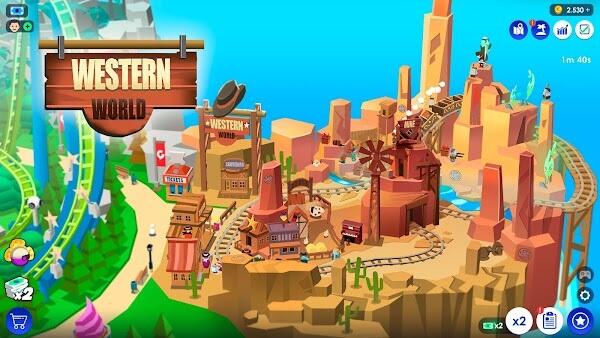 Missions and Challenges
There are many missions to accomplish on Idle Theme Park Tycoon. Although most of them are self-motivated, you can also set targets for the game missions. Once you can complete these missions, you'll be handsomely rewarded with coins to advance your park and set targets for other challenges. Of course, there's no penalty for not being able to complete a mission, so you can always go at your pace.
Game Control
It's easy to navigate the game because of the theme. Unlike other idle simulation games, you have to click various screen parts to make and earn money. Here, you must erect buildings, upgrade others, and ensure the park ks run smoothly; the revenue generation is automatic. Visitors will have to make payment for tickets when they come around, so the money is saved in your account directly. You can also navigate between areas of the park by swiping across the screen or tapping the store for upgrades.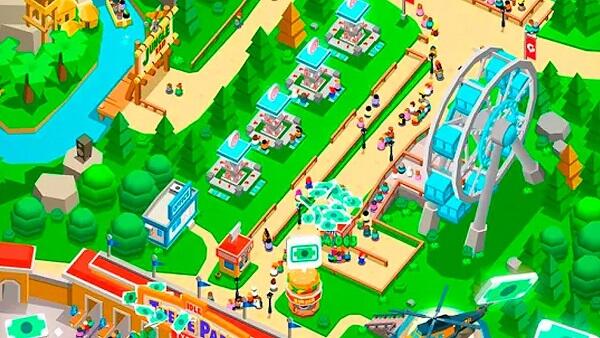 Game Upgrades
The game has many elements, all brightly coloured by default for the park. The more features you add to the park, the higher you can charge visitors and the more popular your garden becomes. Once you have an equipment or store open, you can upgrade it at the store by purchasing an upgrade from your revenue. Note that all the game elements are upgraded as long as you have enough funds.
Conclusion
The Idle Theme Park Tycoon's game elements work well when combined and are perfect for creating the most fun park in your virtual world. The game has minimalistic graphics with lots of attention to detail and loads of features to boost the gameplay experience.