Download Idle Supermarket Tycoon APK, build a massive supermarket business, earn money from managing the business and become the number one supermarket tycoon in the world.
In-depth Description of Idle Supermarket Tycoon
Idle supermarket tycoon is a strategy and management game where you have to oversee the running of a supermarket business. Idle supermarket game is an economic simulator with the elements of a real-world approach to expanding a mini-mart to become a big supermarket. The game equips players with quantitative reasoning of an entrepreneur as they are having a fun time playing the game.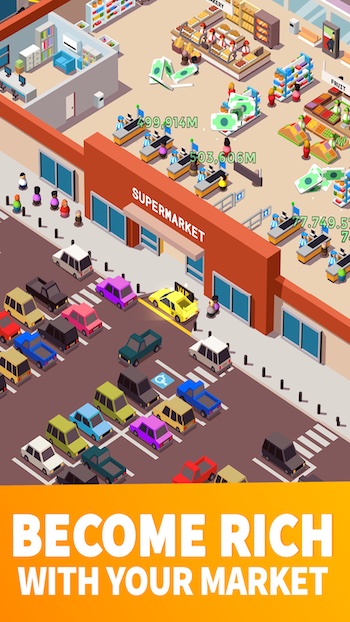 Codigames published idle supermarket tycoon on 7th February 2019, and it is compatible with all mobile versions of Android and iOS in multiple languages, including English. This is the game for players who don't want to spend long hours playing but want something quick and easy that is entertaining. From the title of the game, it gives the idea of what it centers on, becoming a supermarket tycoon.
The mission of idle supermarket tycoon
This game has mission players expect to accomplish to become that supermarket tycoon.
You are to start an idle supermarkets tycoon shop which will be a mini-mart and manage effectively and expand it to become a supermarket. In the supermarket, you will build a bakery, sell fruits and vegetables, and offer high-quality fish and meat. Run a cosmetic and electronics department and make the supermarket such that customers can fill their shopping carts themselves.
In the game, as the owner and manager of the supermarket, you are to research new features and strategies to improve the quality of the products your offer and the efficiency of each department that will see to the growth of your business.
Hire competent and customer-friendly sellers and make them increase sales and profits to have idle supermarket tycoon unlimited money. As your sellers are performing their job, set the salaries of each department's employees. You will also take care of your customers, provide them with valuable products, and offer them quality and healthy products and a safe parking lot where they can leave their vehicles while shopping with you.
You will also have to develop a working marketing strategy which is the core of every business that will attract potential customers and retain existing ones. Offer them products and services that keep them coming back and recommending you. Getting customers' feedback and opinions about your business is critical in building a successful business.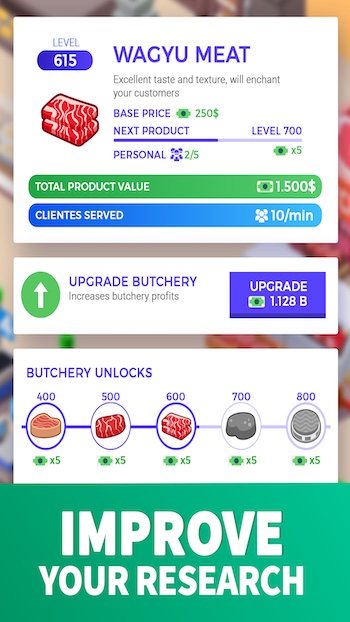 Features of idle supermarket tycoon
The game is simple, casual, and easy to play with no complexity. All that is required is your cognitive ability.
There are different challenges to complete as it is a management game.
It has a simple graphics configuration and 3D images with funny characters, shapes, and fresh colors.
Ability to make important managing decisions for the expansion of the mart.
If you change your mobile phone, you can save your gaming progress in the cloud and recover it on another device.
Tips and strategies to maximize profit in idle supermarket tycoon
To make lots of idle supermarket tycoon money, you need to follow some tips and strategies that will serve as a guide for you. Just like real-world businesses require ample time to build it to become successful and yield good profits per time, spending more time on the game will earn idle supermarket tycoon max level and money. Let's consider those tips you need to be a successful entrepreneur in the running of a supermarket.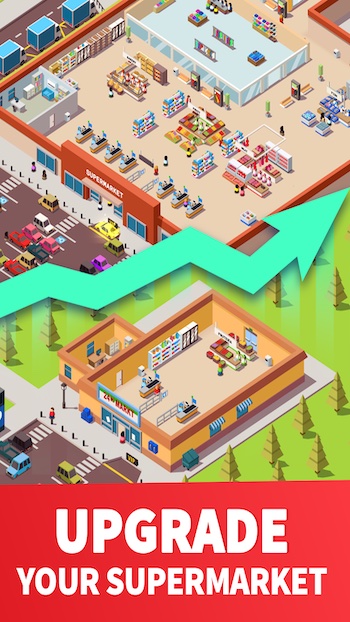 Leave little idle money: while running the business, what you should prioritize when you start making a profit, and your earnings are increasing is to invest that money to improve various departments and in profit boosters for profit growth. The idle supermarket tycoon all upgrades cost much, but some are more considerable. You should spend on the cheapest aspect of the upgrade first.
Keep an eye on the management page: to get quick information on how your supermarket is performing, always check the management icon (Bar graph) that is at the upper right corner of the screen. It gives you an idea of the department that makes more money and clear ideas on what to work on. Items highlighted in red mean it needs improvement
Watch ads for extra profits: although this is optional, if you want to progress as fast as you can and make profits to boost your business, watching video ads will earn you idle supermarket tycoon unlimited gems for maximum efficiency.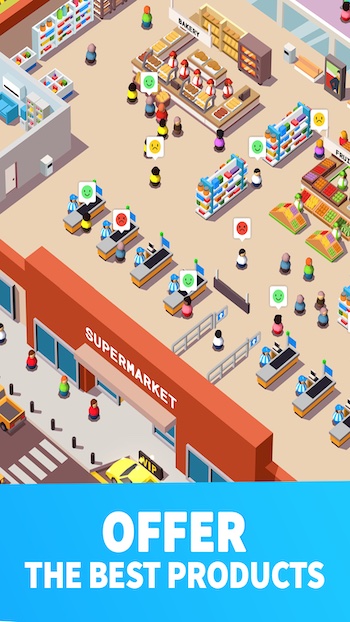 Click on delivery trucks: you will see trucks parked outside your supermarket; always endeavor to click on them and not miss out on them. These delivery trucks give a huge amount of cash that can be used to upgrade and expand your supermarket. Don't allow these trucks to stack up so as not to miss out on their profits.
Relocate your supermarket as soon as possible: once you have made enough cash to upgrade, you may be promoted to move your supermarket to a new environment where there will be enough space for the smooth running of your business and put the previous one for sale. You will start from scratch again, reset the level of your department's parking lots and advertise your business to attract customers. Doing this forms part of the business cycle and will unlock more upgrades and help you move forward in the game.
Invest in epic upgrades: the icon is at the bottom of the screen; click on it to enter the epic upgrade page where you can spend the earned gems for permanent improvement on your supermarket.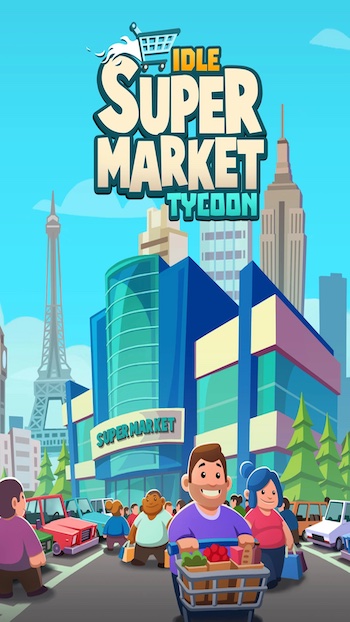 Accomplish missions: The checkmark icon is at the top right side of the screen, where you see the mission stats. Ensure to work on accomplishing the mission early to not miss out on the small gems.
Conclusion
This is a game you will utmost enjoy playing it. Aside from the fun aspects of it, it will awaken an entrepreneurial and management instinct in you. The game is easy to play; all that is required is to be strategic with your management and upgrades. To have an awesome experience with this game, get the idle supermarket tycoon download on any of your mobile devices and start enjoying the gameplay.


Join Telegram Group
Download Idle Supermarket Tycoon APK, build a massive supermarket business, earn money from managing the business and become the number one supermarket tycoon in the world.