Download Idle Light City APK for an adventure into the light production and distribution world. Help the city banish the darkness by providing all-around light.
About Idle Light City
Here is a game that simulates an environment where you're in charge of lighting up the whole community. As the controller, you'll be able to decide which part of the streets needs lights and which should be in darkness. There is a map to guide you, of course, and on this map, you'll find the light bulb factory that helps you produce the illumination necessary to keep the whole community well-lit and get rid of darkness.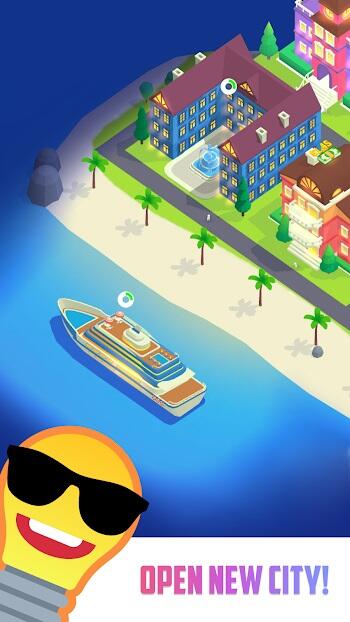 Like most idle games you e probably played before, this is also a clicker game, and you don't get to interact with most of the game elements. All you'll have to do is flick on and off the switches for the lights across the streets. Although the game might seem tedious at first, it's an enjoyable game once you get to understand how it works. You can increase the light production process to ensure every part of the street is well illuminated, and you'll lose points when you leave parts or all of them in darkness.
Hence, the game tests your reasoning and planning skills. First, you must be able to properly plan the distribution of illumination produced in your factory across the whole town. Therein lies the game's challenge because the light produced isn't always enough to provide constant light, so you must find a way to ensure that the light is evenly distributed.
The game doesn't have smart graphics since there's no need for them, but it does provide a well-detailed environment to enjoy your game. The game transitions are also significant; you'll be able to notice the changes in the game environment once you affect any action. In addition, the lower parts of the screen contain game aspects where you can evolve and invest your rewards.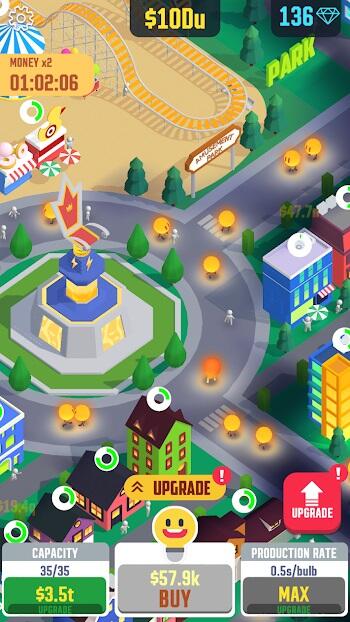 It's a free game for Android devices and was developed by ADQUANTUM LTD. It's available in over 44 languages worldwide, and the content is rated for all ages. So, even kids can have a jolly time playing the game. There are many players on Idle Light City as it has many downloads and an impressive rating on Playstore.
Gameplay
Your sole objective in Idle Light City is to ensure sufficient light to go round the street and ensure no part is in darkness. So, ultimately, you must ensure that the light production factory increases its capacity as the city grows. But, simultaneously, you must also improve your management and control skills to create the correct pattern for light and energy distribution across the streets.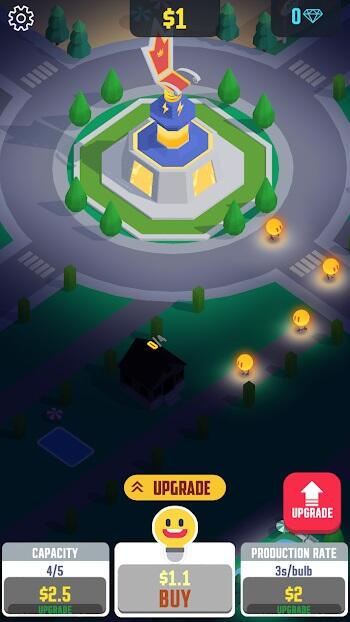 Once you can run the show for each level effectively, you'll be able to move on to the next. Unfortunately, the more games you play, the bigger and higher the demand for light becomes, making it more challenging to keep things in check. You'll also have to use your game rewards as investments for your factory business, such as upgrading equipment and staff to increase the production capacity and boost revenue.
Features
Idle Light City is a thrilling game from the Idle series with a unique concept and many special features. Check out some of these features below:
Graphics
The game's graphics are basic since that's all players need. It includes all the details you'd expect from a simulation game and all the necessary features to make the game have realistic gameplay, though not realistic graphics. For example, the light factory runs the same way as a real one. All the elements are detailed to contain the obstacles and difficulties that a typical factory manager would face.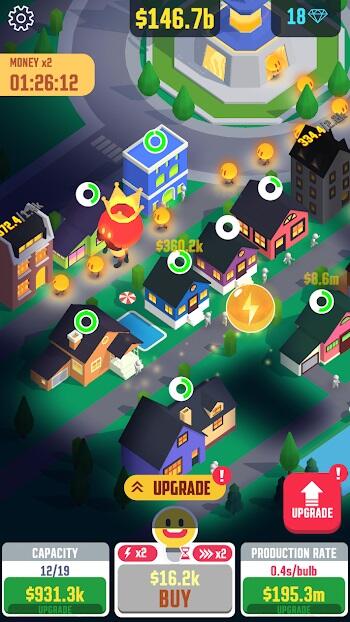 Instead of being in a light factory and missing out on the fun, the game lets you have a view of each street you supply and keep track of everything from the game screen. The houses are beautiful, and each has different shapes, colors, and designs. Asides from the pleasing visual, you'll also be able to enjoy a soothing soundtrack while you play.
Control
Of course, as a clicker game, you have limited options to determine how the game runs, but the control is entirely yours. You can navigate through the nook and cranny of every city you supply light to and manage all the activities by simply clicking and tapping on your screen. You can move between areas by swiping on the screen, while the game has other features at the bottom of the screen to help you take specific actions. For example, you can buy upgrades and check your current production rate and capacity at the bottom of the screen.
Simple Gameplay
There is a simple gameplay pattern behind Idle Light City. The game rewards players for adequately organizing the light production cycles and distributing them to all the homes across the streets. There are many levels to play, and each level has different objectives. You'll also be able to develop the city by building new homes and creating more environment for people to move in and pay you for the services provided.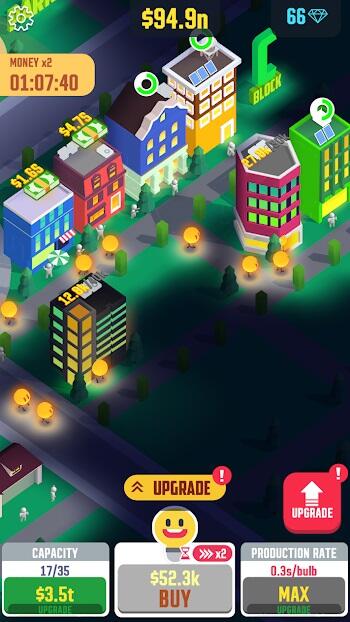 Game Upgrades
Your city will get crowded with more people, so you'll have to increase your capacity to feed every home with the right amount of lighting. Like in most clicker games, you must expand and build more houses. You also have to use your earnings to increase a light factory's production capacity and meet everyone's energy demands.
Profit Generation
Once you have a structure, you only have to regulate and build on those structures. Since light generation and distribution can be automatically done, you'll continue to make a profit even when you are offline. Moreover, it will add your current earning capacity every hour of every day you've been offline to ensure that you meet all your earnings when you finally come back to the game and are ready to improve your services further.
Conclusion
The game is a fun 3D simulation experience with a simple gameplay pattern. Since it's free and suitable for free and busy people, you'll have a great time starting your journey as a light factory manager.