Download Idle Farm Tycoon APK and become a millionaire farmer in this realistic simulation game. Start by setting up your farm and building your farming empire.
Plot and Gameplay of this Adventure
If you've ever wondered how much you could make from farming, the Idle Farm Tycoon game will help you find out! You can become a fantastic millionaire and make a profit without doing much while playing this exciting farming simulator game. From the interesting gameplay to fun graphics, Idle Farm Tycoon is an engaging game for anyone. This is your chance to become a millionaire in a simulation game.
The game was first released on the 7th of May, 2020, and is offered by Kolibri Games. It is also suitable for anyone to play, regardless of age. It'll remind you of other idle games since it doesn't require much effort or time. Instead, the game has a lot of automation that allows you to get things done and manage your farm.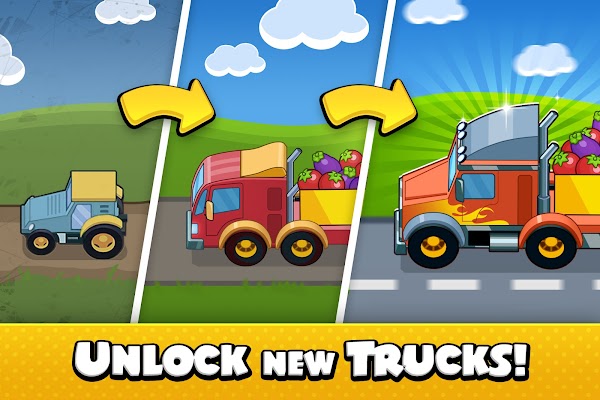 You can level up and customize your farm as much as possible to increase productivity. Like any other tycoon game, you focus on making a lot of money. The tycoon game has three main simulations. These include your workers who will become faster and stronger with farming over time, your transporters who will hold cash and drive faster, and your plants and vegetables for a farming simulation.
If you've ever wanted to become a billionaire, a farmer, or both, this simulation game will keep you engaged. You can do different things to make money, including plants and taking care of livestock. Earn your profit and use that to build and expand your farm as time goes on. But, there are some challenges to look out for on the way.
Interesting Farming Simulation with Zero-Pressure
Idle Farm Tycoon is a farm-building simulation that is fun to play with no pressure. The game starts by getting hundreds of acres of farmable land, although there is no storyline on where the land came from. Your job is to clean up the farm and start your journey towards becoming a rich farmer. You will start with some skills and talents and can use that to improve yourself.
You need to have good business sense to plant in your fertile field. With your boundless profits, you can expand your farm. You will need to create an automatic farming process to expand your farm without needing much work.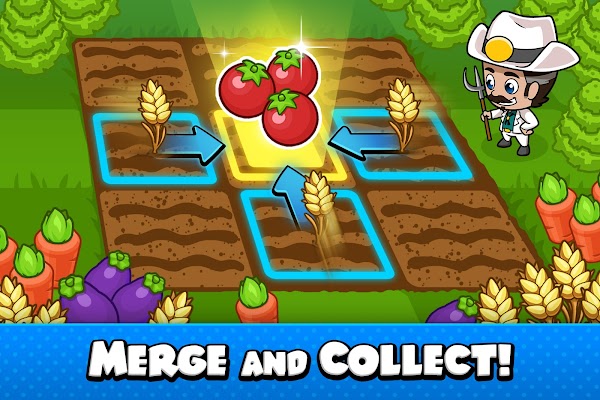 The usual process in the Idle Farm Tycoon game is to find land and an agricultural product to plant on it. You will then invest money in machines and farmers and create an automated process. Finally, you will have to harvest your crops and process them. Then, you can trade them with other merchants to make a profit. There are different kinds of plants and vegetables that you can harvest on your farm. These include tomatoes, fruits, corn, vegetables, and flowers. It's important to start farming something with something that sells well.
Once you've set up your farm in Idle Farm Tycoon, you can hire a manager to help you run the farm. The manager is a virtual character that will help you operate your farm, and the only thing you need to do is oversee the farm and take care of the trades.
Although the game starts easy, you must keep your mind strong and use different strategies if you want to grow your farm and become a millionaire at Idle Farm Tycoon.
Become a Millionaire Farmer in the Simulation
It's pretty easy to play the Idle Farm Tycoon game, especially since it has idle gameplay and does not require much effort. You will have to tap the screen for any activity you want to do, like plowing, taking care of crops, hoeing, transporting goods, and processing agricultural products. Combine all the activities you need to take care of, and you can make a lot of money quickly. The money you get can be invested in a new farming field, leading to more money. It's a cycle of farming and profit.
Although the Idle Farm Tycoon game will remind you of any other farming game, it comes with some unique features to keep you engaged. You can merge your workers, make them stronger faster, produce more plants, and take care of the livestock.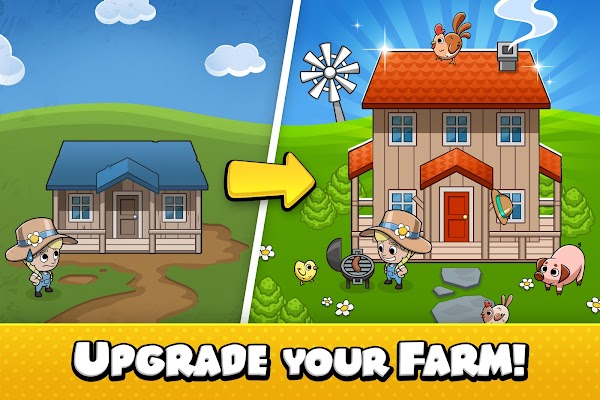 It is also possible to combine agricultural vehicles like harvesters, tractors, sowing machines, and anything you might need. When you combine two of the same kind, they move faster and will give you more money. Finally, you can increase sales by merging vegetables and fruits to create unique varieties. These merged fruits have more value and are resistant to harsh weather.
The Idle Farm Tycoon game is the best way to practice your entrepreneurship skills. Like any entrepreneur, everything you do needs money, whether you're upgrading your machines or buying more land. You can make money by raising livestock and planting agricultural products. You can sell them, along with eggs, to make money.
Once you move on in the game, you become a millionaire farmer, and most of the processes in the game will be automatic. You won't have to do much but manage the processes.
Game Features on Idle Farm Tycoon
There are different features to look out for a while playing the Idle Farm Tycoon. These include: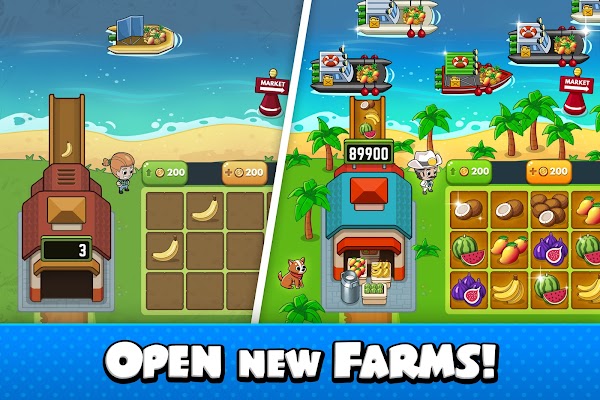 Automate your farm to increase your income.
Get a manager to take care of your farm while you oversee.
Purchase and upgrade your machinery like tractors.
Collect rewards when you complete tasks and produce fresh goods to sell like lemonade or eggs.
Merge your farmers, plants, and transporters.
Become a millionaire farmer as you play.
Conclusion
The Idle Farm Tycoon is an engaging game that anyone can enjoy. From the start, you will get the chance to start tilling your farm and caring for livestock. As you play, you can enjoy the engaging gameplay and build your farm to become successful. You can become a millionaire farmer with a bit of dedication.