Download Idle Bank APK to play the role of a great banker. Idle Bank lets you build cash flows, manage properties, and control your bank smartly.
About Idle Bank
The game is an exciting videogame adaptation of the legendary bank managers and a glimpse of what the bank looks and runs like. Although this is not an actual bank, players can go as close to the real-life processes. So it's an exciting game for anyone who loves to play with figures and manage a group of individuals that help you grow the bank.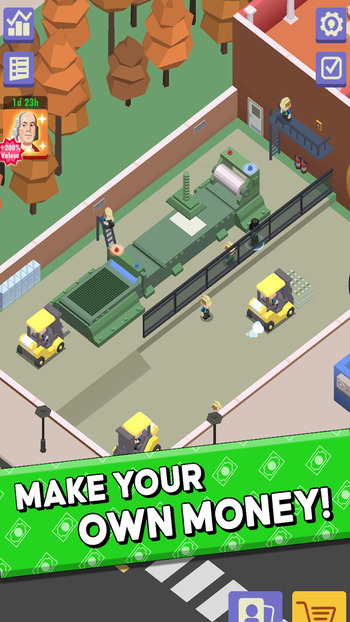 Unlike similar games where players have to build from scratch, you can always start from a professional level and work your way up. So in Idle Bank, you're already considered a great bank manager, and you need to prove this right with a couple of good moves and intelligent decisions.
Idle Bank starts with a big bank with all the essential tools to keep things working. Although you can only make decisions that affect the bank according to the description, you can still make independent decisions during the game. Moreover, once you decide to do anything, you don't have to do it yourself since the idle gameplay keeps the bank running.
Execute Bank Manager Duties
The bank manager handles many things, and you can manage everything a typical bank manager does. Although the game doesn't reflect all the tasks of a real-life bank manager, you might have to complete different ranges of activities depending on your manager level.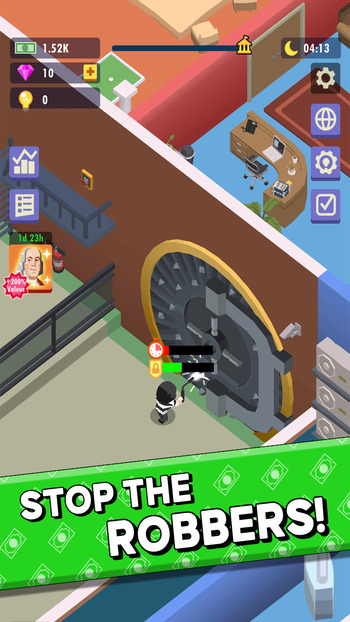 The game also has an excellent script, meaning a detailed storyline is drawn out for you already. For example, your tasks might include menial to technical ones such as printing money, lending, hiring staff, customer service and satisfaction, investing, attracting more wealthy customers, and even scaling up the bank's new branches.
The game gives you the independence to decide how and how much you do anything, which is where it gets interesting. Players without essential experience would find it challenging to manage this role effectively. For example, a player who doesn't understand cash flow wouldn't know when to print more money or whether printing more would cause inflation.
So, players won't just make decisions but consider the risks and consequences of their choices. So to expand the bank's branches, for instance, you must think of a backup plan for your enterprise in case the new unit is a failure or doesn't meet up to your expectations. These risks include the fact that you have to calculate how long you can break even and how much profit you make to the impressive gameplay the Idle Bank game offers players.
Game Features
The game has many features that will take some time to get used to. Due to the various tasks and storylines, there are numerous areas of the game that players need to understand for an easy and better gaming experience. These include: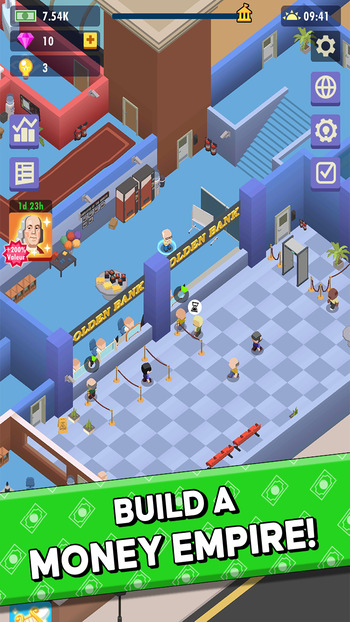 Graphics and Animations
The game does have impressive graphics and animation levels. The interface is smooth and perhaps too colorful for a game about money. Many details are added to the game settings, such as the bank hall, inventories, offices, and money-making machines. The developers also put a lot of thought into adding game features such as VIP chairs and premium materials to attract high-paying customers.
Manager's Office
The manager is the most important character in the game, so much attention is paid to the manager's office and vision. Depending on how well furnished the manager's office is, it will determine what type of customer can be invited and how big the deals can be. This office has basic tasks: customer service, attracting VIP customers, resolving complaints, hiring more staff, etc.
Transaction Office
This part of the game is where most of the businesses are handled. It's the banking hall where the customers are served. Also, players will b spending most of their time ensuring that this room is as good and convenient as it can be for the customers. You can install a desk and a teller to serve the customer for a start, then proceed to expand the room as you grow and add more staff. Other features on this page include the teller machine, help desk, chairs, and decorations.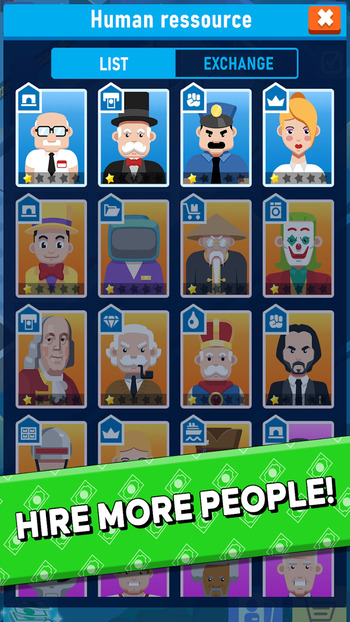 Money Printing Workshop
There is also money printing, where most of the minting is done. Here, you can print money for your bank cash flow. However, there is a limit to production capacity, so you can only produce a certain amount of money at a time. Hence, players must be prudent and aware of how much they can make before making decisions. You can also upgrade the machinery to produce more effectively and work at maximum capacity.
Game Stats
This tab features all the expenditures, profits, and wages the bank had incurred since you started playing. It helps you track your finances and make better decisions regarding the bank's future. You'll be able to access important information such as the total number of employees, upgrades made so far, wage cost, profit made, money printing capacity, and how many transactions are going on in the Transaction office.
Technology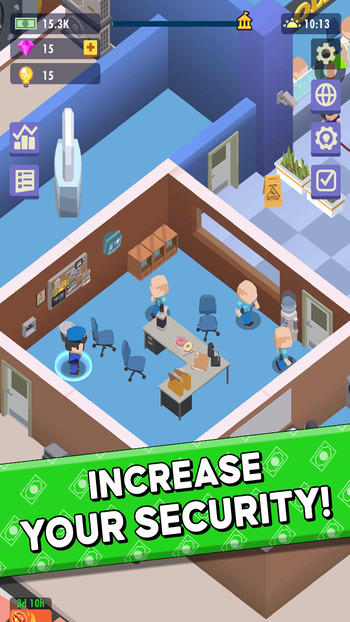 This game section gives you control over many features that help players improve customer services and boost your profit levels. For example, you can set the floor to allow players to walk faster by upgrading the floor technology. You can also improve the efficiency and productivity of the money-making machines and other equipment used in the bank.
Object Evaluation
The object evaluation is more like a showroom where you get a snippet of what the equipment you'll be buying looks like and how much it costs. You can check equipment and staff, make purchases, upgrade current equipment or expand your bank right from this game section. Other rooms include the security room, intern room, loan assessment, etc.
Conclusion
Idle Bank is pleasurable leisure that allows you to make productive use of your time with logical reasoning and decision-making skills. The game has 2D graphics but with bright and vibrant colors. If you've always wanted to b a bank manager or like the idea of managing a business, you should start playing Idle Bank.