Download Hooked Inc APK and be a successful fisherman. Sail different parts of the world, show off your skills and catch different types of fish. Let's make millions!
All you need to know about Hooked
Hooked is a fun, simple, and interactive simulation game where you show off your skills and learn how to be successful as a fisherman. It is an addictive game that has been doing numbers since its release. It was released on September 13, 2017, by Lion studios, one of the best gaming studios. Lion studios have created many fun games, including Love Balls, Flip Trickster, etc. Hooked is available on both Android and iOS devices.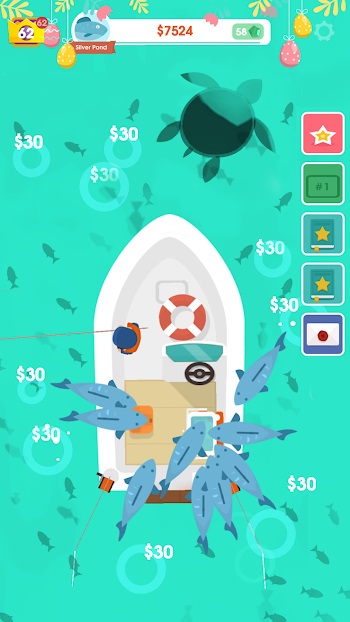 Hooked is a simulation game that will get you hooked for hours. It features you as a fisherman in the sea aiming to catch a fish. These dishes are of different types, but you try to catch all of them no matter how big they are. You get more money as you continue to catch more fish. Eventually, you become a successful fisherman with loads of money. You can use this money to expand your business, get new crew members on board with you, and catch even bigger fish.
Here's the catch: A big fish is under the sea, ready to come out any moment. The question is, would you be able to catch it?
Features of Hooked
Apart from being a means to get food or money, fishing is regarded as a relaxing time to cool off and think peacefully after a stressful day or a stressful week. You get to cast your hook into the sea and wait calmly till a fish gets hooked. Hooked places importance on this serenity as it has features to keep you calm, engaged, and motivated to go for more.
Fishing Style
Hooked displays a very easy-to-learn way of fishing. Its gameplay is not as complicated as other fishing games there. You don't need to be a professional before the game begins. All you need to do is make good use of your finger. Once you do, you're on your to becoming a millionaire.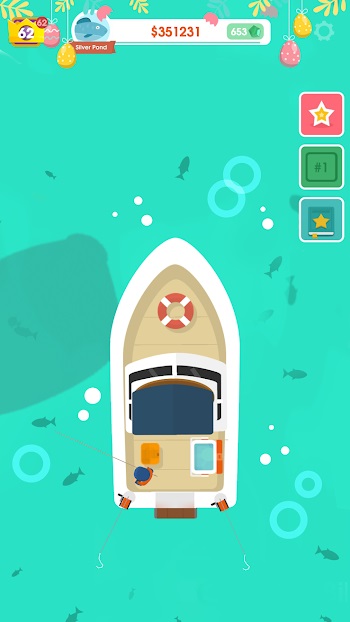 When you begin the escapade, you will be given the necessary tools you need to fish successfully. You will be given a simple boat, a fishing rod, bait, a rope, and a crew member. Just like a fisherman stands to view the water and search for fish, your view will be from the top, keeping watch of any fish hiding in the water. All you have to do is pinpoint the exact location of the fish and swipe your finger across the screen, catch them and pull them to your boat. However, the bigger the fish, the bigger the number of times you need to swipe.
Each time you catch a fish, you earn money and gain points based on the worth of that fish.
Unlock New Grounds
The aim is to fish and get rich. You won't get rich by sitting in a small boat with just one crew member all day. You will tread on uncharted territories looking for all the exquisite fishes you can find. This entails you becoming a businessman. To sail far and deep into the ocean, you need to make money to upgrade your present fishing tools. As you fish, you gain more money that you can use to level up. You can buy a new fishing rod, a new bait, a new boat, and hire crew members. Each crew member you hire has unique skills to help your catch. The more crew members you have, the more you all work collectively to catch more fish.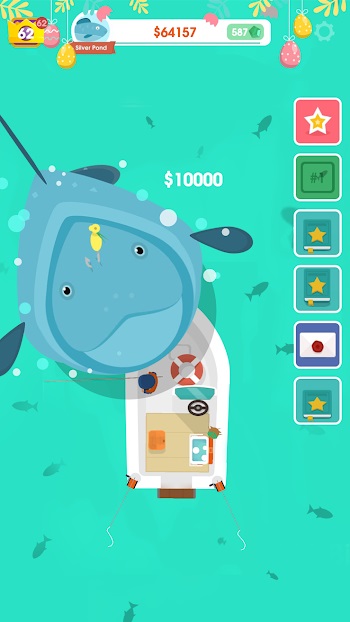 You can choose many boats adorned with aesthetic decorations to add more spice to your fishing. These boats help your skills and provide boosts for a better fishing experience.
Compete in daily fishing tournaments
Hooked as a tournament mode where come to battle with other skillful fishermen around the world. As you battle with them, you earn rewards based on your performance. You can earn gems and badges to can help you catch the 'Big One. However, the reward is only for plays that fall in between the ranks 1 to 13. This tournament is a ground to fully display your skill and experience.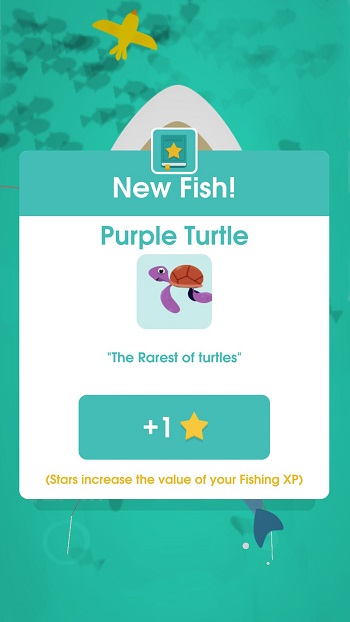 You can join in the fun by tapping on the booty icon. Once you're in, you can select a team of your choice and start the tournament with hundreds of other players. How good are your finding skills? Can you make it to the top?
Graphics
These features or gameplay would be strenuous or of no use if the graphics were not excellent. Hooked adopt a simple lifestyle in gameplay, and it is graphics as well, so you can enjoy a game with easy navigation. It displays an uncomplicated 3D pixel format. This allows it to be compatible with versions of many devices.
Discover Rare Fishes
As you continue to grow your fishing empire, you will gain more sophisticated tools to catch fish easily. Over time, you move far deeper into the ocean to increase the number of fish you catch. The ocean is deep with lots of fish underneath. These fishes are of different species and different sizes. As you go deeper exploring the depths of the ocean, you will encounter them from time to time with your crew. These fishes are worth more than normal fishes. You'd have to be prepared with the right tools and the right crew members because you won't be able to do it alone.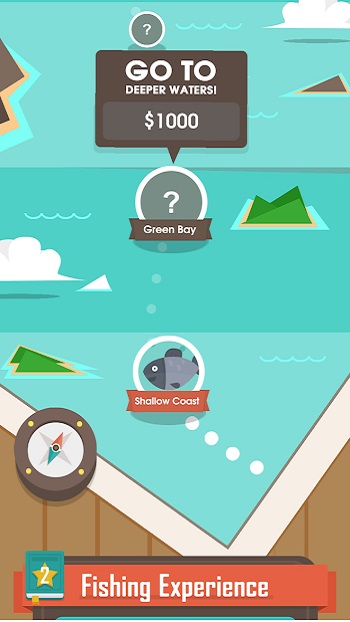 Apart from the thrill and adventure that comes with discovering these rare species, it is meant to learn about different fishes in the sea and how easy or hard it is to catch them.
Conclusion
Hooked is a fun game that gives both a relaxing experience and the adventure of fishing in the deep, vast ocean. You will discover what it takes to fish, be a businessman, be a millionaire and build an empire with your crew. This game can also be played online making sure you do not miss out on the fun, any day, any time.


Join Telegram Group
Download Hooked Inc APK and be a successful fisherman. Sail different parts of the world, show off your skills and catch different types of fish. Let's make millions!