Download Evertech Sandbox APK to create whatever you want! Use the game's items to bring your simple and complex innovations to life in this sandbox game.
About This Game
Evertech Sandbox is an inspiring video game in which you can build items from basic levels. It was released on the 18th of May, 2018. It is supported by Android and iOS platforms. It is also available for gameplay on PCs.
Using basic building blocks and the other items in your inventory, you can create some of the most complicated mechanisms from scratch. You can even create moving objects like vehicles, robots, and elevators. The game also allows you to finetune workshop objects and improve them.
Evertech Sandbox is a 3D game that focuses on honing your construction skills. Its game content resembles Minecraft in some ways, but it has its differences. The interface can take some getting used to, but it becomes easy to navigate after some time.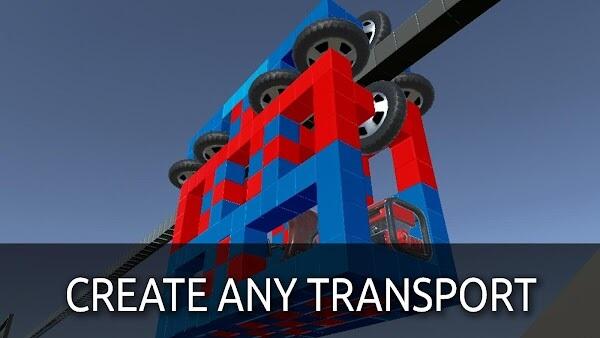 The game has an inventory of objects you can combine to produce your creations. The most basic building unit is a block. However, there are other advanced building units available. They include wheels, engines, propellers, and connection tools. You also get access to extra tools and testing areas.
Evertech Sandbox game also lets you save your creations. This feature allows you to share your work with others so they can see all the great things you create.
Evertech Sandbox Gameplay
Build complex things from simple materials. That's exactly what this game wants you to do. It has provided everything you need to be able to do it. It's your turn to play your part using what has been made available. In this game, you'll find unique ways to combine different materials to produce what you envision.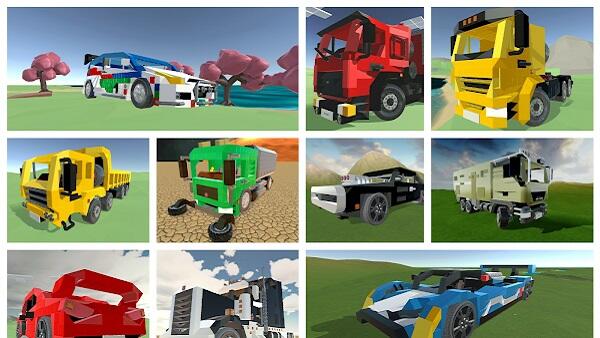 Since Evertech is a sandbox game, it's not about losing or winning. It is about creating, and that is what this gameplay section focuses on. Let's make use of the example of building a car. The inventory has the building materials you need. Click on the bag icon at the top part of the screen to access it.
To create a simple car, start with the base. Build a small base that can hold four tires. Add an engine to the front of the base. Place the driver's seat in the middle of the base. Connect the items; engine to wheels, wheels to driver's seat, and driver's seat to the engine.
To connect items, you must learn how to use the connection tool. This tool lets you connect building items wirelessly, just like the car building guide uses it. To connect, pull up the connection tool. Dots appear on all the building items. When you click on the dot on one item, a line appears. Connect that line to the other item in the creation, and you have a connection.
Your job as a builder is to turn the mechanical blocks provided into functioning equipment. Most players choose to start with building a car since the process is pretty straightforward. Evertech Sandbox also gives you the option of painting your building blocks. This allows variety in the physical outlook of what you create.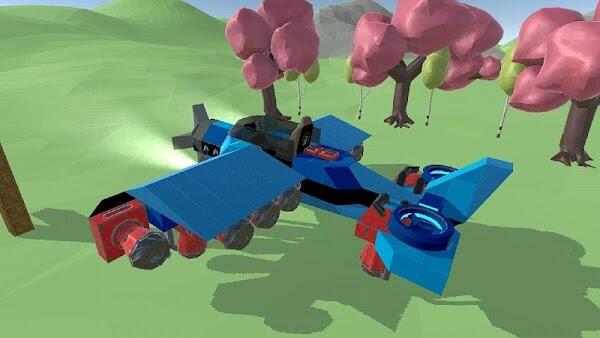 You can also create other brilliant things in Evertech Sandbox. Just think of how the components would be placed in real life and arrange and connect your building blocks similarly. The game lets you test your creations on a large green field. Once you feel you've gotten to a stable building stage, you can do this.
Eveertech Sandbox lets you share your works with others. You can do this via email, message, or social media platforms. The game creates URL links for you to send. When people click on this, they can see what you've created.
Evertech Sandbox Main Features
Graphics: Evertech Sandbox offers a nice 3d visual platform for you to enjoy gameplay. The design tools are simple and easy to work with. This is because the game aims to provide a fun gaming experience rather than complexities. You won't have issues with your phone's configuration because Evertech Sandbox works well regardless of configuration. The controls are also designed to make your construction work easy and less tasking.
Inventory: The inventory is a selection of objects and items you work with. It includes engines, wheels, blocks, tools, and paints. You can grow your inventory by buying items from the shop, redeeming gift codes, or watching ads.
Items: The items in Evertech Sandbox are found in the inventory. They include wiring tools, setup controllers, bearing, blocks, concrete, gun, remote, light, spray paint, and jet engines. Some of the other items have been mentioned earlier in the gameplay section.
In addition, the developers are constantly adding new features. After playing, you can leave reviews or suggestions on the game pages in your app stores. Just be nice to them.
The Developers Of Evertech Sandbox
Evertech Sandbox is powered by Irontube Games, a gaming software company that has been around since 2007. The company consists of a group of professional developers dedicated to creating interesting games.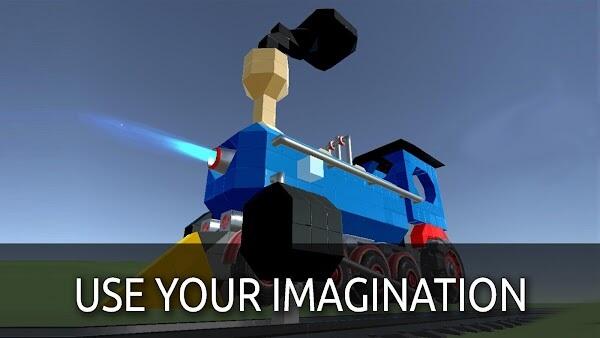 Irontube Games is famous for creating unusual sandbox games for mobile devices, one of which is the Evertech Sandbox. These developers aim to bring fun to players' gaming experiences worldwide and allow them to bring their creative ideas to life. The other games from this company include Mind Golf and Castle Traps.
Conclusion
Evertech Sandbox features vibrant colour styles and a fun theme. The sound, graphics, and game content inspire you to create. The game even has materials available for you to do that. Although there are some pieces of equipment you cannot create, Evertech has so many options for you to work on that you won't find yourself thinking of the ones it does not.
Evertech Sandbox falls under a genre of sandbox construction games. These games are not necessarily played to determine a winner or loser. Instead, they give the player the freedom of expression and creation to build things with little or no restrictions. Minecraft falls under this genre too. At its core, Evertech is a simulation game. When you play, you become a builder.