Download Crash Delivery APK to enjoy one of the most amazing combinations of gameplay themes ever! Prepare to get addicted to playing this game and having fun here.
About Crash Delivery
Crash Delivery was released in February 2020 by Fun to Mass Games. It is a mobile game where you can be the fastest delivery man alive. Here, collision with obstacles or other vehicles is not a problem. Just try to get to your customers on time and with their goods.
This game features so many obstacles on the routes that your car is at risk of destruction. But, that's the fun part. Your car might be in a bad state at the end of the delivery, but as long as the parcels are fine, you'll win and earn your money. Crash Delivery is a car destruction game that takes you on unique deliveries to interesting locations.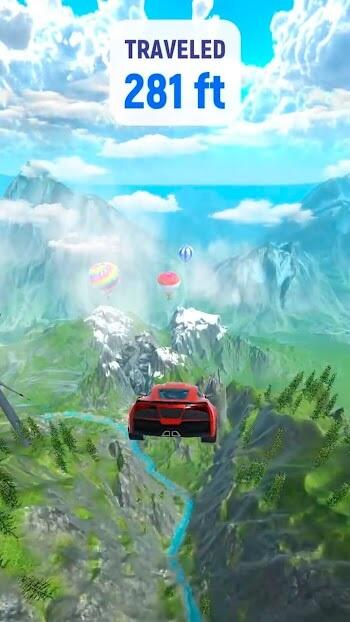 Some of the areas have no paths or roads. You'll have to create your path amidst the trees, desert sand, and obstacles. Thankfully, damages don't stop your vehicle from moving. Ignore whatever happens and continue driving as fast as possible until you reach your destination. You can trust your car because it has been designed to do seemingly impossible things like flying!
Crash Delivery's Gameplay
Crash Delivery transforms transporting goods from a boring experience into one that bypasses the rules of physics and traffic. The goal is to get the packages to your customers, so you're to do whatever it takes to achieve that. You have to drive to a certain location, but the routes are quite unusual.
You won't see the normal asphalt roads most car-driving games have. The roads here are full of weird obstacles, mud, ice, and other variants. You'll have to drive forward all of these to achieve your goal. The game provides you with special tools, such as a rocket turbo that lets you drive your vehicle in the air when needed.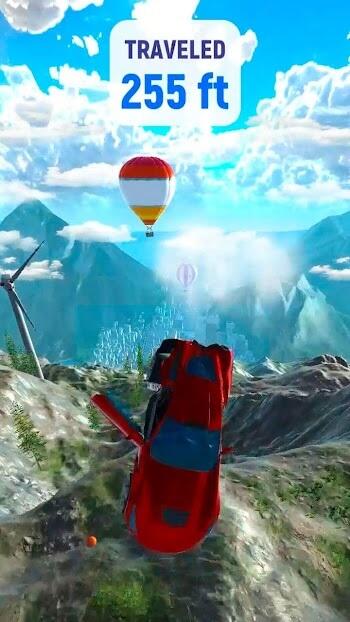 The rocket turbo has limited fuel. When the fuel runs out, your vehicle falls to the ground and collides with the objects on the road. The vehicle gets damaged, but you can still continue your journey. If you fall to the parts of the ground that have the "Jump Here" sign on them, you can keep going until you complete the level.
Crash Delivery features gameplay similar to that of Car Crusher. Your vehicles are crazy enough for you to ride them on any type of land. The game also includes special delivery missions where you must fly for a long time because of remote locations and blocked roads. You're free to wreck stuff as much as you want and perform driving stunts.
Crash Delivery's Key Features
The spicy features here include:
Visuals and Sound: Crash Delivery features average 3D graphics that are not so impressive, but the special effects and animations will leave you in awe. These are the major contributors to your experience here. In addition, the soundtracks keep your attention on the game as they add to the exhilaration.
Simple Gameplay: Although the gameplay is exciting, it is also simple. The controls are mostly automated. This makes gaming undemanding and easy to get the hang of. Gravity does most of the work in the flying and stunts. Playing Crash Delivery is also relaxing. You can enjoy creative gaming without doing too much.
Special Game Mechanics: The in-game physics are funny. It's hilarious to watch your vehicle fly off cliffs, flip and do so many dangerous things but remain okay enough to keep moving.
Skip Feature: The skip option enables you to bypass scenes in the game levels. For example, instead of watching the crash animations, you can skip to your challenges' operations aspect.
Unique Locations: As you drive to the delivery destinations, you'll have the opportunity to explore new locations and admire their scenery. The obstacle setups in the locations and levels vary; each one was more intriguing than the other.
Offline Gaming: Crash Delivery is also available for offline gameplay. You can now enjoy the in-game fun without an internet connection.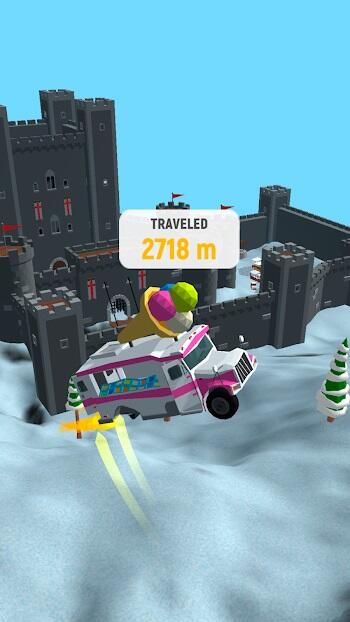 The best of the features, Crash Delivery, is free to play! Access all the exciting perks this game offers without paying a dime.
What To Do In Crash Delivery
There's lots of fun stuff to do here, especially since damaged vehicles are not a major concern. While playing Crash Delivery, you will:
Perform Upgrades: There are three types of upgrades you can carry out in Crash Delivery. They are the Extra Money, Fuel, and Speed upgrades. The Extra Money upgrade gives you more bonuses when you complete a level. The bonus is increased if your car moves a great distance in a short time. The Fuel upgrade expands your rocket turbo's fuel capacity, allowing you to stay in the air longer. This is particularly useful for deliveries to remote locations. Finally, the Speed upgrade lets your car move faster than normal. This gives you quite the head start on long roads.
Unlock Maps: Each delivery is a challenge. Completing it successfully helps you unlock the next level with a new challenge, location, map, and delivery mission. Each location has a unique topography. For example, the first delivery mission in Crash Delivery is to a location with flat terrain. The map shows the characteristics of each location. Understanding what it says is key to completing the challenge.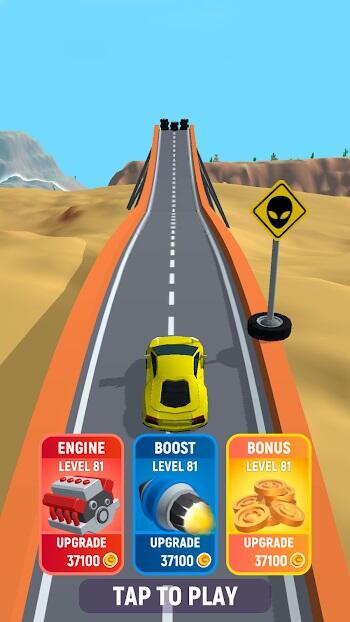 Unlock Cars: Crash Delivery offers a unique collection of cars with different strengths. As you play the game, you'll unlock the cars in the garage and get to put them to test on your missions.
Crash Delivery also has three Lamborghini sports cars in the game store, so get ready to smash your challenges with their speeds.
Conclusion
Crash Delivery APK all cars is a delivery simulation game packed with unpredictable turns and simple instructions. In this game, you are a delivery guy who must climb hills, stunt drive, and face many challenges to get parcels to their destinations.
Set traffic regulations aside and survive every odd to ensure these packages are delivered. The game mechanics are exciting, and they make playing a fun experience. The developers of Crash Delivery have put a lot in place to ensure you spend enjoyable hours taking part in this game's endless challenges. Have fun playing!


Join Telegram Group
Download Crash Delivery APK to enjoy one of the most amazing combinations of gameplay themes ever! Prepare to get addicted to playing this game and having fun here.