Download Cooking Simulator APK, a kitchen game for women, men, girls, and adults. Dive into a world of cooking and tasty dishes and begin your culinary journey.
An In-Depth Description of Cooking Simulator Mobile
Cooking Simulator Mobile is an addictive kitchen game for everyone. This cooking game is perfect for people who love to cook, simulators, and fans of time-management and addictive cooking games. If you are used to playing restaurant, bakery, fast-food, and bakery games, you will have no problem getting used to this game. Cooking Simulator Mobile is an amazing and addictive game that will have you playing for hours – are you ready to begin your culinary journey?
PlayWay published Cooking Simulator Mobile, and in this game, players can make a lot of tasty foods, unlock advanced recipes and become popular virtual chefs. All you need do is get into the kitchen, follow every recipe to create realistic dishes, and become a successful chef. When following recipes, the steps will be outlined on the left side of the screen, so you will need to get your ingredients and start cooking through your smartphone. In this game, players will end up virtually cooking their favorite dishes.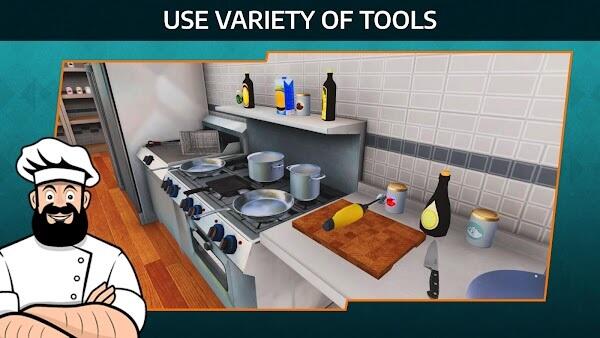 The controls in Cooking Simulator Mobile are simple – when you want to move around the kitchen, you can use the joystick, which will appear when you tap on your screen. You will be guided to all the necessary utensils and ingredients you need to cook your dish through the marks on the floor. Once you are done cooking your dish, you have to add the right amounts of seasoning – which will be measured according to the gram – for the food to be perfect and truly delicious.
Cooking Simulator Mobile is different from most cooking games because there are many things you need to consider to create perfect dishes. To complete your dishes on time, you must use the proper utensils and ingredients and calculate the cooking time accurately. As you progress in Cooking Simulator Mobile, you will cook several complex and famous dishes. These will help you to make the right dishes.
When you first launch the game, you will first notice that it is very realistic and modern. Unlike most cooking games where everything looks like a game, Cooking Simulator Mobile looks like it was recreated in real life and could make you feel overwhelmed. You will find everything you need in the kitchen – ingredients, kitchen utensils, spices, facilities, and much more – which is the place where you will realize your dreams of becoming a chef and creating a lot of tasty dishes.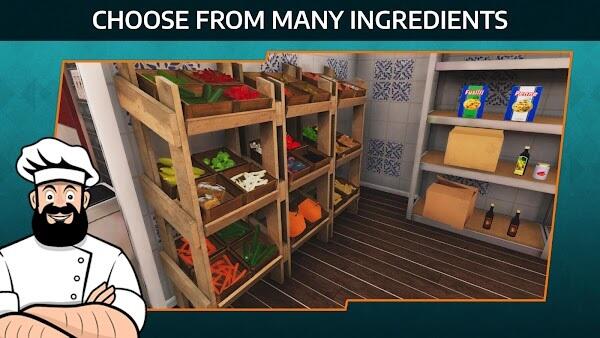 Unlike most cooking games where players have to serve already cooked dishes, you can freely create any dish using the different ingredients in the kitchen's storage area. You can use the available recipes or create your recipes from scratch; most importantly, you make your customers happy with every dish they are served and make your restaurant popular. Our site offers a straightforward Cooking Simulator download process so that you can get right to it.
Cooking Simulator Mobile Tips
Now that you know all about Cooking Simulator Mobile: Kitchen & Cooking Game, let us look at some tips you need to run your kitchen efficiently.
Keep Your Spices Close
You will always need your ingredients and spices when cooking different dishes, so it is advisable to keep them close so you can access them easily. It will surely take some time before you decide where the best place to put your spices and how you want to organize them. Some players usually place their spices near their cook tops and categorize them by color, so you can try this to see if it works for you.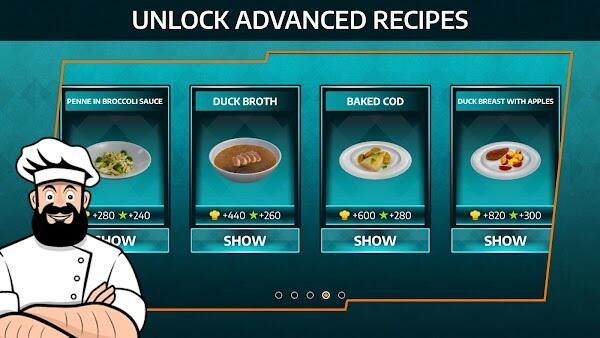 Multitask
As a busy chef with many dishes to make, the best thing you can do is multitask to achieve so many things at once. In Cooking Simulator Mobile, time is essential as you will need to ensure that you calculate the cooking time of your dishes accurately for them to be perfect. If you have a lot of dishes lined up, the first thing you should do is check their requirements. If a large number of dishes require the same spice, use the spice on all of them before putting it down. That is the best way to multitask.
Reheating Food
One good thing about Cooking Simulator is that players can reheat food before they serve it, especially if you prepared the meal a day before. Although certain limitations come with reheating meals – you cannot use bowls or plates to warm your food when using the microwave. You can only use metal dishes in the microwave. Plates or bowls usually lead to a mess, so it is better to use metal dishes to avoid that.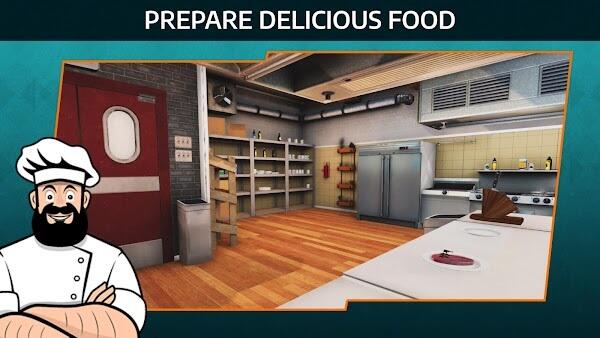 Also, if you heat the food for a long time or a little time, you will not be able to achieve the perfect temperature score. Usually, you can reheat your meals from thirty seconds to one minute (the medium setting) on the microwave.
Do Not Pour Liquids Into the Sink
Always keep your kitchen tidy even though you will not lose any points for having a dirty kitchen. When cleaning up after cooking, you should not pour liquids into the sink because it is a lot more challenging to clean than you think. So, to avoid cleaning, pour your solid and liquid waste into the trash can.
Features of Cooking Simulator Mobile
Written below are some of the exciting features Cooking Simulator Mobile has to offer.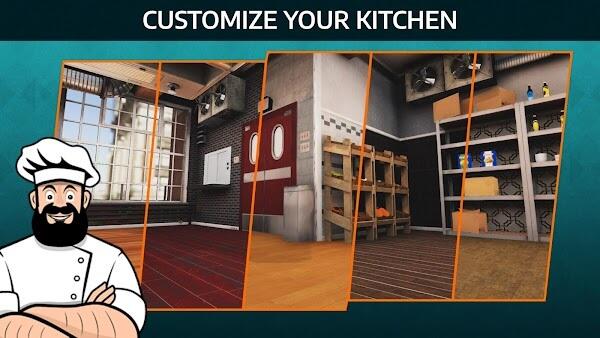 Cooking Simulator Mobile has lovely graphics and visual effects. It features a highly realistic and well-equipped kitchen.
Players have a wide variety of kitchen tools – pots, pans, large and small plates, fryer baskets, cutting boards, knives, blenders, and much more – that can be used to make tasty dishes.
With Cooking Simulator Mobile, you can prepare a lot of tasty and real dishes such as boiled potatoes, fried shrimp, grilled tuna, duck broth, fast pumpkin soup, baked trout, salmon stake, etc.
There are so many different spices – ginger, pepper, olive oil, salt, thyme, vinegar – and so many different ingredients – tomato, onion, garlic, sausage, tuna, broccoli, parsley, carrots, etc.
Players can customize their kitchen to suit their style – you can change the floors, ceiling, walls, and much more.
Cooking Simulator Mobile has addictive gameplay and allows players to practice their time-management and cooking skills.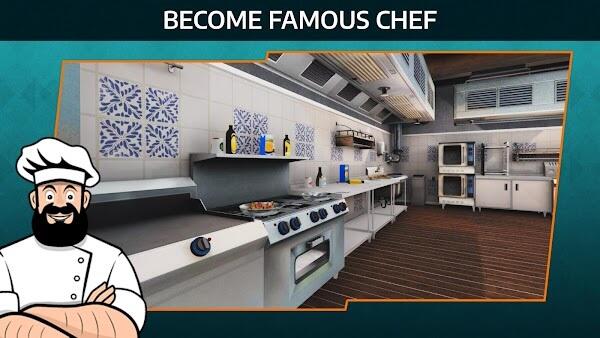 Show your chef skills with Cooking Simulator Mobile.
Conclusion
Are you ready to dive into a world of cooking, tasty dishes, and numerous ingredients? Do you think you have what it takes to become the best chef and create delicious meals loved by customers? Download Cooking Simulator Mobile and start your virtual culinary journey today. A game that guarantees to cure boredom and have you playing for hours.


Join Telegram Group
Download Cooking Simulator APK, a kitchen game for women, men, girls, and adults. Dive into a world of cooking and tasty dishes and begin your culinary journey.