Download Boom Karts APK, the ultimate fun-filled, arcade-style racing game. Compete against other racers and do whatever it takes to ensure your top spot!
About Boom Karts
Boom Karts is a mobile PvP racing game that takes on a style popularly known as kart racing. Boom Karts was authored and developed by the popular gaming company, Fingersoft and released on May 4, 2021. The game could be said to be quite similar to a popular racing game, Mario Karts. However, the similarities do not play out in all aspects of the game, and it has peculiar features. For example, the game requires a minimum operating system of an Android 5.0 to function maximally.
The game presents a 3D arcade-style experience and is quite stimulating to play. Racing games are quite popular; most people have likely had an experience with them at one point or another. However, Boom Karts does not just revolve around the normal racing sport to win but also implements crazy and thrilling features that spice up the whole racing experience.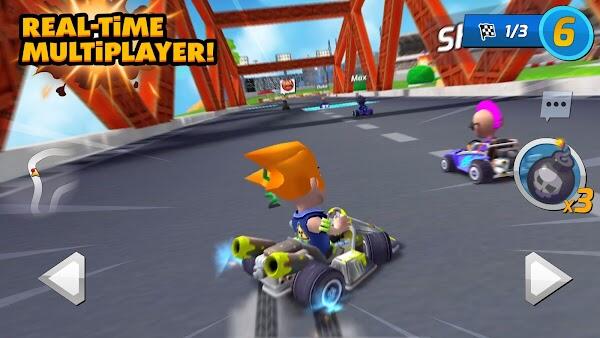 Since the initial release of Boom Karts, the game has undergone several updates, and different versions have been released, so you can be sure to expect better features as the game goes on. The latest version was released on August 16, 2022, and contains exquisite features and additions. Boom Karts is a game that will be greatly enjoyed by all types of gamers, irrespective of age or preferred genre, because of its all-encompassing and addictive nature.
Exciting Gameplay of Boom Karts
The game has continuous action in a very adventurous setting. There is never a dull moment with Boom Karts with different tracks and modes to try out.
Boom Karts works with a simple touch control system, and you need to direct your race car to move left, right, or any direction you desire. The mechanics of motion in Boom Karts allow the game to be realistic to a commendable extent since the player gets to touch and manoeuvre their vehicle skillfully to successfully avoid obstacles, swerve around curves and prevent the car from skidding or running off-track.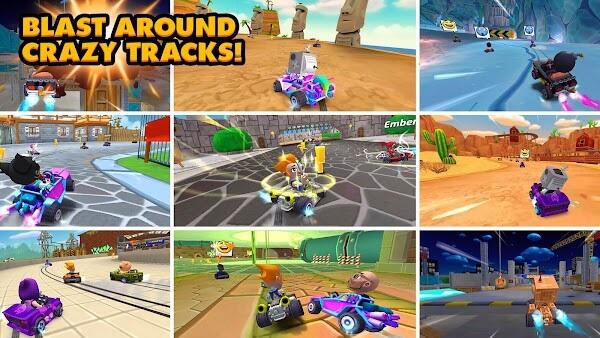 Apart from the racing aspect of the game, Boom Karts also includes features and activities that help to increase the gamer's chances of winning. While racing for the win, the player also has to make efforts to sabotage other players' efforts or slow them down in any way possible. Different tools can be used to affect the other players, like soap to make them slide off track, pepper spray to distract them, and many other wild and creative stuff that makes Boom Karts a super fun adventure.
You can also use bombs to blow up the race track and leave your opponents stranded. You can even use your bombing technique by combining crazy stuff that the opponents do not see coming. The only aim is to win and to conquer in every way possible, so don't be afraid to go the extra mile. Keep in mind that your opponents also have access to the same stuff as you do, so as you compete, you should also try to shield yourself smartly from all their antics.
Apart from these, the player can pick up some power-ups during racing. They are spread out around the track, so you should do your best to collect them by touching them. These power-ups produce various effects, and they can speed you up with a great boost or affect other players and slow them down.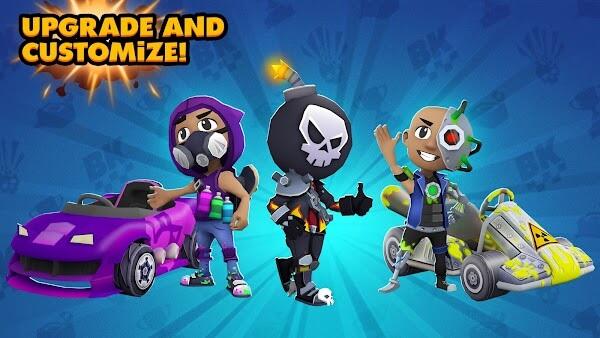 To win and master the gameplay of Boom Karts, players must be very alert and use all the available resources to win. There is no room to be lenient, so go out and take your racing game to the top!
Different Modes in Boom Karts
Boom Karts can be played both in multiplayer and single modes. In Multiplayer mode, you can race against other players for the win. You can also create a team if you have a lot of players on deck and race as one team against another.
When playing in single mode, the player races against other players using Artificial Intelligence; the AI players are still very much competitive and can also do whatever it takes to take you off the track. Although in comparison, the multiplayer mode is much more interesting and engaging. It is also harder to win since the players will put their all into it. And the harder the game, the more fun it is.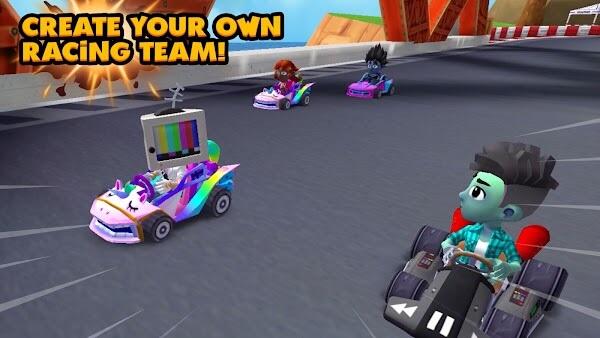 Customisation Options
Boom Karts makes arrangements for customizing the player and the vehicle to suit the gamer's taste. In the beginning, you have options to choose and select your character based on gender, style, and colour. The characters in Boom Karts are quite cartoonish and freaky to give the game a colourful ting.
The available vehicle can also be customized to look the way you want. At the beginning of your gaming, you do not have access to multiple cars in the game. However, as you play on, you can purchase or unlock new cars when you complete certain missions and meet the requirements for unlocking new cars.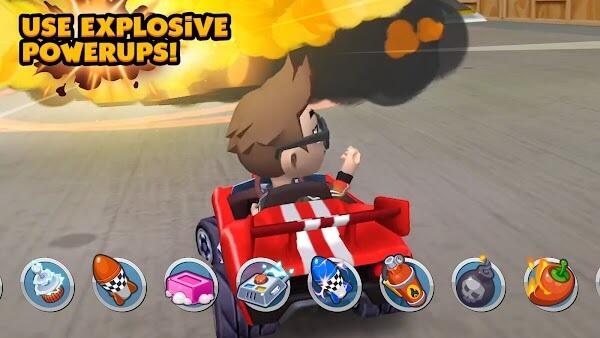 While you race, you win a monetary reward from the track for completing missions and winning races. These rewards can be used to purchase upgrades for your vehicles and increase the car's speed, power, and other features. These upgrades are not easy to come by, but with perseverance, your hard work will pay off in the end, and you can own the slickest car in the league.
Conclusion
Boom Karts contains all the fun and thrill of a typical race car game but also increased action that can hardly be gotten anywhere else. The concept of Boom Karts is unique and can be quite addictive. The controls are easy to master, the graphics are well designed, and the characters on the race track are in good number to increase competition. Overall, Boom Karts is highly recommended for the ultimate thrill in a 3D race car experience.