Download Tower Crusher APK latest version to start destroying and earning now! If you like pulling things apart or just general destruction, this game is for you.
About Tower Crusher APK
Tower Crusher APK is a simple game of tower destruction. You bring down towers to earn coins. It features gameplay with some semblance of Stack Tower. In this game, you are equipped with special items called turrets used to take out the towers. The game also lets you make your turrets stronger with the aid of upgrades.
Tower Crusher APK provides an exciting game by offering excellent visuals, easy navigation and other useful features. This read makes it easy to learn how to play, and the game even shows you the ropes when you launch it for the first time. Tap the screen to destroy the tower's bricks. This action ends up destroying the tower itself.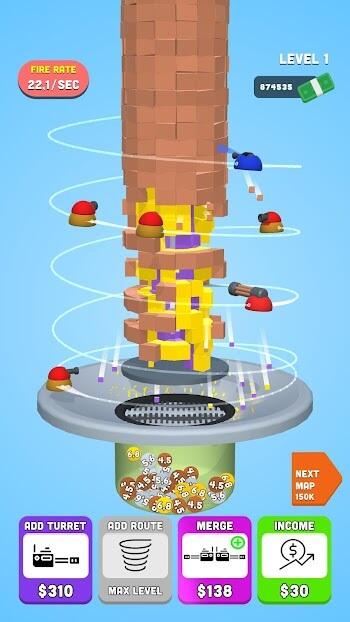 Tower Crusher APK is your chance to cause chaos in a structure without getting punished. It is a relaxing game, good for winding down after a long, stressful day. All you have to do is tap repeatedly until the tower is gone.
Tower Crusher APK's Entertaining Gameplay
Tower Crusher APK is a very casual game. When it comes to gameplay, there's nothing complicated to learn. The tower is your enemy, and it's pretty easy to defeat. In the beginning, you get basic towers that don't require much from you. As the game progresses, the challenges increase, and the towers become harder to bring down.
The only appropriate response to this increase in difficulty is an improvement of your strategy. First, you must learn to arrange your turrets in a way that will match the complexity of the tower. It is so satisfying to watch a tower crumble due to the efforts you put into its destruction.
When you launch the game, you will be taken to a screen where you are prompted to begin playing the game. On the first level, the tower is just a tall mass of brown bricks. The turrets are shooter objects with redheads and yellow bases. To destroy the tower, click on parts of it. This triggers the turrets and causes them to shoot at the parts you click on.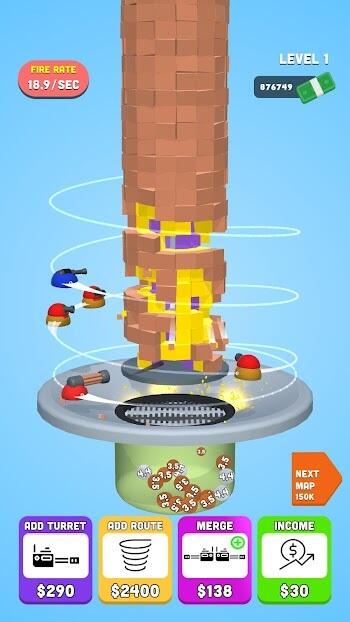 To get through the level, tap your screen fast. This enables your turrets to shoot faster. This version of Tower Crusher lets you buy as many turrets as you want, so you can cause more damage to the tower in a shorter time. The truth is that you can play Tower Crusher APK without purchasing turrets.
You can tap on the bricks and destroy them one by one. The problem here is your taps are not sufficient. They'll barely dent the tower, so you need extra power. Turrets act like guns and keep shooting until the tower is brought down. As a beginner, only two turrets are available to you. They are enough for the basic levels, but you'll need more once the towers get complicated.
Luckily, after playing the game for a while and advancing to the higher levels, you'll have amassed enough money to purchase more turrets. You can click on the turrets button at the bottom of your screen to add more turrets to your tower attack army.
Game Features
The game screen is an important feature you must understand to play successfully. The tower is located in the middle, and below it, there are four buttons: Add Turret, Add Route, Merge and Income. The turret price increase as you climb the levels. Other Tower Crusher APK features you need to know a thing or two about include: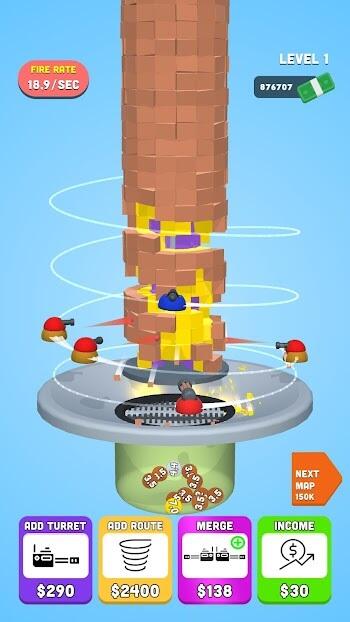 Many Upgrades: Remember the four buttons at the lower part of the screen? Here's what they do. The Add Turret button lets you increase your turret number to cause a corresponding increase in firepower. Add Route lets you create a new route for your turret army to attack from. You can also upgrade your coins and turrets. The coin upgrade feature increases your coin earnings from a tower destruction level, and the turret upgrade increases your turrets' efficiency, making your army formidable enough to face the more complex towers. There's also another useful feature, Merge Turrets. This one lets you combine two turrets to create a powerful one and gives you the benefits of both in one package.
Simple Controls: Tower Crusher APK is only easy to navigate because its controls are uncomplicated. It uses a one-click system where you have to click on your screen to activate your turrets and get them to shoot at the tower.
Relaxing Gameplay: Tower Crusher APK is perfect for relieving stress and improving your mood when you feel off.
Map Variety: Each map has a tower and its difficulty level. The map variety means you're offered a vast collection of towers to destroy. This makes the gameplay rich even though all the levels use the same mechanics.
Fire Rate: This is the speed at which the towers are destroyed. It is directly related to the speed at which the turrets shoot and affect the bricks. You must keep it high to complete your levels quickly and get high scores. But, of course, this means more coins for you too.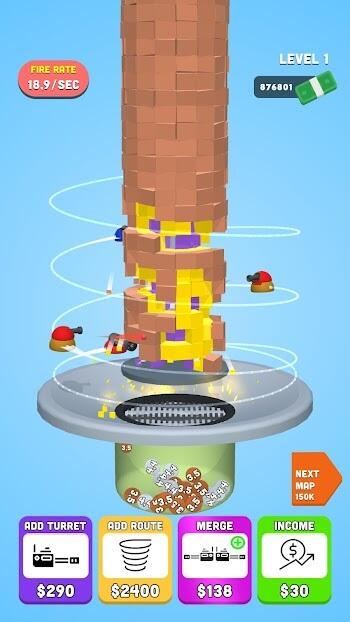 The graphics in Tower Crusher APK are also worth mentioning. The colourful graphics make the game a cheerful experience as there are no dull colours to make it look boring. Each tower is also uniquely designed.
Conclusion
Tower Crusher APK is packed with various challenges and levels for you to explore. The game secret is to ensure your turrets are well-positioned so they can hit the weak points of the towers. This maximizes their damage output and takes down the tower quickly. At its core, this is just a game of bringing down towers and ensuring they stay down.
For some reason, it is still able to keep players attracted and in some cases, addicted. Perhaps, the reason is related to the simple gameplay that this game offers. To make your tower attacks easier, you can also purchase stronger turrets. Place them strategically around the tower, and begin to shoot. It's that simple.