Download Talking Tom Jetski 2 APK to race jet skis with your friends, explore the islands and win against your rivals. Racing is fun, and racing jet skis is better!
Running Through Talking Tom Jetski 2
The talking cat games have you obsessed with the cuteness of the feline characters, but Talking Tom Jetski 2 introduces you to their racing abilities. Enjoy a diversified experience with the cats in this racing game. Talking Tom Jetski 2 is a boat racing game that revolves around boat races between Tom and his friends.
In this game, you must avoid all obstacles along the way as you race at maximum speed. It's like the on-water version of Subway Surfers or Temple Run, complete with the gold coins you can collect along the way. Unfortunately, cats hate water, so if the boat gets turned over and Tom falls into the water, your game is over.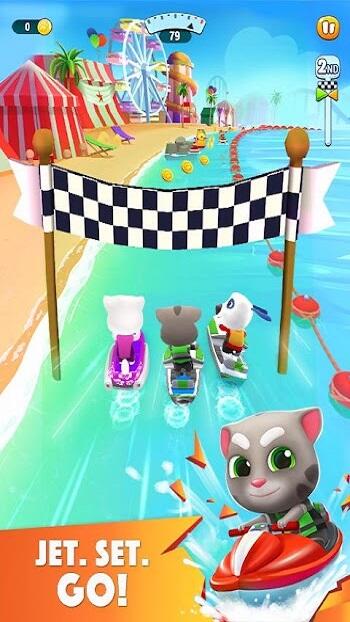 The game is very competitive because you don't have to get as far as possible in the endless game; you also have to stay ahead of your opponents. This is because you're competing with other cat characters, and there's work to be done to beat them.
Talking Tom Jetski 2 is one of the games in the Talking Tom series. It is playable by an audience of all ages. Think of your favourite cats from the previous Talking Tom games, and you can see them here.
Talking Tom Jetski 2 Gameplay
In Talking Tom Jetski 2, there are five cats in the race. Their names are Tom, Angela, Ben, Hank, and Ginger. You play the role of any of them and control the racing boat peculiar to the character. The game features endless running/racing gameplay. While you have to collect gold coins and avoid obstacles, you still have to place them first at the end of the race.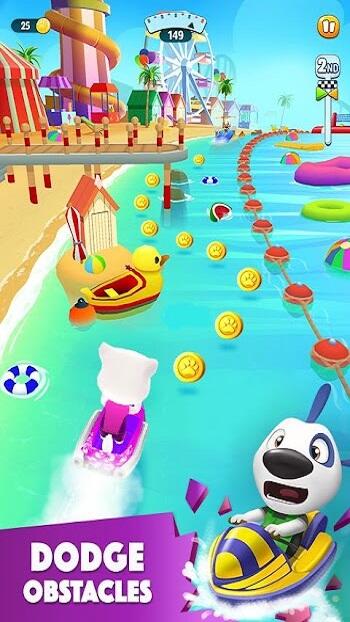 So, the race is endless, but you must travel the longest distance to win the game. There is a secret gift that the winner gift. This gift helps you build a resort and decorate it to produce a luxurious resort. This act increases your character levels.
As you race, the game speed increases to trigger you to use your reflexes. As a result, getting distracted and kicked out of the game is easier. However, your opponents are experienced cats and dogs, so you'll have to train and improve your reflexes to get through this part of the game.
Besides winning your opponents, your reflexes will also help you overcome the obstacles present in the game. To help your chances of success, you can also upgrade parts of your jetski. It doesn't do much, but it's worth a try.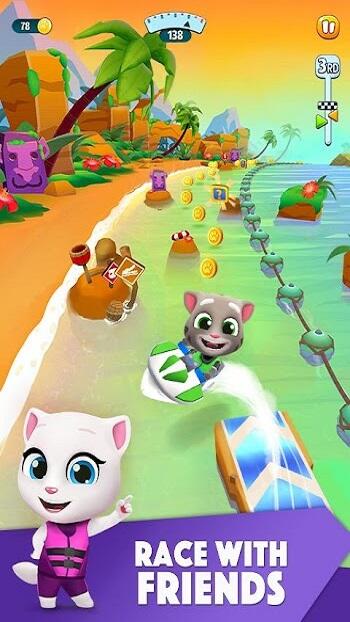 If your skill and reflexes are good, upgrades will be a plus. In addition, for every victory, you win a special chest with surprise rewards. Some rewards will help boost your game and buy items in the in-game store.
A Look At The Game's Features
Talking Tom Jetski 2 offers a new type of game, combining talking cats and racing to let you experience some novelty. The chief features of the game include:
Visuals: The unique locations and scenery result from the game's 2D visuals, which are easily adaptable to all mobile devices. The graphics are flexible, so you don't have to worry about your device's configuration. The animation designs are colourful and look fun. The soundtrack also has a funny feeling.
Worlds: Talking Tom Jetski 2 features five worlds you can choose to race in, namely: Tom's Treasure Island, Angela's Beach Resort, Ben's Science Lab, Ginger's Sandcastle, and Hank's Surf Shack.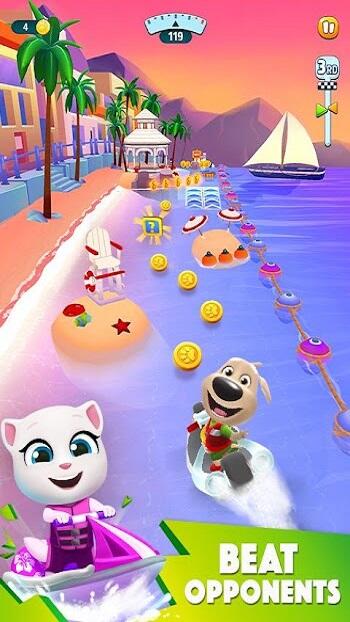 Jet Ski Collection: There are 25 special jet skis for you to unlock. Each jet ski has special abilities attached to it. Choose the one best suited to help you in your race. Upgrade your jet ski regularly to increase its speed and other helpful factors. Collect power-ups like Speed Up as you race to increase your speed for some minutes.
Quests: Each race is a quest, a challenge. As one of the challenges, you will start the race simultaneously with the other cats and participate in competitions with them. Talking Tom Jetski does not have a particular destination, but the game will rank you and your cat based on the distance travelled.
Characters: Talking Tom Jetski 2 lets you choose from various characters. With the coins you earn, you can unlock more characters, so you have the option of character choice in your races. You can also change your jet ski. The ability to change your appearance and that of your equipment give you a chance to look different in every game and have a fresh perspective.
Talking Tom Jetski 2 lets you participate in races with other players online to beat them and climb leaderboards. Moreover, the game offers a unique theme where you can enjoy the gameplay and observe your favourite cute cats.
It is an Outfit7 game, and if there's one notable thing about this game company, it's the fact that they produce fun games and all their games have a continuous storyline. In addition, all the cats are friends; they show up in each other's games and add to the flair of the stories.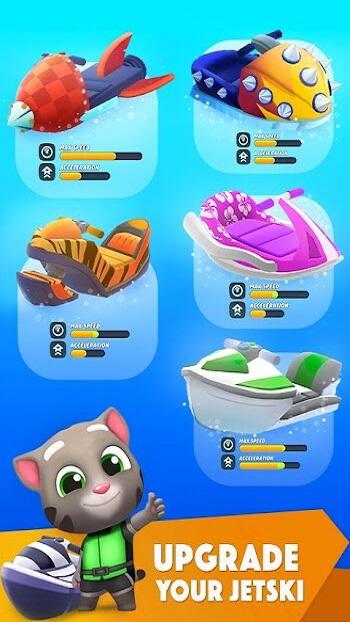 Talking Tom Jetski 2 offers entertainment that is safe for children. With how simple the controls are, anyone and everyone can easily play it. In addition, it supports iOS and Android devices, so it's one of those games you can download on your kids' tablets to keep them busy and give you rest time.
Conclusion
More in-game items are added to Talking Tom Jetski 2 by the day to make it better and improve the gameplay. The design is also being upgraded to maintain the status of high-quality entertainment. Acquire the summer feel by joining Talking Tom and his friends in refreshing ocean races. You also get to explore different locations and races in them!
Talking Tom Jetski 2 is a simple game; no complexities, just loads of fun. If you love exploring, racing, and feline cuteness, give the game a chance to win your heart. The features aim to ensure you have a good time, so you can play to eliminate boredom anytime, anywhere.


Join Telegram Group
Download Talking Tom Jetski 2 APK to race jet skis with your friends, explore the islands and win against your rivals. Racing is fun, and racing jet skis is better!