Download Stickman Rope Hero APK and live the exciting world of a superhero as he swings from the sky-rise buildings of New York, challenging villains and fighting crime.
Stick man Rope Hero
Become the knight in shining armor of the residents of New York in this 2D Stick world universe and stop the villainous criminals who stalk the night in search of who to attack. Stick man hero is a single-player one-person battle game in an incredibly simple yet complex environment.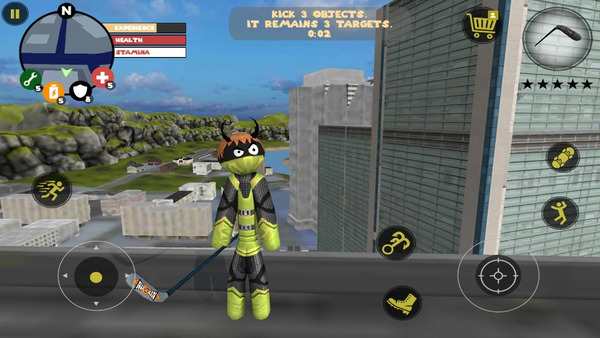 Players can adopt a Spider-man-like style to experience the stick universe version of your iconic friendly neighborhood stick man hero! Armed with various weapons, you can take out enemies, defeat bad guys and other villains as they appear in waves. They are the ones who prey on unsuspecting civilians.
The best part of it all?
In this open-world 3D game environment, hidden missions and mysteries are just sitting and waiting to be discovered! Complete tasks and earn multiple rewards for your involvement in solving numerous city crimes and helping the police.
Players can access multiple controls that allow them to manipulate their avatar's movement. These controls are simplified and readily customized to enable the player to gain full control over the avatar's movement.
Game Description
Stick man rope hero is a mobile action Hero simulation game designed by Naxeer Game Studios Ltd. It is one of many sticks man games in the stick man genre.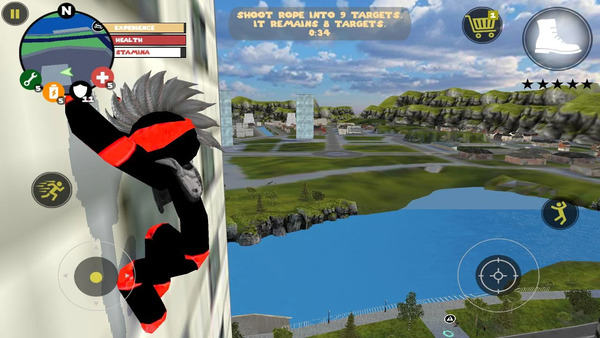 Released on the 3rd of March 2016, it is a casual, offline, single-player RPG Game with an astonishing, record-breaking 10M+ download and a 4.4-star rating from a group of 424,000 gamers who did their part in making sure their fellow gamers had a wonderful gaming session just as they had.
Being relatively easy to play and quickly understood by players of all ages, the game is rated at a friendly 12+ for users. To further ensure the game is readily available to all users, it works on all devices like android and iOS.
Gameplay
The game starts with a simple introduction followed by a tutorial session where the player is taught the basic controls of punch, dodge, swing, turn, drop, aim and shoot. After these, the player is left to explore the unique 3D environment and go on various missions.
In the Stickman rope hero old version, players had significantly lesser fine game performance than in the Stickman rope hero latest version, 4.0.1. The developing studio quickly fixed it as it hindered the ease with which players were to enjoy the game.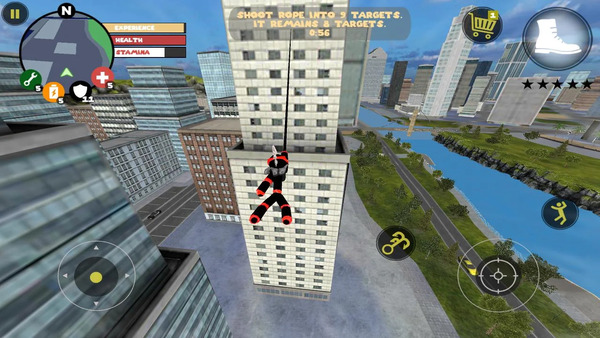 Exploring the life-like 3D city is a great way to pick up hidden cash, gems, and resources. Go on an amazing side-quest that helps you discover secret passages you can access during the main game as a shortcut and further increase your list of achievements, earning you much-needed coins.
Knowing these secret passages lying all around town would greatly help you evade waves of enemies when you are overwhelmed and need to re-strategize.
Features
The game has a lot of features, with its most notable being;
Ease of Accessibility:
With nothing more than a simple; 'Stickman rope hero for android,' 'Stickman rope hero download,' or 'Stickman rope hero free download,' the game can be gotten into any device and enjoyed.
Shop: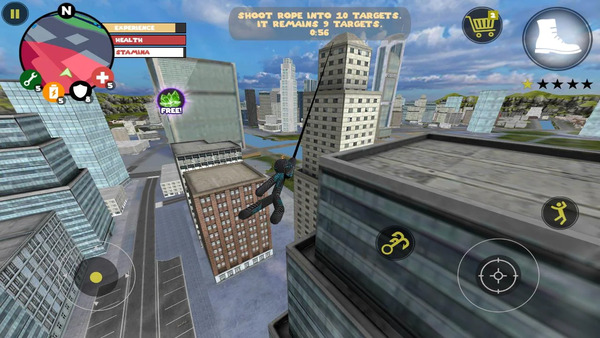 The most notable feature of any game is the number of resources and structure of the in-game shop. Stickman rope hero has an extensive shop/inventory where players can go to make purchases with gems and money earned from completing tasks. There are also high-grade materials which users can claim for a small fee in fiat. These special items are designed to give the game a more adventurous look and feel.
3D Game with visual aesthetics
The game has an interesting 3D graphics design with many designs and colors serving aesthetic purposes to replicate the ever-busy New York streets. Thus, adopting a spider-man-like environment and gameplay of swinging through buildings to get from place to place.
Multi-angled 2ND person view
From the 2nd person perspective, the game uses an open world structure to view the character at any angle or position. It is exceptionally useful when one needs to take a quick look at their environment in search of incoming enemies or possible clues and pickups.
Daily Reward System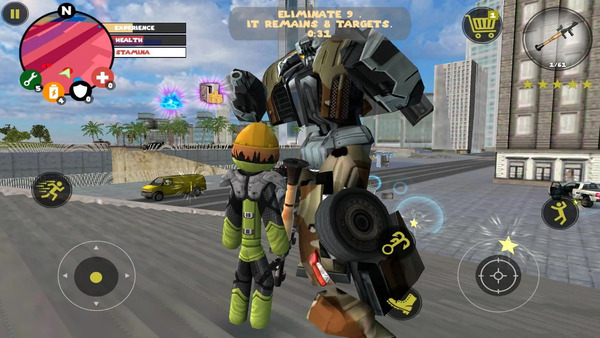 Players get a daily reward bonus when they log in every 24 hours. This bonus goes a long way to help them acquire the necessary skills and materials to evolve and upgrade their character.
Adjust Game quality
Gamers can easily adjust the 3D game graphics to higher or lower game resolutions to maintain smooth gameplay on devices of lower android versions or higher versions. After modifying the game's graphics, restart the game to notice the difference in resolution and how the game performance is much smoother.
Lots of Vehicles:
Vehicles are another way to swiftly chase villains in this funny stickman rope game. Upgrade or buy new vehicles to keep up with fast-moving targets when you don't want to zip through the air.
Customization
Customize everything from the game's props to weapons and even the characters using the customization feature present.
Smart Ai
A smart virtual assistant helps you with the effects of the controls. Tasks needing precision are quickly performed when a series of actions close to the intended goal is done. It allows players to make quick movements and readjust their positions as they see fit.
Conclusion
The Stickman rope game is interesting and quite funny, as all stickman games tend to be. It has spider-man systems and an adaptable mechanism that lets the game work on any device and is quickly readjusted for better game performance.
Quickly attaining mastery of the game's movement should be the first thing on the player's mind as movements, especially quick ones, are all that matter in this omnidirectional open-world game. It would help the player quickly get away from enemies at a faster rate and dodge attacks as they come. Besides, one is also expected to take full advantage of the high-rise buildings present to move quickly from place to place.


Join Telegram Group
Download Stickman Rope Hero APK and live the exciting world of a superhero as he swings from the sky-rise buildings of New York, challenging villains and fighting crime.