Download Kingdom Two Crowns APK, a micro strategy side-scrolling game where players have to build a kingdom that stands for a long time until they defeat greed for good.
An In-Depth Description of Kingdom Two Crowns
If you love to take up challenges, whether you are a long-time fan or a first-time player, Kingdom Two Crowns is perfectly designed for you. In this game, you must be a great and brave monarch for the Two Crowns to reign for a long time. You will be tasked with playing the role of a monarch in Kingdom Two Crowns, recruit loyal subjects, build your kingdom and protect it from the greedy creatures who want to steal your crown and coins.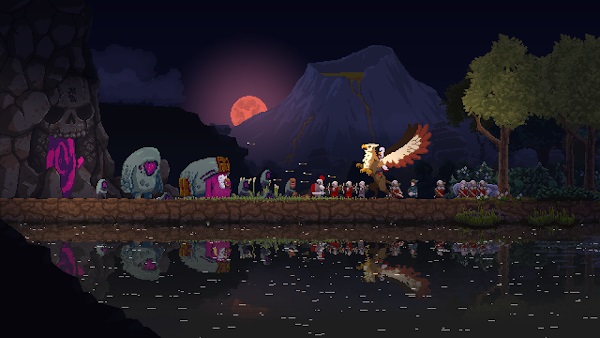 This game was published by Raw Fury and has a new campaign mode where players (monarchs) must put in a lot of work to build their kingdom and protect it from greed. They are expected to explore their environments so that they can uncover hidden secrets and discover new mounts. The Kingdom Two Crowns' release date was on the 11th of December 2018, and since then, it has become a game loved by many and guarantees to have you playing for hours.
In the fantasy world of Kingdom Two Crowns, an unexpected situation happened whereby a kingdom had two kings. As different creatures and humans evolved together, the concept of power was instilled. This led to a dispute and caused the greedy creatures to push humans to a faraway land with little food, and they were still not satisfied. Luckily, a man on a white horse wearing a golden crown came to be a savior to the people and helped them get their kingdom back.
You are expected to build the kingdom again, expand the boundaries and keep the defense solid to protect against hordes of greed trying to take away everything you have worked for. But of course, even with that, the kingdom needs to be protected, so it does not get stolen again. Your goal is to not only build a kingdom that will last but also get rid of the forces of greed and put an end to their attacks on your borders while exploring your environment to uncover hidden secrets.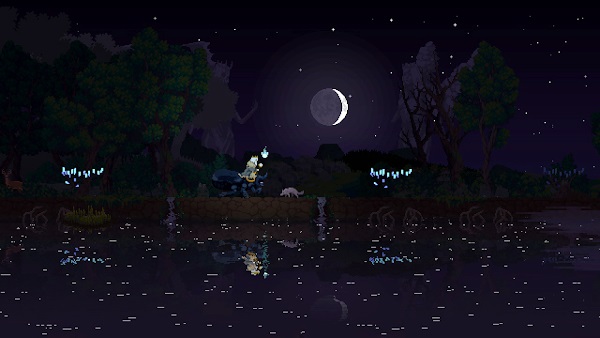 Kingdom Two Crowns features a unique cooperative play experience. With this feature, players do not have to rule their kingdom alone. They are free to choose between a classic solo ruling experience or working with friends – they can use the traditional split screen while sitting next to their friends or the custom mobile feature while sitting across from their friends. Do you think you have what it takes to build and rule a long-lasting kingdom while protecting it from the forces of greed?
Our site offers a straightforward Kingdom Two Crowns free download process that is straightforward so that you can get right to it!
Features of Kingdom Two Crowns
Now that you know about Kingdom Two Crowns let us look at some of the exciting features this game offers.
Build Your Kingdom
Of course, the major feature of this game is playing the role of a monarch and building your kingdom – the man on the white horse wearing a gold crown is you. When you begin playing the game, you will first have to recruit and search for people. To do this, you will have to swipe the screen to the left and right of the map to find your first base. Your first base will have zero to no resources and everything you need to build your kingdom. Luckily, you will have access to a certain amount of gold coins and your intellect.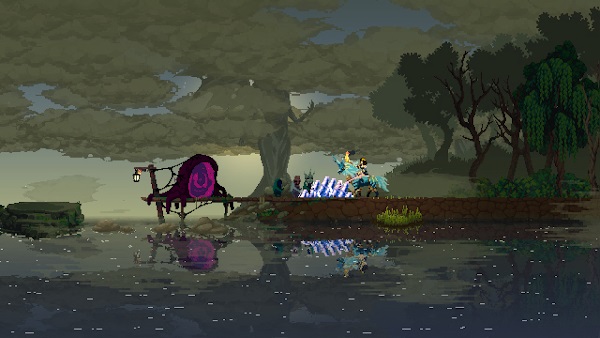 It would be best if you used your gold coins to build protection towers for defense and provide money that people would need to live, work, cut trees, and dig rocks to explore the surrounding lands and access new areas. Once you have done this, your efforts will become visible as you progress in the game. It is up to you to build a strong kingdom that will reign for a long time.
More Lands To Rule
Players have more lands to rule in addition to the traditional medieval setting. Kingdom Two Crowns includes two more grounds for you to explore, and they are explained below: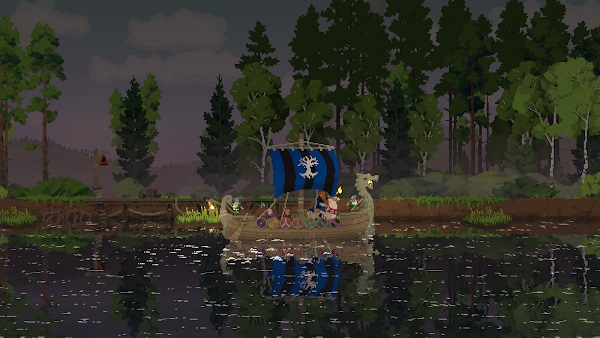 Shogun: this consists of lands inspired by the culture and architecture of feudal Japan. There is much to explore in this setting – begin your journey and play as the Onna-bugeisha or the Shogun. You can recruit ninjas in your army and lead them into battle against the mythological Kirin. The greed will be hiding and waiting in the thick forests, so you should devise different strategies to eliminate them for good.
Dead Lands: explore the dark spooky lands of your kingdom – this is a scarier setting where you play as the Shardbinder Miriam, who has some strong traits from Bloodstained (a gothic and horror roleplaying game). In this setting, you will ride the huge beetle steed to set out traps for greed, and you will come across many eerie creatures. Are you ready to build your kingdom in the most frightening way?
Game Modes
The Campaign mode is one of the game modes in Kingdom Two Crowns, and it has been explained above – it is all about building your kingdom and permanently eliminating the forces of greed. If you want to experience something more unique, you should try out the Challenge Islands mode. In this game mode, there are six lands, mysterious elements, and challenges, with Plague Island being one of them - this mode is very difficult as it requires you to have a top-notch defense and army.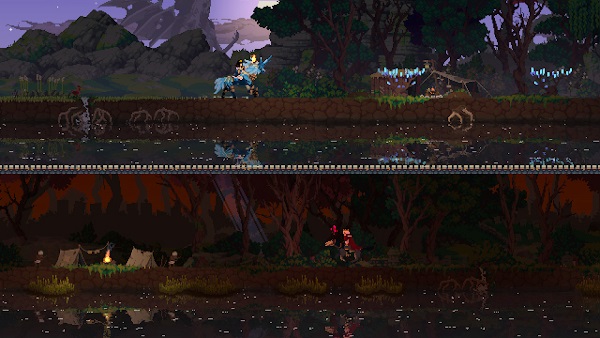 Your performance in each level will be ranked according to gold, silver, or bronze. If you can make it through forty days in Plague Island, that proves that you are a king worthy of the crown. Skull Island, on the other hand, requires you to attack the enemy's portal. It is different from Plague Island, where what you have to do is defend.
Graphics and Sound Effects
Kingdom Two Crowns has stunning 2D pixel graphics and a side-scrolling style. The graphics are attractive and incredible, making the game look like a complete work of art. The sound effects are equally as good as the variety of sounds collected from the actual environment. Playing this game is almost as if you are actually in the fantasy world of Kingdom Two Crowns due to the fantastic graphics and realistic sound effects.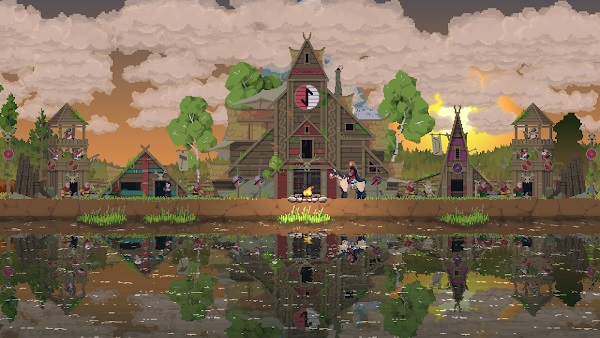 Facing Many Dangers
When you first establish your kingdom, your first two units will be archers and warriors who can cut trees and hunt wild animals – you will earn gold coins through this and can use that to improve your defense tower and strengthen your kingdom. As you progress in the game, your kingdom will grow, leading to you facing many dangers. The greedy creatures are always hiding and lurking in the background, waiting to take away the possessions of innocent people and harm them in return.
Conclusion
Dive into the world of Kingdom Two Crowns, where you have to build your kingdom and protect it from the greedy creatures. Building a kingdom is not easy as it requires you to put many things in place – do you think you can handle it? Our Kingdom Two Crowns download process is straightforward – so what are you waiting for? Hit that download button now!