Download Idle Army Base APK and learn what it takes to manage a military base! Complete exciting missions and prepare your army in this idle casual game.
About Idle Army Base
Idle Army Base is a casual game based on preparing and managing an army of soldiers and the military base while completing the different missions as well as possible. There are multiple 3D settings that you can use in this game, allowing you to view the action from above and improve the conditions of your soldiers in this base by utilizing your budget.
The game was developed by Neon Play and was first released on the 17th of January, 2020. Idle Army Base features simple controls with the standard clicker gameplay. To play the game, you only have to tap the different buttons on the screen to complete other tasks, purchase items, allocate resources, and more. As you play, your base will be enhanced and get better conditions for training soldiers.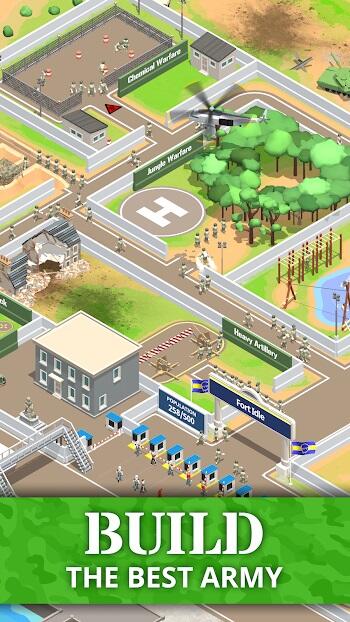 Idle Army Base makes it easy for players to manage all the elements on the base with the checklist. The list includes how you can improve different areas and departments of the military base. You must pay close attention to all parts of the military base to give your soldiers the best training conditions possible.
Prepare and Manage Your Troops
Idle Army Base is a military simulation game with idle gameplay. The idle gameplay means you only have to unlock, upgrade, and expand your base without actually doing anything. Your units will automatically start working and send you back the profits.
You start the game by having soldiers in your camp. Then, you can have different military missions to train them. There are different kinds of tactics and skills that your army can get. You can train them all on the training ground or train each platoon unit for them to work together and assist one another.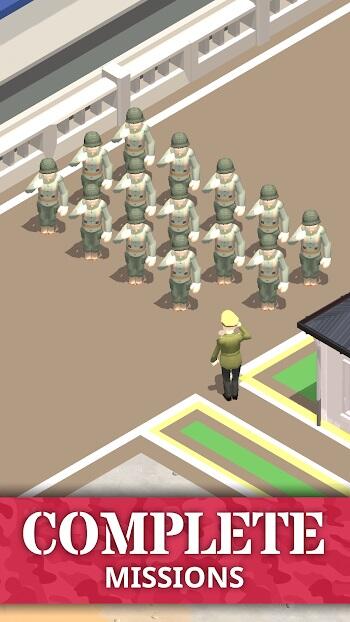 Idle Army Base will expose you to all you need to know about how the military works. As you gain profits, you can invest in buildings and create activities that will cause more soldiers to come to your base.
The game also takes you through different challenges, despite the idle gameplay. You must expand the area, train recruits, upgrade your weapons and equipment, and manage the military. But, it will give you different instructions on how to take care of the military so you will not be confused.
You might have trouble with gaining more recruits or managing your budget. It's up to you as the leader of this base to find ways to overcome these challenges and build a strong military base. The three main points of the game are to train your soldiers, create a strong army and improve your facilities and training conditions.
You also have to upgrade the barracks and your military as time passes. First, you need to unlock all the areas of the camp. As the Idle Army Base game continues, you open all other fields to train the army, navy, and air force, producing weapons like rockets and bombs.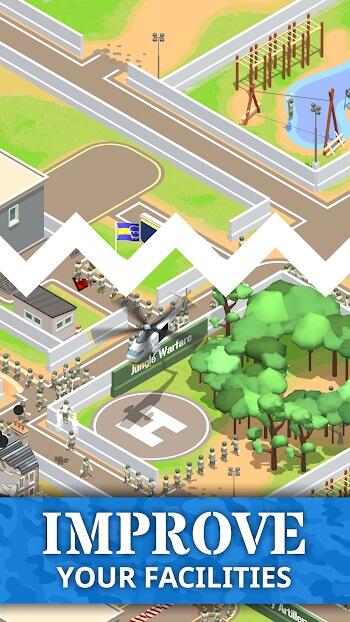 It would be best if you also enhanced the overall strength of your army on the ground, water, and air, for it to last long. As the Idle Army Base game progresses, your military base gets a good reputation that attracts more recruits to join. You can start managing thousands of soldiers soon.
Unlock Different Areas in Idle Army Base
There are different places in the Idle Army Base game that you can unlock to expand your military operations. These include:
Exercise Yard for training and exercising in your platoon.
Urban Warfare for learning how to infiltrate and fight like the police.
Jungle Warfare for training the soldiers on how to fight in the jungle.
Arctic Warfare for learning how to fight in cold and snowy conditions.
Heavy Machine Gun: Here, you get access to massive machine guns that your soldiers can use.
Heavy Artillery: Your soldiers can start using some of the big guns.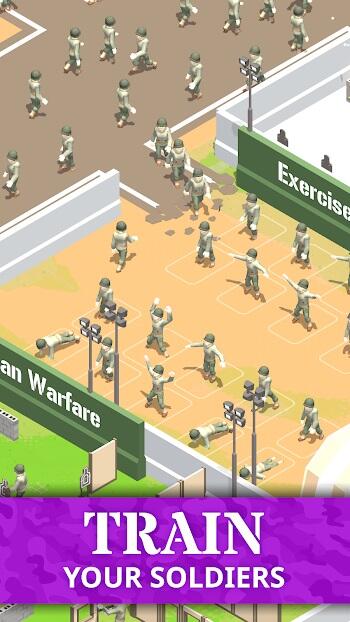 Chemical Warfare: You can take your military base to the next level with chemical weapons.
Tanks: Use these massive tanks in war.
Dessert Warfare for training soldiers on how to fight in the sandy and hot desserts.
Naval Warfare for creating your navy and building water strength.
Explosives Training: Soldiers learn how to deal with grenades and bombs in this space.
Paratrooper: This teaches the soldiers how to jump from a plane and land in a particular spot.
Obstacle Course for a full military training course.
The more areas you unlock, the better your military base will be.
Intuitive Graphics and Sounds
The Idle Army Base game has simple and sleek graphics that make it easy to monitor and manage your army base. You can see the training area from the top of the screen, showing you every part of the game.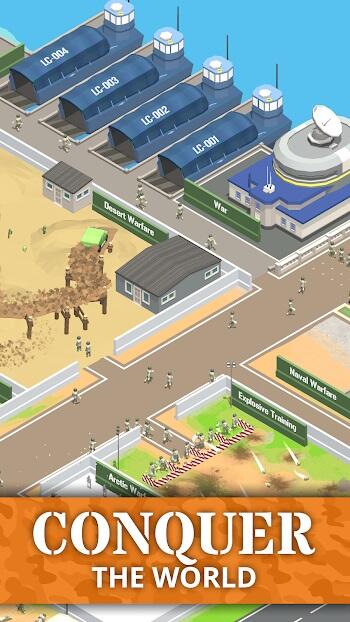 The game also has a good audio experience, especially when you plug in your earphones. You will feel like you're in the army with all the explosives and shooting from their training.
Key Features on Idle Army Base
You can become a military tycoon and make loads of money in the Idle Army Base game. Here are some features to look out for:
Automate your troops to train and make a profit, returning to your base.
Get army managers for your military headquarters to increase the motivation and work of your forces.
Become a rich tycoon with a lot of money and treasure, and use strategies to get even more.
Expand and grow your army base, whether you're online or offline.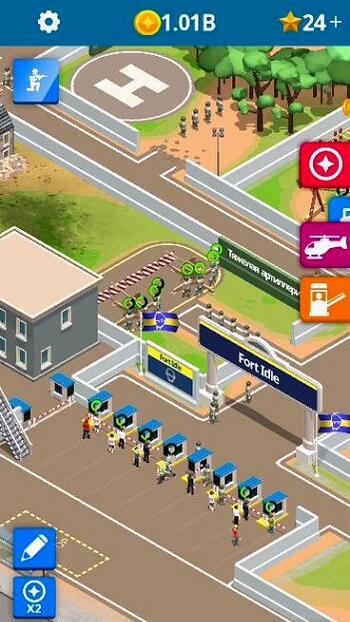 Invest in other places like buildings and troops to maximize your profit.
Unlock the different areas for training your military base.
Get new equipment and weapons, and attract recruits.
Conclusion
The Idle Army Base is a fun and engaging game that puts you in charge of a military base. Although it starts small, it will soon become a massive army base you have to deal with. Expand your base by unlocking areas and attracting new recruits as your army base becomes even more popular.