Download Animal Restaurant APK and enjoy the fantastic and exciting management game. Take control of this stray cat with his feline staff and run your restaurant!
Brief description of Animal restaurant
Animal restaurant is a managing simulation game where you take in a stray cat from the Forrest to take over and run a restaurant. It's a cooking game where you work in a kitchen, and you are not only tasked with cooking and catering for other animals that patronize you, but you are also responsible for upgrading the restaurant to give it a better look and better the standards in general.
DH-publisher released Animal restaurant on the 11th of September, 2019. The game has a rating of 3+, meaning everyone ages three and above can play this game as it contains no violence. The game has understandable gameplay and easy controls that anyone can use. Click the icons on the screen to select what action you want to do. Playing the game is easy so you won't have problems.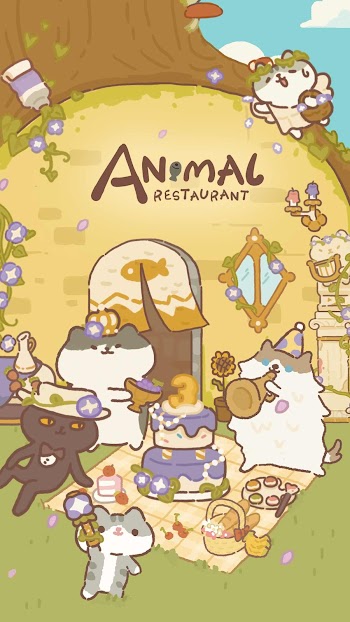 The game uses a currency called "cod", which is used to make purchases. You earn more cod as you advance in the game. You can use many upgrades to decorate, unlock more places, buy more food items and increase the standards of your restaurant.
Animal restaurant is a fun management simulation game with many stages, so you will be kept engaged. The broad game offers multiple upgrades and items to improve your restaurant, keeping you entertained as you play. The game also has stunning graphics.
Interesting Gameplay
Animal restaurant is a fun management game where you take control of a cute kitty and the feline staff you choose. Your primary task is to cater to other animals that come into your restaurant by preparing dishes they request, and you are paid in cod. You have different tasks. For one, building up the restaurant's quality is essential, as, at the start of the game, your restaurant can't host as many customers as you want.
It starts at a decent pace, but as you level up, the more cod you will make and the more customers you will be able to host. The more you sell dishes, the more cod you earn, which allows you to create multiple decorations purchases and more places and items for cooking.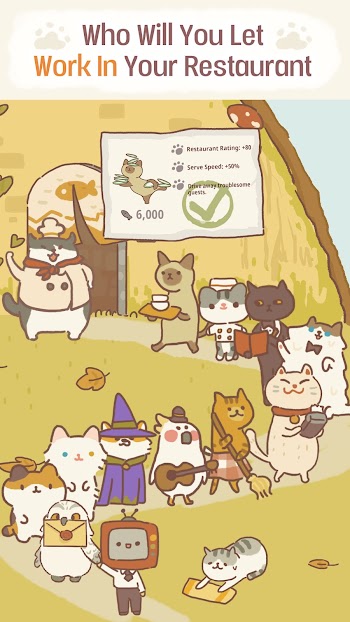 Animal restaurant offers a variety of upgrades in both your food and restaurant, which can be used to enjoy your gaming experience. You are allowed to learn all kinds of recipes as different customers demand various dishes, so when you have a variety of dishes to sell, the more chances of you earning more cod.
Hiring multiple staff helps you with the speed and efficiency at which your kitchen runs; the faster you make dishes, the more customers you'll be able to have in your restaurant. The game allows you to hire different breeds of cats, including rag-doll cats and tabbies.
The game Is very addictive. Once you start doing well, the joy comes with bettering your restaurant and making more cod. Download Animal restaurant on any device you use to enjoy the game.
Fun features to look out for
As you play Animal restaurant, you can look out for different fun features that will make you enjoy the game more.
Throughout the game, you will meet new customers who demand different delicacies, so you will have to constantly learn new recipes to meet your customers' demands.
Decorating and designing your restaurant: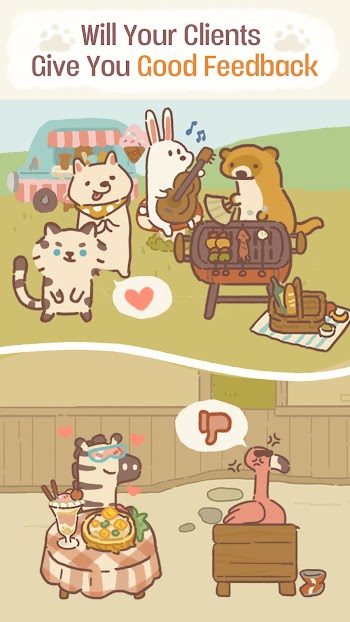 You are allowed to decorate the restaurant to your taste. Purchasing new furniture from the store will enable you to give the store an appealing look to customers. Constantly decorating and adding new designs improve the standards.
Communication with customers:
Hold direct communication with your customers as they give you reviews of the food they ordered and also divulge into their personal lives. Talking with your customers makes them happier and want to come back.
You cannot run a mega restaurant all by yourself, so you are allowed to hire different cats as employees to assist you with work. The staff will assist in cooking, cleaning, and general use in the restaurant.
The game also includes a beautiful garden which, like the restaurant, you also take care of. Constantly beautify your garden by purchasing new furniture and adding flowers to give it a beautiful view. Take care of the garden regularly by cleaning the environment and watering your flowers to keep them healthy.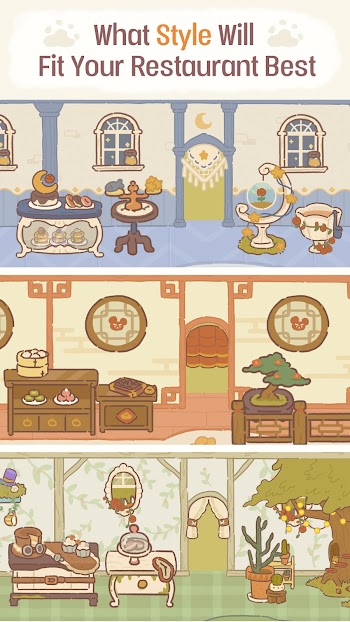 Earning stars and positive reviews:
You earn multiple stars as you keep playing, advancing in the game, and developing your store by purchasing new items and facilities that will give you more stars and better ratings. New customers can also give you stars randomly depending on how they enjoy themselves. There are other ways to collect stars, which include completion of tasks, unlocking new customers, and developing your garden.
Sharing to Facebook is a game feature that offers you free cod, stars, and promotions anytime you share your progress on Facebook and other social media.
You can enjoy many features, but download Animal restaurant's latest version to enjoy advanced features and have a better experience.
Animal restaurant Tips and Tricks
Before playing Animal restaurant, different tips can make you play better and enjoy your gaming experience. For one, the best way to earn cod is through watching ads. You can make up for the price difference by watching ads when you don't have enough to purchase new items, upgrade facilities, and buy recipes.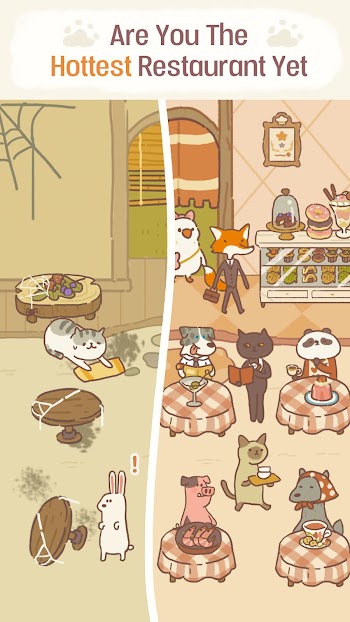 Another way to play better is constantly organizing, decorating, and improving your restaurant and the garden. Also, please take advantage of the share to Facebook feature as it is a faster way to earn cod, stars, and promotions.
Conclusion
Animal restaurant is a fun game that will keep players engaged. Although, it has many levels. There are a lot of upgrades and purchasable items that you can use to get the most out of the gameplay. Download the app on any device and enjoy Animal restaurant 2022, the latest version.


Join Telegram Group
Download Animal Restaurant APK and enjoy the fantastic and exciting management game. Take control of this stray cat with his feline staff and run your restaurant!