Download Textra APK, a fun, super-fast, and feature-rich SMS and MMS application. With this, you have an amazing alternative to your phone's preinstalled SMS/MMS app.
An In-Depth Description of Textra
Textra SMS is an exciting SMS and MMS application that is an excellent alternative to the one preinstalled on your mobile device. This app is beautifully designed and performs excellently well when it comes to doing what you want it to do and how you want it to do it. So if you are looking for a faster experience, specific features when it comes to texting, and so much more, then Textra SMS is the right choice for you.
The preinstalled SMS/MMS app on smartphones does not usually have all the features we want to use. Most of the time, it only comes with a few options for the interface colours, and it is not possible to change the font, which makes it quite boring to use. Also, users cannot access emojis, GIFs and animated text messages when texting with friends, relatives and partners. Luckily, with Textra SMS for Android, you can do all of these and so much more.
The Textra SMS latest edition has a wide range of features you will surely benefit from. There are over 800 different emojis and 180 themes inspired by Material Design for you to choose from. It also features a drop-down text box which allows users to respond to messages directly from their notification bar. Textra SMS is highly customizable – you can completely redesign the messaging interface to suit your taste, switch between a dark and bright mode, change the notification's colour light, send voice recordings when you do not want to type and slide to delete messages.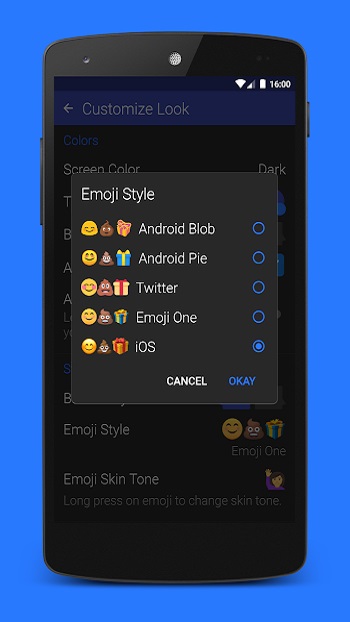 Textra SMS is a simple, fast and functional SMS and MMS application that you surely do not want to miss out on. Textra SMS supports MightyText, Android Wear, Pushbullet and iOS Apple devices Reactions. Reactions is a nice feature that users will surely love – instead of seeing a message that says Loved "see you later", the loved will be represented by a heart emoji just like it is on WhatsApp and Facebook. You can also send reactions instead of typing full messages.
With this application, you will surely enjoy your messaging experience with novel features. All Textra features are free, and you do not need to pay a fee to access them, although you will come across ads occasionally. Users can upgrade to Textra Pro to enjoy an ad-free experience. Our site offers a straightforward Textra SMS free download process so you can get right to it.
Features of Textra SMS
Now that you know all about the Textra SMS application let us look at some of the exciting features this SMS and M
MS app offers.
Tailor-Made Themes
Most of the time, we get bored of using the preinstalled SMS application on our phones and look for ways to change its features. The best way you can do this is by changing the application's main interface to suit your taste. Textra SMS has more than 180 Material Design themes for you to choose from – you will surely find something that suits your style. These themes are more than just a way of decorating your SMS application; they serve as a way to lighten your mood and spice up your conversations.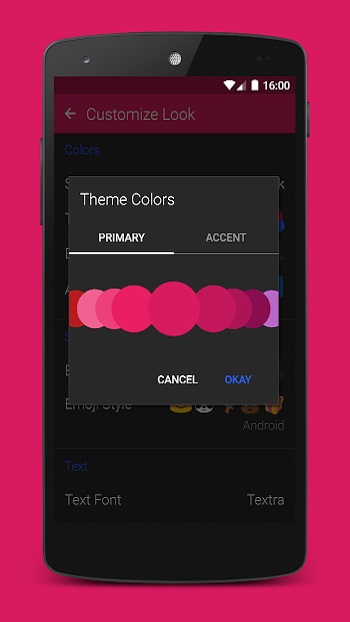 Highly Customizable
One great feature about Textra SMS is that it is highly customizable – there are so many things you can change on the app to enjoy your texting experience better. Perhaps the app's flexibility is the major reason why users love the app so much. Some of the things you can customize include:
You can change the background mode from light to dark depending on your preference or the time of day (day and night light adjustments).
Users can change the colour of the notification light.
You can select your preferred sound and vibration style for when new messages come in.
You can change the shape and colour of the message bubble.
Users can change the font style and font size – twenty-one different options to choose from.
Users can change the colour of the application icon.
Quick Actions
Textra SMS supports quick actions – with this app, you can achieve a number of things in the fastest and most convenient way possible. This feature is very useful and will come in handy in cases where you are extremely busy and cannot spend time texting.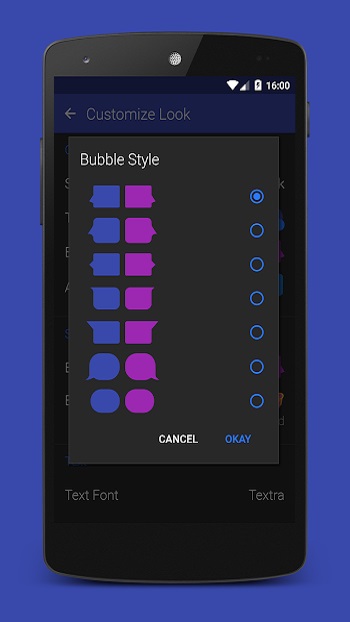 Textra SMS has a quick reply feature that allows you to reply to messages via the pop-up window. If you are too busy and cannot go to the app itself, you can click up on the pop-up notification and respond to your message.
Users can delete unwanted messages by sliding to the left and double tapping the trash can icon.
Textra SMS has a slide-to-call feature, allowing you to make calls without going to the home screen. You can just swipe left and click on the phone icon.
Textra SMS has a delta feature which allows you to delay messages from sending. If you mistakenly send a message to someone, you can stop it from sending if the other party has not seen it.
Other Features Include:
You can schedule your messages to send at a particular time automatically.
You can copy any part of a text in a bubble through the copy partial text feature.
You can compress videos and animations.
Textra SMS features automatic brightness for day and night mode.
You can send images and GIFs, access photos from the library and take a screenshot through the camera.
Textra SMS recognizes over 3,000 emojis from iOS, Android, Twitter and JoyPixels.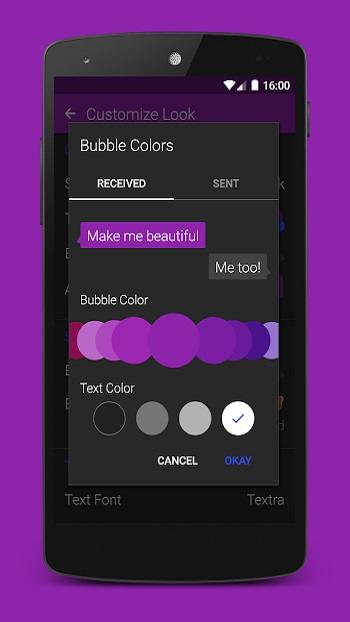 Conclusion
Textra SMS is a fun and exciting SMS and MMS application with many features that you surely do not want to miss out on. Our Textra SMS download process is straightforward – so what are you waiting for? Hit that download button now!