Download and install PAW Patrol Rescue World APK to play with favourite dog characters and rescue people that need help in the village. This game is suitable for kid gamers.
Description of PAW Patrol Rescue World
PAW Patrol Rescue World is an exciting game where you have the chance to play and interact with lovely, smart and beautiful dogs every day. You will accompany the dogs on rescue missions to assist the resident's Adventure Bay. While you carry out these missions, you will receive several rewards.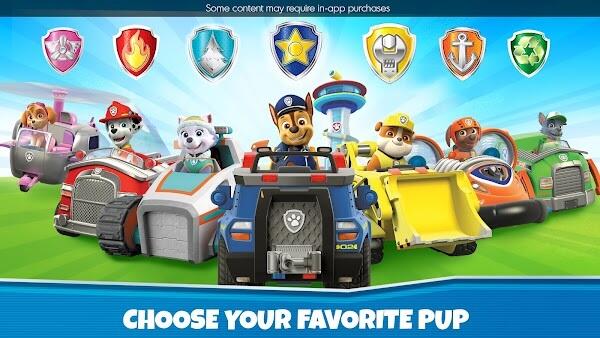 This game is an educational one. Budge Studios published it. PAW Patrol Rescue World is developed to excite kid gamers and draw out kindness and creativity in each child. This game can now be downloaded on mobile and is free. The incredibleness of the game is why millions of gamers worldwide are downloading it. This game has attained over 10 million downloads on Play Store alone.
Generally, this game is like a simulation game because it portrays an animated world and provides several simple tasks. However, you can discover several useful and new things by completing quests. Besides, the game has impressive graphics, such as bright colours, large background, and a series of beautiful characters. So PAW Patrol Rescue World is a good game for you daily.
Pick Your Dogs
The major characters of this game are very friendly and cute dogs. The dogs will belong to the players, and you will go with them on missions throughout the adventure. Dogs such as Zuma, Marshall, Skye, and Chase will possess special abilities to help you in your missions. Winning or losing depends entirely on you. Chase is one of the most active, smartest and agile police dogs. Chase is the captain of all the dogs and is a loyal friend.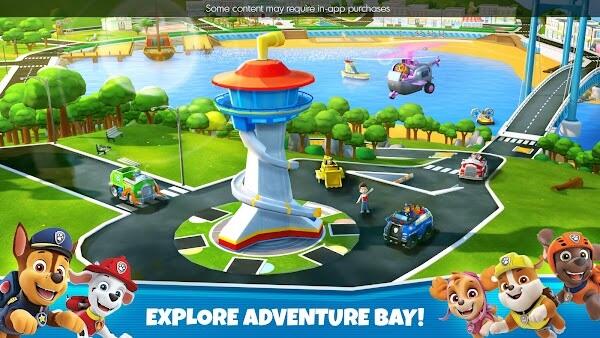 Complete Useful Tasks
What mission you and your dogs undertake will be based on the tales in Adventure Bay – a healthy and peaceful countryside. However, in some cases, the villagers will experience some trouble, so they need the fastest rescue team to come and help them. These are pretty simple tasks but introduce a lot of fun. In addition, rescues should be nice things that players should do daily to assist those close to them. The major aim of this game is to train you to be sympathetic to the plight of other people.
You will work alongside your dogs to solve problems you encounter every day. For instance, finding lost pets, clearing dirty areas, fixing crashed park benches, hanging birdhouses on trees, etc., you will be provided support vehicles for the mission by your dogs; the vehicles may include jets or cars. In addition, when you have completed the mission, you will receive 'Pup treats' in the form of bones. Bones are dogs' favourite meals.
Fun Games
Apart from the rescue mission, the game provides kid gamers several fun games daily. You can play by flying through villages by jet plane, jumping cushion, or sliding by car. Moreover, you don't have to play alone. You can join a team of real friends, allowing more fun into the game than ever.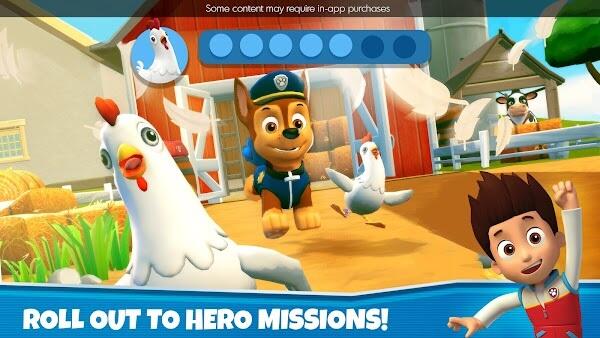 Explore Every Area
This game builds an incredible and large world for kid players to explore and feel. Cruise around town in your dog's plane or car and enjoy the beauty of the city called Adventure Bay. Also, you can meet and discuss with the natives of the town. They will present you with several tasks and ask you to help. After helping them out, you will be rewarded with a series of gifts, and besides the adventure, players can enjoy soothing and relaxing music. This will stimulate children's creativity. Of course, parents are free to play this game, too.
How to Control
This game has very accessible and simple controls. You just need to swipe on the screen to navigate the movement of the characters, including performing tasks. Everything in the game will occur in the third perspective to allow gamers to observe and enjoy the view of the entire scene. In addition, the dialogues among characters will be featured with images, icons, and so on. Therefore, all players can easily understand them, including children between 3 and 6 years old.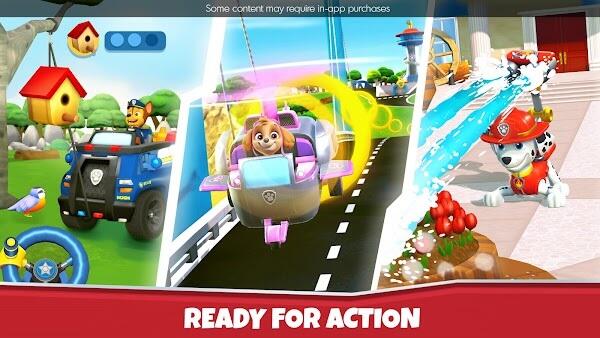 Bright Graphics
About everything in PAW Patrol Rescue World is developed in a cartoon theme on a beautiful and bright background. The pubs look friendly and cute with their flexible expressions and unique appearances. Also, the effects are pretty animated each time you act. The game also has a pretty smooth transition, suitable for most mobile devices.
Generally, this game is an excellent one for your child. The tasks, controls, and gameplay are straightforward for kids to approach easily. The integration activities are important for children's development, both in mental and physical capacity. PAW Patrol Rescue World is an educational game developed for children. It is excellent to unleash creativity in kids and provide important lessons for them.
Outstanding Features of PAW Patrol Rescue World
If you are searching for a game that is 100% kid-friendly, then PAW Patrol Rescue World is the right one to choose.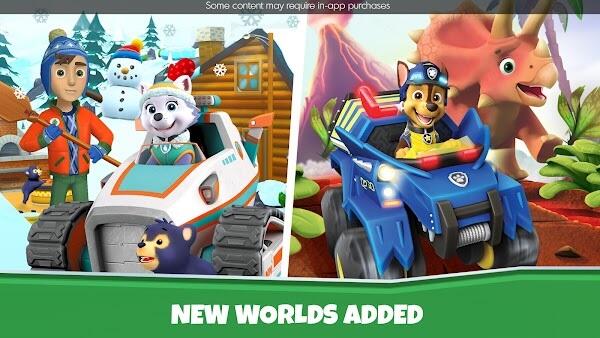 The Best Kid Game: There are several fun games you can make your kids play today. But if you want your child to learn and enjoy something special, perhaps a game related to their most-loved show, the PAW Patrol Rescue World is that game.
Hero Missions: You can complete several missions in this game with great similarities with the show. Your mission as one of the patrol agents is to complete several assignments around the city, and you can select the best dogs for the task.
Play as Your Favourite Pups: There are several characters you can choose from – Marshall, Chase, Skye, and more to be soon included. Each pup has its uniqueness, so you should pick the one that will be most suitable for your missions.
Pup Treats: As soon as you have completed the mission, you can collect the pup treats that are spread around.
Conclusion
This game has many beautiful images that are sure to excite children when they play it. The game also has several heroic characters that will excite your kid gamer. With this game, your child can play and learn some interesting things.