Download Dictionary.com APK to learn how to communicate better and become an English language expert. Explore the world of grammar and communicate better and clearly.
What is Dictionary.com about?
Dictionary.com is an educative app that offers learning tools to help users understand the English language better. Dictionary.com has over 2 million trusted definitions and a reliable register of synonyms and metaphors. The actual goal of this app is to provide deeper meanings for words, unlike regular digital dictionaries.
Therefore, it offers amazing features like voice word search, translations for over 30 languages, word origins, and spelling suggestions. Dictionary.com makes learning new words very easy with tools like word of the day and word games. Also, this app can be used offline, so there is no limit to how often one can learn. You can have access to definitions and synonyms anywhere and anytime you like.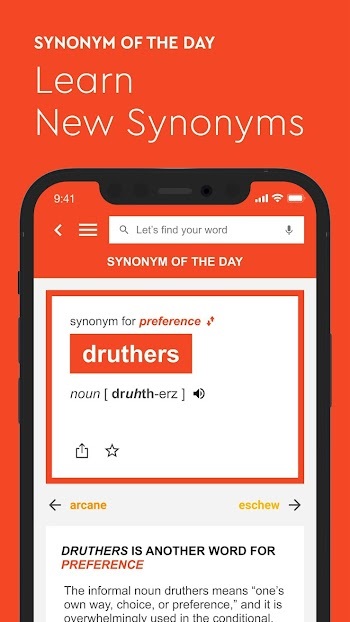 Dictionary.com Is free to download. However, you can get upgraded features for in-app purchases that range from $1.99 to $3.99. Also, it is suitable for Android and IOS devices. Dictionary.com has over 10 million downloads, and over 9 million people receive its famous word of the day. This goes a long way in showing the efficiency of this app.
Dictionary.com was released on Feb 12th, 2010 by Dictionary com. LLC, and it has been rated among the top ten dictionaries for Androids. Also, it has gathered multiple awards like the Mobile Star Award.
Features of Dictionary.com
Dictionary.com provides the perfect vocabulary whether you are giving a speech at an office party or writing a perfectly worded LinkedIn profile. Dictionary.com does this with the help of the following features.
Synonyms
With Dictionary.com, you can sound sophisticated! You do not have to make use of regular words again. Even in your everyday speech and writings, you can reflect intelligence by using uncommon. Dictionary.com offers over 2 million synonyms, so there is a wide variety. You do not have to attend Harvard to speak like a professor!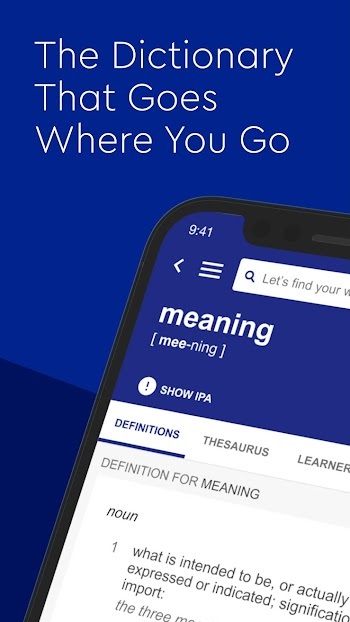 Audio Pronunciations
There are times mispronouncing words can be embarrassing. Unfortunately, knowing the right spelling of a word does not mean one will get the pronunciation right. And besides, sometimes commonly used pronunciations are incorrect. Therefore, this is why Dictionary.com is a blessing. The audio pronunciation feature will not allow you to mispronounce another word.
Word Puzzle
Things stick faster to the brain when they are learned in a fun way. Therefore, it isn't easy to forget new words learned on Dictionary.com. So download this app and fire away if you plan to find out your strength in word scramble. Who knows, you could even score a perfect 10!
Favorite Words And Search History
Developers of Dictionary.com had users' comfort in mind when they created it. You do not have to research words or forget the newest words you have learned. You can easily customize a recently searched words list.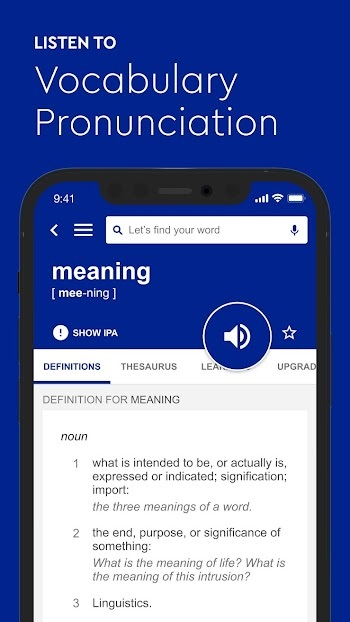 Word Of The Day
This is the app's most popular feature, and it has millions of people subscribed to it. You get to learn new words every day and expand your vocabulary.
Voice Search
You can learn new words while walking on the road or when your hands are occupied. This feature allows users to find definitions whenever and anywhere they like.
Spelling Help
You do not have to correctly type a word in the search option to find it. Instead, Dictionary.com will help you find the word so you can easily find its definition.
Grammar Help
Do you want to use a word but don't know how to include it in a sentence? Dictionary.com provides tips and examples of grammar usage. Also, this app provides a semi-detailed explanation of word usage.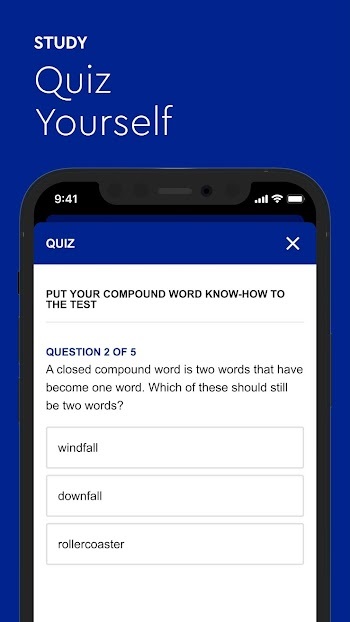 Learner's Dictionary
With Dictionary.com, not only will one get correct definitions of words, but also extra information about words. So you can learn about words' history and archaic synonyms.
Word Play
Users can improve their word registers by engaging in interesting quizzes. Of course, you can always test your brain by memorizing the words you learn.
In-app Upgrades
Dictionary.com provides several wonderful upgrades for in-app purchases. As a result, you can get the most from your app for a reasonable price. Each item ranges from $1.99 to $3.99. These are the upgrades to expect on the app.
Encyclopedia
This upgrade allows you to get keywords and total coverage on different subjects. This information is well organized and detailed. You do not have to struggle through the weight of bulky encyclopedias; Dictionary.com has everything.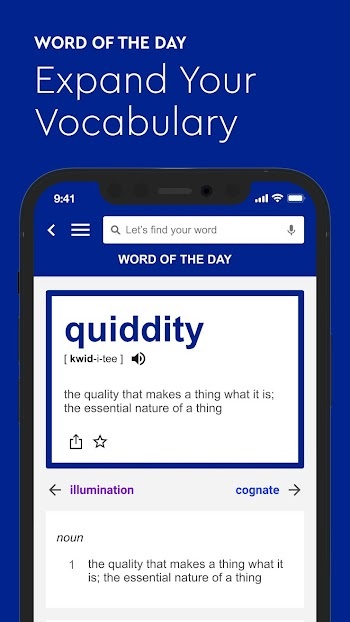 Idioms And Phrases
Everyone wants to sound intelligent and learned in speeches. However, the wrong use of idioms can be very embarrassing. This upgrade provides you with thousands of idioms and phrases. You can even add them to your favorite list to remember faster.
Medical Science Dictionaries
As a medical student, you can take a break from those heavy medical dictionaries. Dictionary.com has an upgrade offering many accurate medical definitions, word usage, and terms. Also, you can learn comfortably and at your own pace. One can even set quizzes on new words learned.
Rhyming Dictionary
This upgrade is fantastic for poetry lovers or songwriters. Dictionaries like this are always published separately and are a bit expensive. For a good price, you can add this dictionary to your app and enjoy rhymed words categorized into equivalent classes.
Sentences Example
This upgrade helps users understand word definitions perfectly. In addition, you will learn how to use a word differently in a sentence.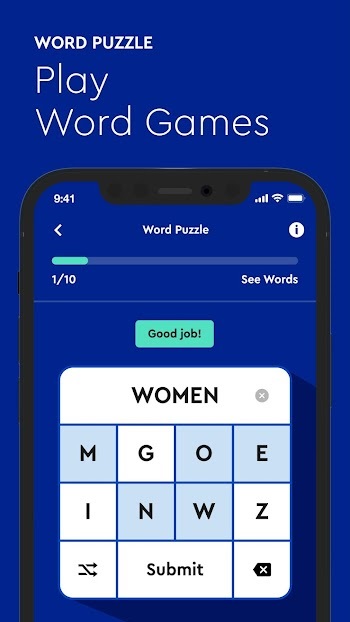 Offline Dictionary
Although the offline dictionary is a smaller version of what is available online, it contains entries and synonyms from the app's thesaurus. Also, any purchased upgrades will not be available when you use the offline mode.
Block Ads
You can permanently block ads from your dictionary for a pocket-friendly price. As a result, you can enjoy learning new words without any interruption.
Conclusion
Learning does not have to be boring; this app is to have a beautiful experience building your vocabulary education. This app offers excitement as well as knowledge. Dictionary.com will make you fall deeper in love with the English language. Download this app to begin your fun learning voyage!