Download Twitter APK and dive into a world of information and connection. Stay updated with the latest news and connect with others worldwide with Twitter.
What Twitter is All About
Twitter is a social media platform and microblogging service that allows users to post messages called 'tweets.'. Registered users can interact on Twitter by posting, liking, retweeting, and commenting on these messages. You can use Twitter as an app on your mobile device.
This social media service was founded in 20016 by a California-based company, Twitter Inc. Since then, it has become one of the most popular social networking platforms worldwide, with approximately 450 million monthly active users.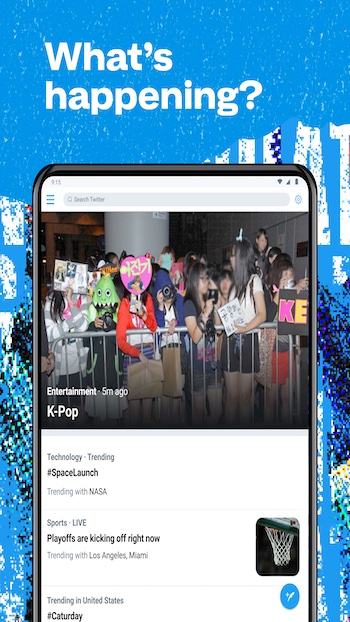 Twitter is an efficient way to share quick thoughts or news and find out what's trending in different countries globally. It has become an indispensable form of communication for journalists, corporations, everyday people, and even presidents.
When you download Twitter on your device, you have to create an account and start tweeting and following other people, from celebrities to your friends. At the same time, you will gain followers.
Information at Your Fingertips
Twitter is based on content and allows you to post your thoughts to the public or a targeted audience. Your posts are limited to 140 characters or less, not including tagging usernames and multimedia links. Also, you can use hashtags, which are words or phrases with the '#' symbol. These help you relate posts to the trending topics or start a trend of your own. At the same time, you can direct your tweets to specific people by using the '@' symbol.
Twitter is a content-based social networking service. When you sign up, it asks you to select your interests and suggest other accounts you can follow based on this. It can also get access to your existing contacts so that you can talk to friends and family on Twitter.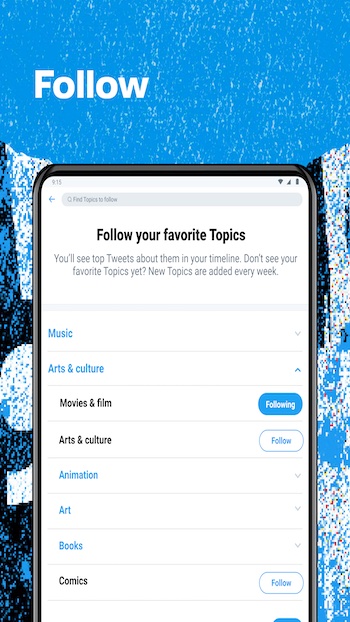 The social media platform is known for its Trending section, which shows hashtags that are trending worldwide. You can easily find the latest news or participate in trends online.
Top Features on Twitter
Here are some of the features you can find on Twitter.
Follow Users: Interaction on Twitter involves following other users on the social media platform. When you follow a user, you subscribe to their tweets. You can see their tweets and those of their other followers.
Like and Retweet: The Like feature was previously known as Favorite. You can like whichever posts you resound with, and you will see them in the Likes section of your profile for later. Having a lot of Likes also makes a tweet popular. If you don't want to Like, you can Retweet a post instead. This involves forwarding the tweet written by another user to your feed. Although it shows your username, it also shows the author's username and header.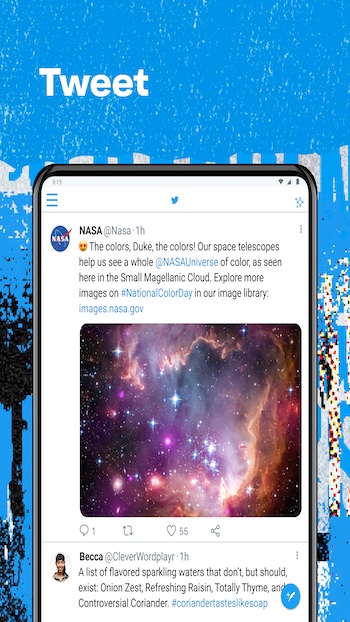 Quote Tweet/Comment: Twitter does not have the standard comment feature. Instead, you can quote a tweet and add your comment before posting it as a new tweet. This makes it easy for other users to see the tweet that you are referring to.
Trending Topics: One of the best parts of Twitter is the Trending section. This can be a word, phrase, or topic, as long as it is being mentioned more than other topics. A topic can trend on Twitter because of the joined efforts from different users or an event that is happening and prompting everyone to talk about it. Twitter shows the trending topics on the homepage and in a separate section, along with the sponsored content. Trending Topics allow Twitter users to know what is happening worldwide and people's opinions on that situation.
Polls: Twitter also added the option to post polls rather than normal tweets. You can post a poll adding up to four options for Twitter users to answer anonymously. The polls are open for up to 7 days and show the percentage of people and how many people replied to the survey.
Twitter Explore: The Twitter Explore tab compiles all the day's major headlines in one place. You can view Today's moments, live videos, Trending Now, and more. This makes it easy to find all that is happening worldwide at once.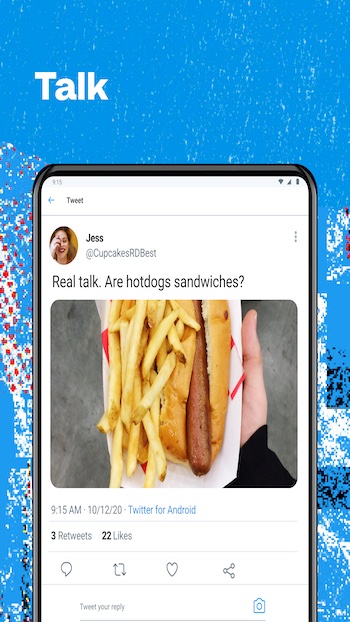 Live Streaming: Twitter also has a streaming service, as it has partnered with different services like Bloomberg, Cheddar, BuzzFeed, IMG Fashion, MTV and BET, and more. You can watch fashion events, sports games, entertainment, concert events, tours, and more through the Twitter streaming service. You can also go live on Twitter, whether you're a company or not. Click on Live and add a tweet to let others know what you are talking about. Many celebrities use Twitter Live to communicate with other users and can also add up to three guests on the live broadcast. There is no maximum duration to a live stream except it is scheduled.
Twitter Spaces: Twitter recently added Twitter Spaces, where live audio conversations happen between different users on the social media platform. Spaces are public so that anyone can join as a listener, and there can be up to three hosts. Up to 13 people can speak in a Space at a time.
Why Should You Get On Twitter?
Although there are many social media platforms, Twitter sets itself apart by emphasizing the events and information happening at that moment. As a result, you can easily stay updated with what's happening in your country and globally.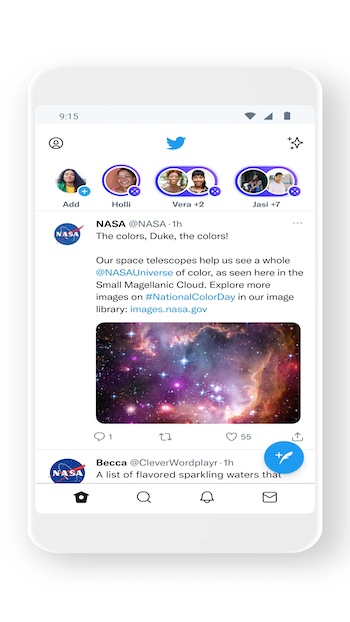 Twitter allows you to share your opinions and other interesting things, post polls, link to websites, go live, or watch others. You can connect with your favorite celebrities and voice your opinion. Twitter is often used for promotion, customer service, businesses, and protests.
Conclusion
If you're looking for an engaging social media platform that keeps you in the loop of what's happening worldwide, Twitter is a good starting point. Create an account with your email and start following others. You can learn new things, stay what's on your mind, and connect with others.