Download Google Meet APK latest version for android and have flawless meetings with up to 250 people! It has a smooth interface and simple controls, ideal for anyone.
In-Depth Details about Google Meet APK
The app was designed with businesses and organizations in mind. It is available for free on Android and iOS devices.
Google Meet is also integrated with G Suite, allowing you to easily schedule and join meetings directly from your Gmail account.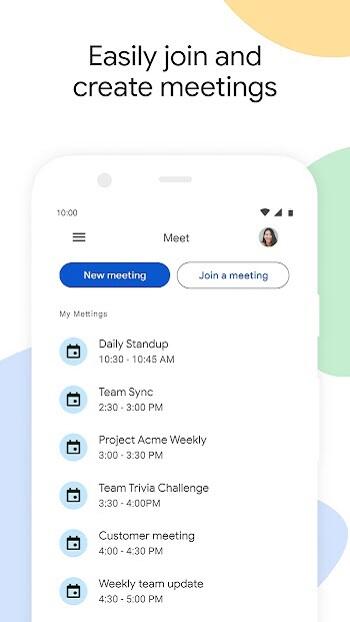 The app uses the latest technologies to provide a high-quality video and audio experience. It also offers unique features, including screen sharing, group chat, and call recording.
If you are looking for an app that can help you stay connected with your team or clients, Google Meet APK for Android TV is a perfect choice.
Why Google Meet APK Download?
If you regularly attend or host online meetings, you know how important it is to have a reliable platform. Google Meet is one of the most popular video conferencing apps with millions of users worldwide.
The app is renowned for its ease of use and reliability. It is also packed with features that make it ideal for personal and professional use.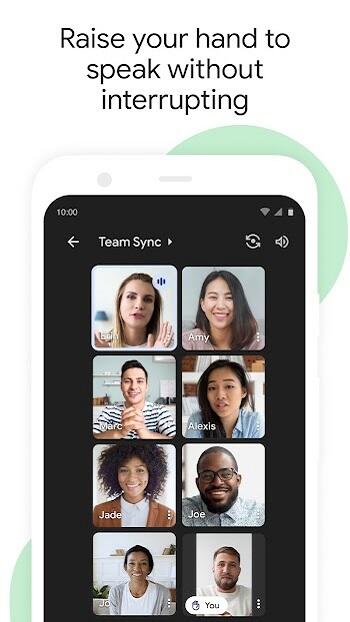 Whether you need to connect with your team for a project update or want to catch up with a friend, Google Meet is the perfect solution. It is highly optimized to work on all devices and platforms.
Free vs. Premium Google Meet APK
You can get the 100% free version of this app. However, it lacks several features that may limit your experience, especially if using it for business.
For example, you can only join meetings with up to 100 participants. The maximum duration of a meeting is also 60 minutes. For 1:1 meetings, you can have 24 hours meetings.
If you need more, sign up for a Google Meet premium account. With a premium account, you can have meetings with up to 250 participants.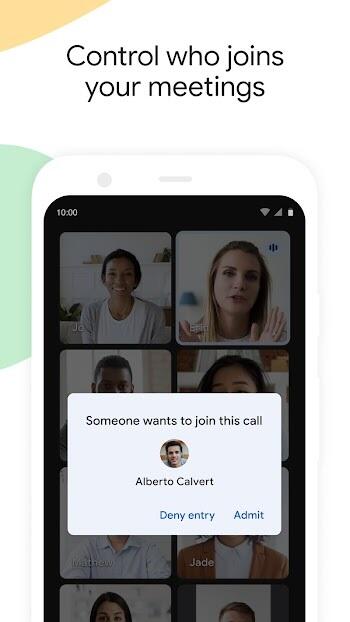 The maximum duration of a meeting is also extended to 24 hours. You also get features like in-domain live streaming, recording, and dial-in numbers.
Additionally, the Google Workspace Enterprise and Education plan come with advanced features like real-time captions, meeting notes, and noise cancellation. It can also accommodate up to 500 participants.
Modify Your Screen Layout
When having meetings, you can modify your screen layout to better suit your needs. The default setting is AUTO, which automatically arranges the video windows on your screen. Here are other options: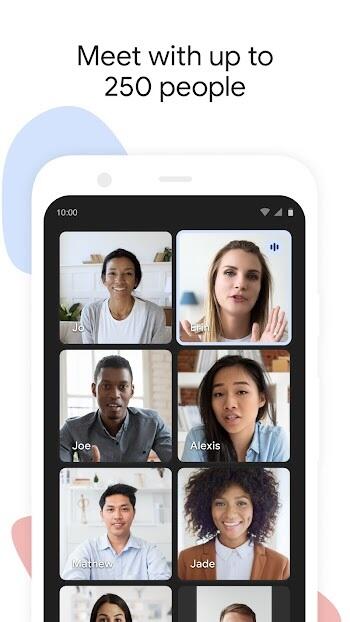 Tiled. This option displays all participants in a grid layout. Up to 16 people can be displayed at a time.
Spotlight. This option highlights the active speaker on the screen. The rest of the participants are displayed in a smaller window at the bottom of the screen.
Sidebar. This option displays the active speaker in the middle of the screen, and the rest of the participants are displayed in a sidebar on the sides.
The meeting organizers have the leeway to pin participants, ensuring their video windows are always displayed on the center of the screen.
Customize Your Settings
The app provides a lot of options to customize your meeting experience. For example, you can: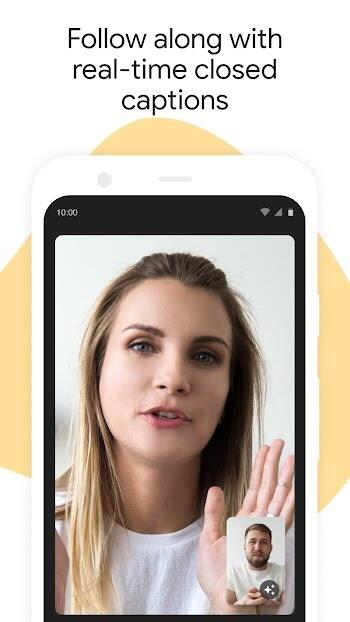 Change Video Resolution & Frame Rate. This app allows you to modify how your video looks to save bandwidth. This way, you can have an HD video call for serious meetings and switch to lower quality for general conversations.
Use Virtual Background. You can select an image or video as your virtual background to hide the clutter in your room. This is a great way to ensure you look professional during important meetings.
Adjust Microphone & Camera Settings. You can fine-tune your microphone and camera settings to get the best audio and video quality.
Mute Participants. The organizer of the meeting can mute all participants with just one click. This is useful when there is background noise or inattentive members. However, the organizer cannot unmute participants in cases of self-mute.
Live Captioning. This feature automatically captions what is being said in the meeting. The closed captions help participants understand the conversation better, especially those who are hard of hearing. It is only available in English.
International Dial-In Numbers. This feature allows participants to join the meeting even if they don't have a data connection. They can dial in using a phone number from over 50 countries.
Google Meet APK Free Download
The Google Meet old version APK version offers all the premium features for free. They include: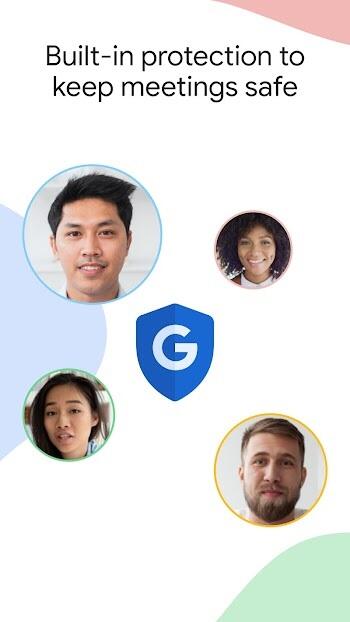 Google Meet Premium APK All Features. The app doesn't have any locked features. You can use any feature you want to achieve your goal.
No Time Limits. The Google Meet APK has no time limits whatsoever. You can have meetings that last up to 24 hours without any limits.
High-Quality Video & Audio. You can choose an HD video quality for crucial meetings and save bandwidth for general conversations. This flexibility is paramount for great meeting experiences.
Conclusion
Google Meet is the best of the best when it comes to video conferencing. It offers numerous features that are perfect for both personal and business use.
You can use the app for free with some limitations. But if you want to use all the features without any limits, you can download the Google Meet APK.