Download File Commander APK for proper file management. Keep all your files organized, convert, password protect, and save your important files in its Cloud.
About File Commander
File Commander app is a file management tool for Android devices. The app is as valid as any other one and adds icing top to its services with its storage on external services. The game lets you access all your files in the local storage without any error. The layout is well designed to help you keep an organized and relatable space for your files. So, you can save in local or external storage like Google Drive, Dropbox, or SugarSync.
File Commander has many management tools that you can use to copy, paste, cut, and move any of your files between locations in your device memory. It also supports local
network or FTP with a reasonably similar interface and nothing complex to properly handle your files.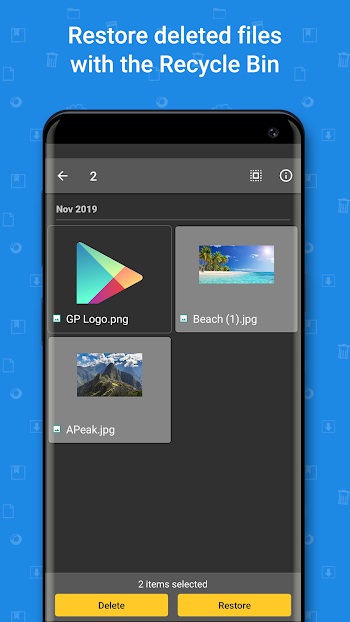 This file manager is quite popular for providing excellent services that users can relate to. The graphics and UI interface are friendly, and the environment looks as simple as possible you also have different icons for different types of files to keep track of your other file formats. Once you open any folder in File Commander, you'll be able to access all the impressive features you'd expect to see from a standard file manager.
You can choose your preferred view type and thumbnails and create and delete files. Grant access and deny access to private files and loads of other features. MobiSystems developed the app, and it's free to use for anyone above three years of age. File Commander is available in over 47 languages worldwide, and it has an impressive rating and millions of downloads on Playstore.
Why Use File Commander?
As earlier mentioned, the File Commander app is useful and functional. It offers all the necessary features of an Android file manager. Here are some of the reasons millions of users opt for the app:
Divide your phone's memory into two for easier management and proper organization.
Create and manage all your online and Cloud storage files.
The app supports multiple external storage services such as OneDrive, Dropbox, etc.
Convert your files between different formats.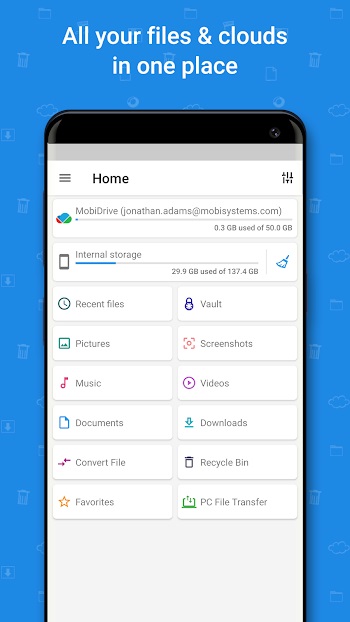 File Commander supports multiple file types such as Epub, Mobi, HTML, Txt, GIF, MP3, and others.
Use password management to keep your private files from the public.
Quickly transfer files between your computer and Android device without installing any software.
Get a free 5Gb cloud storage when you install and use File Commander on your device.
Features
File Commander provides more than just file management services; but also brings convenience and organization. Here are some of the features of the app:
File Management
You can keep your files organized with File Commander. If you often deal with large files and any folder, the app allows you to keep every file contained and easily accessible. Furthermore, the feature enables a shared workspace where every member of the team can have access to the organized files and be able to identify the one designated for them.
Online/External Storage
The app is not only ideal for keeping your device storage in the proper order, but it also works for saving your files online. You can use the external storage feature to store your files online or via external means safely. For example, the file apo supports other storage means like Google Drive, OneDrive, and Dropbox if you prefer to use any of those as your cloud storage point.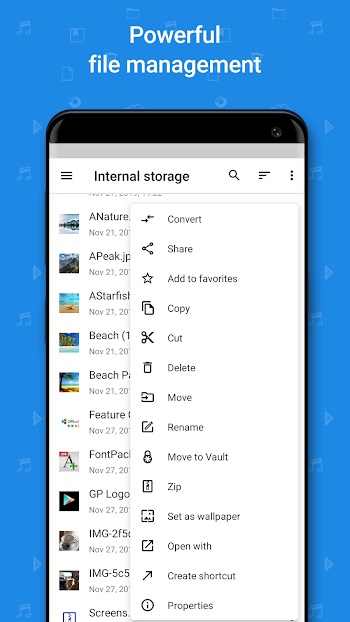 Convert Files
Rather than waste time, storage, and resources downloading a third-party app to convert your files, you can use File Commanders to manage everything. It reduces stress and makes your device storage less messy since you can easily convert any existing file to more than a hundred formats. Some formats include docs to pdf, pdf to doc, pot to pptx, doc to docx, and several other standard formats.
Multiple File Support
File Commander supports many types of files. It also has distinct icons that help users quickly identify the various file types they are dealing with. Rather than an unknown icon, it uses a designated label for files in the same format. Some supported files include PDF, PPTX, TIFF, M4A, MP3, MP4, CSV, BMP, TXT, HTML, EPUB, DOC, DOCX, and many others. You can also easily navigate the app to access your files based on their formats. For example, you can scan your device for DOC or PDF files and surf through them to find the one you want to open.
Password Protection
With the password protection feature, you can protect your important files from intruders and third parties. This feature helps you keep all you're files organized and in one place accessible only by you. You can place as many files in the password area as your device can take. The password management system is also secured; you can recover your password if you forget it with the on-screen instructions.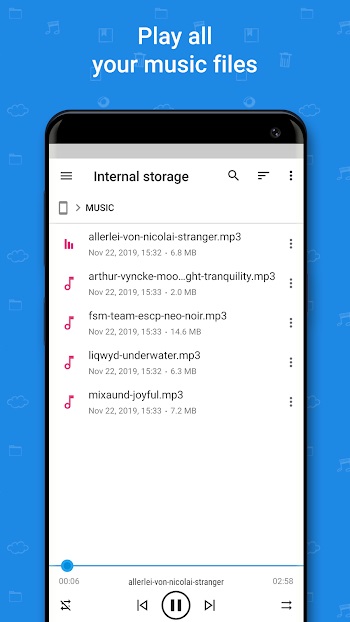 Cloud Storage
Not many file managers offer cloud storage services, but File Commander does. It gives users 5Gb of free space on its Cloud, where you can have the most important files you don't want to lose. So, when you lose your phone or erase all your files, you'll always be able to access these important files as you wish when you provide your login details. In addition, of course, you can access these files on other devices, especially using multiple devices.
Statistics
The app also has accurate statistics on your device's memory. For example, it displays all the files using your memory and how much each file takes. File Commander also suggests what to do with these files, such as erasing junks, deleting apps you've never opened, moving them to a free memory area, and removing any intermediate file you no longer use.
Conclusion
File Commander is the right choice for managing large files and keeping your files organized. It helps you decide what to sort, save or delete without hesitation. It also gives you an overview of your storage and an extra 5Gb storage space in the Cloud.


Join Telegram Group
Download File Commander APK for proper file management. Keep all your files organized, convert, password protect, and save your important files in its Cloud.