Download and install Voice Changer APK to be able to speak in whichever voice, such as aliens, monsters, and robots. There are over 40 different voices in the app.
Description of Voice Changer with Effects
Have you ever tried changing your voice to that of other people? Well, some people are naturally blessed with this gift, where they can easily alter the sound of their voice so that people would not know they were the speakers. However, since not everyone can do this naturally, an app has been developed to help people alter the sound of their voices. With Voice Changer with Effects, you can do it conveniently. This voice changer app contains so many awesome features that you will soon discover. This app will allow you to record your voice, change it into whichever sound you want, and then listen to your voice when you have finally changed it. Voice Changer with Effects allows you to turn your voice into about 40 different effects. When you are done, you can easily share your work with friends.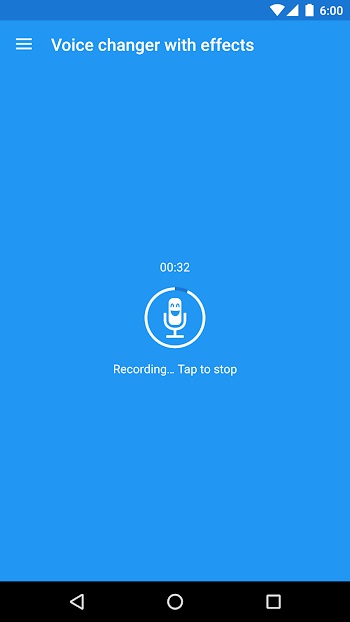 With this app, you can hear your voice in several versions, such as aliens, monsters, robots, etc. Voice Changer with Effects can provide you with an incredible experience. It can also serve as what you can use to troll your friends. Besides that, it will assist incredibly in creating ringtones, dubbing a clip, or whatever you need to incorporate strange voices into.
Over 40 Lovely Voice Changer Effects
Currently, this app has over forty voice styles in the library of its effects – drunk, squirrel, alien, zombie, monster, giant, robot, heli, and so on.
All you need to do is simply record your voice (sing a favourite song, speak any sentence, read a poem) and then select your desired voice. After that, just watch as the miracle unfolds. Within a second, you will have finished work you can show your friends.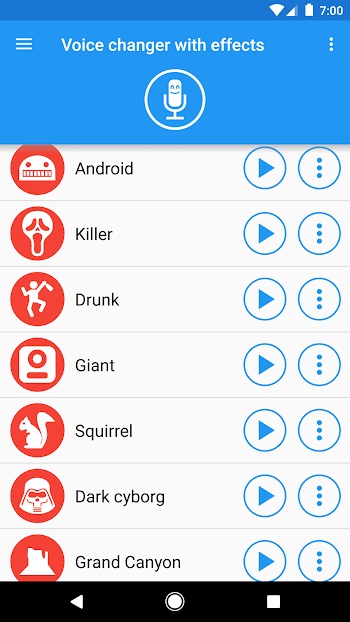 When it comes to entertainment, the feature voice changer can still bring a lot of fun and laughter in a civilized and harmless manner. Voice Changer with Effects is more fun and healthier than other apps of the equal genre.
Turn Your App into a Piano
Have you ever imagined that your random sentences can simply become an interesting piece of music? This is doable when you apply Voice Changer with Effects. First, you can record as many sentences as you want. Then simply tap on the audio you have just recorded; you will keep tapping to change effects until you arrive at the piano effect. From there, you can exhibit your playing skills, converting that dialogue into a lovely piece of music.
A Convenient Approach
Voice Change with Effects provides a kind of easy approach, making that anyone can make use of it in any sphere. For example, you can decide to record your voice directly on Voice Changer with Effects or pre-record it on your mobile device and then upload the file into the app.
Also, you may choose to use the Voice creator function available with the Text function, which is pretty simple. You don't have to record voice anymore. Instead, you need to include a text you desire, then apply the voice effect you want to have the option to save the work or share it with your friends. The built-in smart recognition function that Voice Changer with Effects has makes it easily recognise and read the characters you type. It then converts to the voice corresponding to your choice. This way, you can quickly get results without exerting unnecessary effort.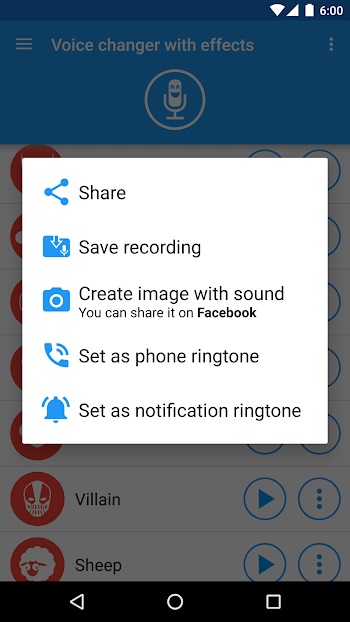 As soon as you have created the audio clip with the voice you want, you can decide to move the audio file to two different formats. It's either you save it to the phone to make sounds and ringtones for various notifications on your mobile phone, or you choose to share it directly on your social media networks, such as WhatsApp or transfer it to someone else through email.
The Sound Quality
Changing voices in Voice Changer with Effects has been improved with high-quality, good audio frequencies and standard formats. Therefore, it does not matter how you plan to use the work after you have made the necessary changes. Do not bother yourself about the sound quality – especially when you intend to make a music video or voice a clip.
While applying Voice Changer with Effects, you can also turn up or down the voice speed. Although there is no large adjustment range, the conversion is still pretty significant. Funnily enough, both the real and the adjusted files have the same quality.
Key Features of Voice Changer with Effects
You are free to send messages with pre-recorded recordings
You can include sound, record voice or whatever rhythm, stitch the image, and then share it with friends
You can convert the app into a piano, edit the voice recordings into exciting music
You can share the recording of changing your voice with your friends by using social networking applications
This app will provide over 40 effects to convert the voice into funny or cute sounds, such as robot effects
You can make those weird recordings as ringtones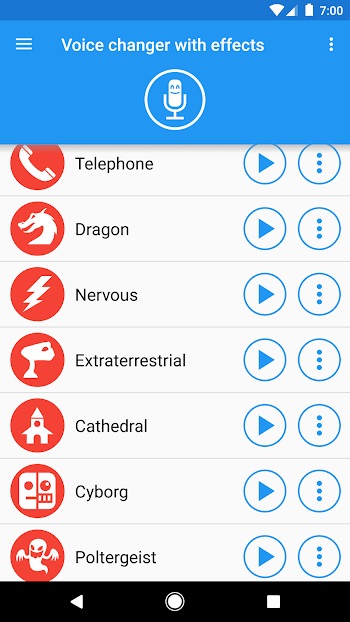 With Voice Changer with Effects, you can simply turn your voice into various serious or adorable versions when the app provides too many interesting effects that can alter the voice. With more than 40 different effects, such as helium, robot, and so on, each effect has unique characteristics and functions; they will provide you with various versions of your voice. In addition, you are free to record voiceovers, edit the voice and send them to your friends to tease them.
Sometimes, you don't even need to record voices; you can simply type texts into the app, which will convert them into whichever voice you desire. You can even copy some interesting texts from other sources, paste them into the app, and then make the app voice them with a particular voice you desire.
Conclusion
If you are fascinated with strange voices and want to make one yourself, or you simply want to read a text in a pretty ridiculous manner, just download Voice Changer with Effect and begin to use it. The app is effective, compact, fast, and super fun. It promises you a very nice moment.


Join Telegram Group
Download and install Voice Changer APK to be able to speak in whichever voice, such as aliens, monsters, and robots. There are over 40 different voices in the app.