Download Meme Generator Pro APK, an app that allows you to create memes and share them on various social media platforms easily. It is perfect for meme enthusiasts!
An In-Depth Description of Meme Generator Pro
Everybody cannot deny that memes are interesting and hilarious content that sometimes makes our day. You could either be a meme creator or someone who enjoys scrolling through different memes during their free time. Meme Generator Pro is the best app to create beautiful memes you can share with friends.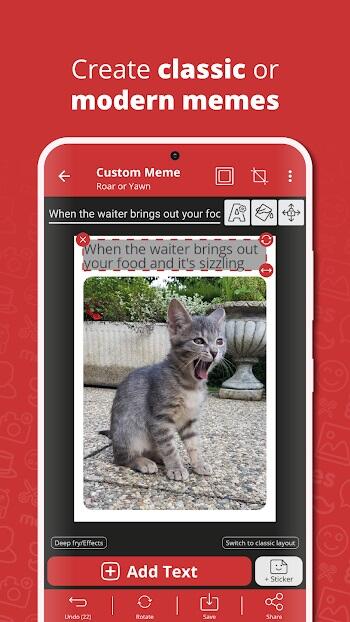 Meme Generator Pro is easy to operate and has tons of tools (stickers, font styles) you can use to edit your pictures the way you want to. With Meme Generator Pro, users can access several funny and cool memes. This app also supports custom memes which means that users can add pictures from their devices to match the context of the high-quality meme templates at their disposal.
With Meme Generator Pro, you can spice up the conversation in your friendship group through the variety of tools, templates, fun stickers, font styles, and memes you can access. Users can also combine different pictures for better results. When you are done creating your meme perfection, you can share it with whoever you want through various social media platforms.
The tools on Meme Generator Pro are easy to use, and users will never have to worry about poor-quality photos as they can save their memes in the highest quality available. There are so many different meme templates and a vast meme collection to choose from, with one popular one being Squidward from Spongebob in an insomnia state trying to sleep. What more could meme enthusiasts ask for?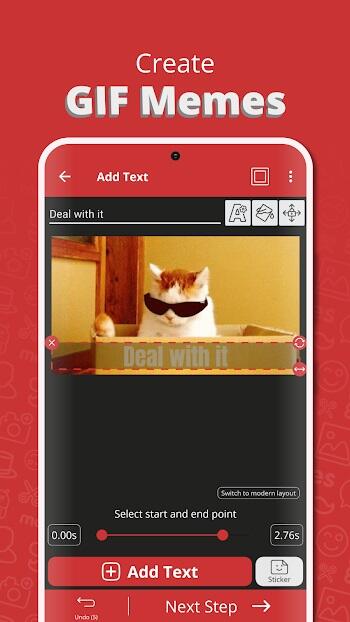 Now, you can explore the world of memes when you download Meme Generator Pro for Android – its simple interface and frequent updates has this app a popular choice among Android users. The Meme Generator Pro download process is simple so you can get right to it! It enables you to share your opinions through your perfectly created memes.
Features of Meme Generator Pro
Now that you know all about the Meme Generator Pro app and how it will help you create the best memes, let us look at some of its exciting features.
Easy to Use and Understand
The major feature of Meme Generator Pro is that it has a simple interface that is easy to operate. This makes it easier for users to create memes without stress. All you need to do is download the application and then get right to it. There is an option for you to create custom memes – choose the picture of your choice and start editing.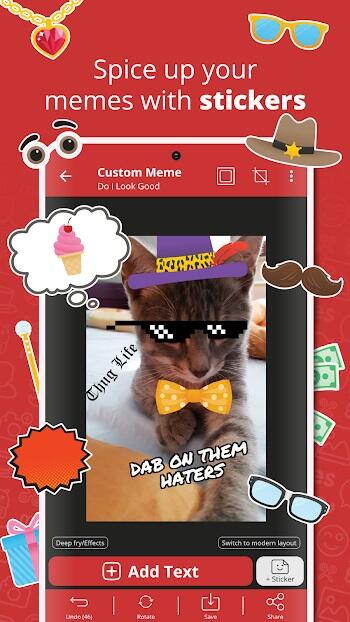 Creating memes has never been easier with the Meme Generator Pro app. All the tools you need to transform your picture into a meme will be on the screen. Some tools are at the top of the screen for editing photos (the crop option, font styles) and options below to share, save, edit or rotate your meme.
Font Styles
Memes are not complete without words as they help better convey your thoughts and the content you want to bring. Meme Generator Pro has more than sixty fonts for users to choose from, with the option to add their own. You can also change the color and size of your fonts. With these fonts, your memes will be easier to understand.
Combine Many Memes Into One
The Meme Generator Pro app allows users to combine their favorite memes into one multi-panel meme. It could be memes that talk about the same topics or describe your feelings at a particular time. Whatever it is, you can quickly put these memes together and arrange them in one layout so that everyone can see them simultaneously.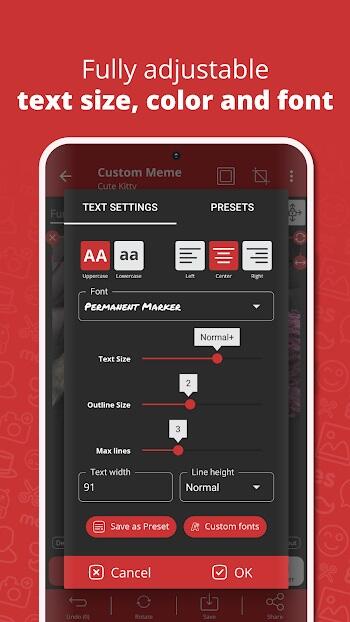 If you are not so good with putting different memes in a layout, Meme Generator Pro has different layout suggestions, so all you need to do is drag each meme image into the respected frame.
Easily Find Your Favorite Memes
Sometimes you make the best meme but forget to share it and then end up losing it. This can easily be avoided when you use the Meme Generator Pro app. There are over one thousand memes on this app, plus your custom memes, meaning it will be difficult to find what you are looking for.
Meme Generator Pro allows you to create a list of your favorite memes in one compartment for quick access. Now, you no longer need to spend hours searching as this makes things convenient.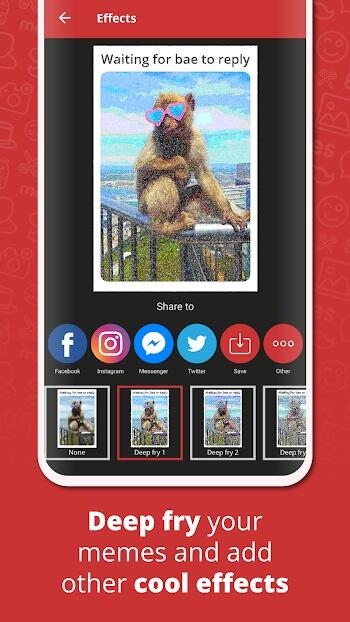 Other Features Include:
The creators of Meme Generator Pro frequently update the app from time to time so that users can access more tools to create memes. Also, community content is updated every week.
There are hundreds of stickers to choose from, and users can create custom stickers to suit their tastes.
You can share memes to any app or save them to your gallery using Meme Generator Pro.
There are over two thousand high-quality and top-notch meme templates, and they are all sorted by category.
Meme Generator Pro supports custom memes – layout, pictures, and GIFs.
Every meme you create, share, or import will not be automatically uploaded as Meme Generator Pro ensures user privacy. Also, Meme Generator Pro will collect no personal user data, only analytic data, which is used to improve the app's stability and performance.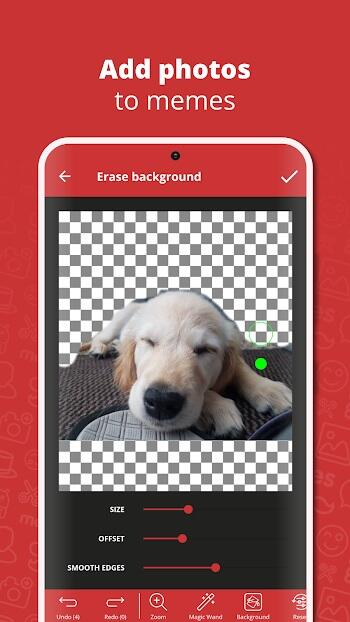 Users can crop images, add borders and create complex or classic memes with several captions using the Meme Generator Pro app.
There is no watermark on memes.
Meme Generator Pro supports GIF memes by giving users access to Tenor's extensive GIF database.
Users can create editable templates allowing quick and easy editing of their favorite memes.
Users can create any dank meme format using Meme Generator Pro, including deep-fried memes.
Users can add funny effects to their memes
Conclusion
There is no better way to dive into the world of memes than through Meme Generator Pro. Meme Generator Pro is one of the best ways for Android users to create funny, interesting, and cool memes at their convenience. It is easy to use and requires zero stress and effort.