Download and install Invitation Card Maker APK and create cards for parties, events, weddings, and birthday invitations with built-in templates and texts.
Description of Invitation Card Maker
If you have always been searching for the perfect app to help create the right invitation cards for your events, then you are on the right page. Now with the availability of some apps, you do not have to seek professional services for some basic things – the creation of invitation cards being one of them. This app can help you produce the most incredible and amazingly beautiful invitation cards you will ever see – even more beautiful than what a professional maker might come up with. These days, most people who call themselves professionals use apps like this to produce their content. So why should you pay money for the services you can do on your own at no charge?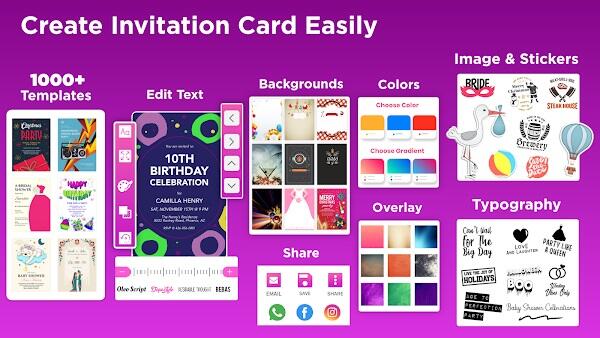 This app is a very easy one to use because there are over a thousand templates that you can select from. All you have to do is pick the template that you desire and begin to input all the texts you want in it. In some cases, some of these templates already have the right texts; all you just have to do is to change the names and locations, including time and other little details. In addition, you can include an appropriate image. For instance, if you are creating an invitation card for a wedding anniversary, you can include the image of you and your spouse on the card. All templates are free to use, so you don't have to worry about them. And as already mentioned, you do not need any technical or professional skills to effectively use this app.
The Wonderful Uses of Invitation Card Maker & Design
This app is useful for several events where you want to invite your friends and family. You do not have to waste time calling or sending texts. The best way is to send them invitation cards. You can simply share this card on your social media networks for them to see it or send it to your friends and family personally as a direct message. Here are what you can use this wonderful app for: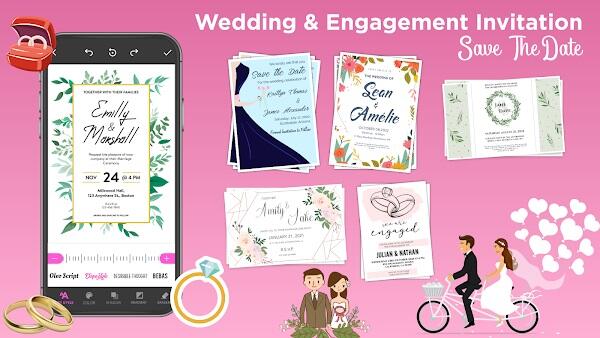 Save the Date Maker
Engagements
Summer and Pool Party Invitation
Wedding Invitation
Retirement and Farewell
Baby Shower
New Year
BBQ
House Warming Ceremony Invitation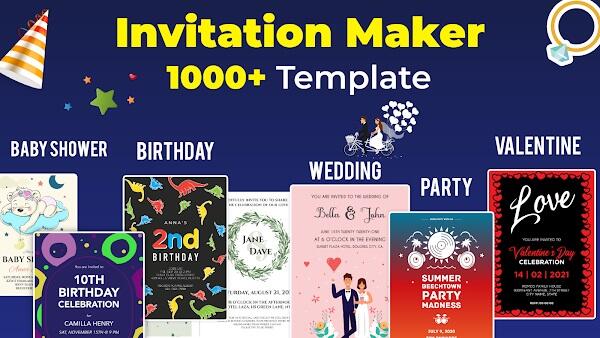 Christmas Invitation
Halloween
Birthday Invitation Cards Template
Anniversary Invitation
The Outstanding Features of Invitation Card Maker & Design
The following features are what you will be able to do and enjoy when you install this app to your mobile device. Regarding apps that can effectively create invitations for events, this app is one of the leading in its category. Take advantage of this awesome invitation card maker with the following lovely and special features: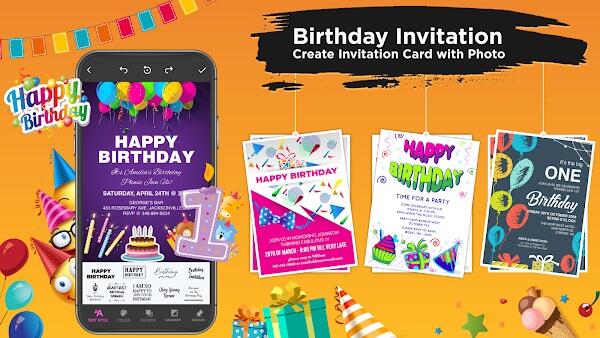 Include Texts to Your Selected Image: While you have the chance to upload the picture of yourself and/or your loved one(s) to the invitation card that you are creating, you can also include texts to the image you have uploaded to the card. And you can select which font and size you want the texts to appear in.
High-Definition Pictures: Unlike other apps of the same purpose that might not accept pictures whose qualities are too high, Invitation Card Maker can accept any picture in any definition. The higher the picture quality, the more beautiful and genuine your invitation card will appear. So go ahead and upload that HD picture.
Aspect Ratio: This feature allows you to change the size to whatever you want. You can even rotate it in whichever direction you want. For example, if you intend to make designs by making your picture slightly diagonal, the aspect ratio can help you with that.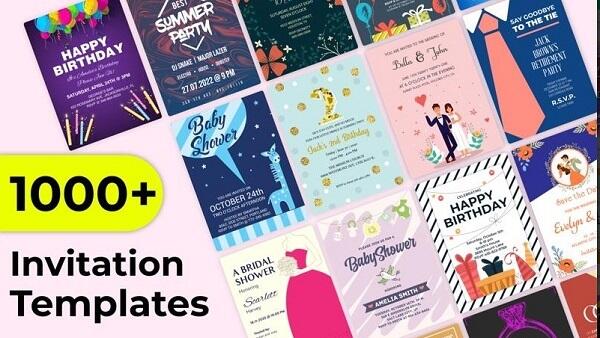 Different Saving Titles: In some cases, you might want to create more than one invitation card. The app's algorithm identifies when you are creating something new, giving each card created a unique title different from another. In this way, when you save, there will not be two or more images that share the same title. You can choose to edit the original titles and replace them with your own for easier identification.
Include Texts, Filter, and Colour: It has already been established that you can add texts to your pictures. But it is not only on your pictures that you can add the texts. You can also add some extra information and details to the general texts or create entirely new texts of your own. Also, you have the chance to include filters to bring the invitation card more to life. Then you can adjust the colour of the image you have uploaded to match that of the card.
Several Overlays: There is also the opportunity for you to add overlays so that the texts, images, and colours will complement one another. You can increase or decrease the opacity of the texts, pictures, or colours to match the entire complexion of the invitation card you are creating. You can do this after you have completed all the most important aspects of the invitation card creation. Including several overlays and opacity may be the final touch to help bring your work more to life and present its originality and creativity.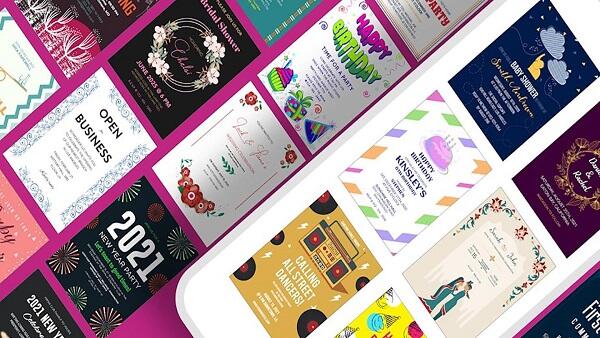 Hundreds of Stickers: Besides the filters, overlays, colours, opacity, and other effects, you also have a lot of stickers at your disposal. You can select numerous stickers to convey the mood you are trying to present to the people you invite. If stickers are used effectively, they can add more cuteness to the invitation cards. Therefore, freely browse through all the stickers and select the one you think perfectly conveys your message and emotion.
Last Thoughts
With this app, you can create any invitation card you want. All the templates have been arranged so that it would be easy for you to select the one you want to work on. And you don't have to do much work since the templates contain most of what you want to convey to your family and friends.


Join Telegram Group
Download and install Invitation Card Maker APK and create cards for parties, events, weddings, and birthday invitations with built-in templates and texts.