Download Braindom 2 APK, a tricky brain test game with thinking riddles, games, and puzzles that will twist your mind. Do you have what it takes to pass every level?
An In-Depth Description of Braindom 2
Do you think you have what it takes? Braindom 2 is the best way to test your mind and see if you have what it takes to think quickly. Through this game, players have access to mind and puzzle games and riddles that will puzzle and twist their minds. You have to solve different mysteries – find out who did what, who is the culprit, who is lying, and who is the father – play different mind games and solve puzzles. These quiz games are designed to test your IQ, and it gets harder with every level.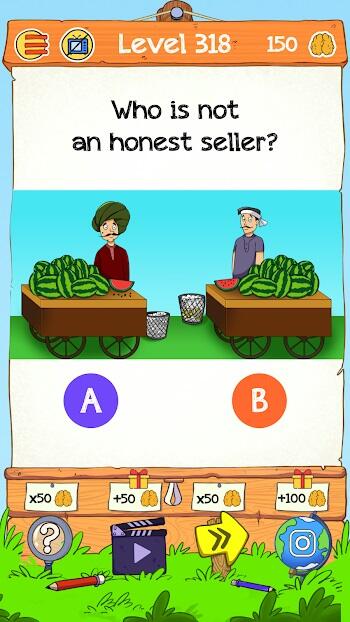 Braindom 2 was developed by Matchingham games, providing brain tests, fun logic games, and IQ games for players. It is a one-part detective and one-part trivia game that is guaranteed to give players a sense of victory when they make it through every tasking level. You will find mind games that will trick you, riddles that will twist your mind, and IQ games that will exercise your brain and have you thinking outside the box. With Braindom 2, you can become the champion of all thinking games by training your brain out.
Braindom 2 encourages players to exercise their brains daily in a fun and exciting way. The riddles are challenging but not too difficult – they are enough to challenge you, increase your problem-solving skills, and make you laugh along the way. Braindom 2 latest version is creative, original and certainly engaging with multiple IQ games, puzzles, riddles, mind games, and much more to make you a riddle master and a clue-hunting detective.
The puzzles you play in Braindom 2 consist of different choices displayed on the screen, but players are not allowed to choose an answer randomly. They have to search for clues to back up their chosen answer. For example, in one of the puzzles in this game, three different men claim to be the father of a child. You will then have to use the child's phone to call his father; whoever picks up out of the three men is the father.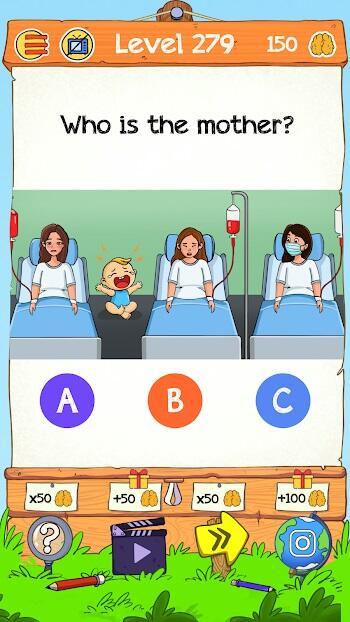 As stated above, the puzzles in Braindom 2 are difficult enough to challenge you but will also make you laugh after every level. This is because some funny sayings will be displayed at the end of each level relating to the puzzle you solved. It could be a lesson, a statement about real-life problems, or something funny in general. Also, if you manage to beat some particular levels – like levels 5 and 10 – you will access information about remarkable people in the world like William Shakespeare and Albert Einstein.
With Braindom 2, you can become a riddle master and problem solver. Our site offers a straightforward Braindom 2: Brain Teaser Games free download process so that you can get right to it!
Features of Braindom 2
Now that you know all about Braindom 2, let us look at some of the exciting features this game offers.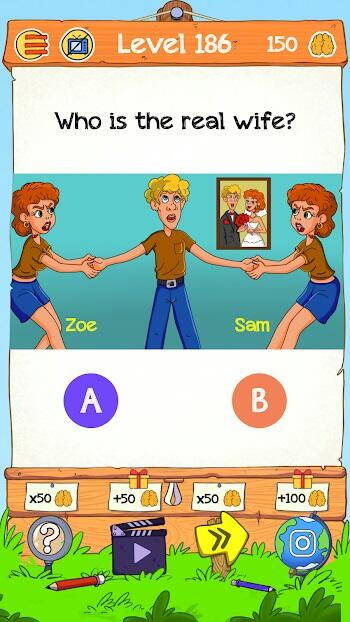 Brain Points
Brain Points come in handy anytime you are stuck on a riddle and do not know what to do. Brain Points are the in-game currency of Braindom 2, and they are really helpful as you can use them to unlock hints, solve tricky riddles and even skip a puzzle entirely. You can use your Brain Points to access a clue for difficult riddles so it can be easier to solve them, and you can also use more Brain Points to skip a riddle completely. It is advisable that you only do the latter for extremely difficult puzzles.
You can earn Brain Points in many ways – when you complete riddles or puzzles, by watching ads, and the lucky spin. You can use the lucky spin to increase your brain points; if you are lucky, you might get more. Also, if you connect the game to your Instagram account and share fun quizzes, you will get Brain Points.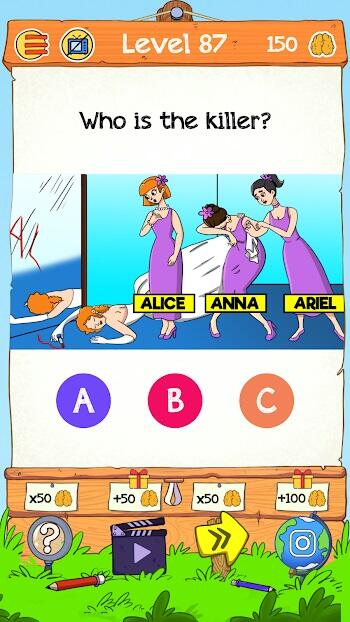 Clues
Players can use the different clues that they find to complete the different puzzles. But the thing is, some of the clues are intended to distract you from the actual answers. For most levels, you will have to be smart and think deeply to find the clues that will help you solve the puzzle.
It would be best if you focused on analyzing the puzzles' logic and considering the clues you have been given. You should not completely focus on the clues as they may mislead you. This feature is pretty cool as it makes the puzzles much more enjoyable.
Tricky Games
Braindom 2 features brain teasers for people of all ages (teens and adults).
Over one hundred mind games are waiting to be solved in this game.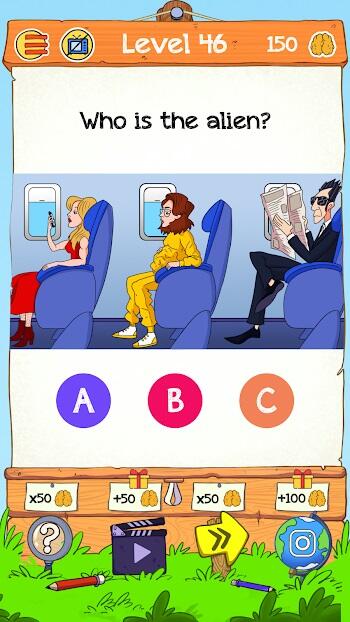 Find out if you are or can be a riddle master by solving the multiple riddles this game offers.
There are multiple mysteries to solve in Braindom 2 – become a clue detective, find the clues and solve the mysteries.
Braindom 2 features "who is the culprit?", "Who is the father?" kind of puzzles. Do you think you have what it takes to solve them?
Exercise Your Brain
Braindom 2 trains you to be able to think outside the box.
Braindom 2 features multiple tricky games that will put your thinking skills to the test.
Try out the different brain tests this game offers to test your or a friend's IQ.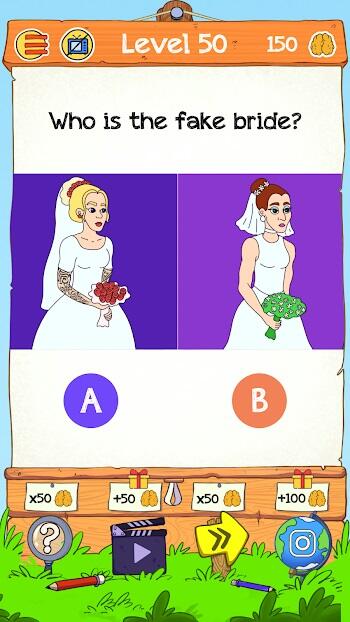 Solve difficult trivia questions to become the master of intelligent games.
Conclusion
Braindom 2 requires a lot of critical thinking to solve different riddles and puzzles as you have to look for clues within the given picture. With the number of thinking games you can find on this app, you will be able to improve yourself and your problem-solving skills. Our Braindom 2 download process is straightforward – so what are you waiting for? Hit that download button now.