Download Miraculous Ladybug & Cat Noir to join the duo on exciting runs against villains to avoid various obstacles, defend against attacks and collect cookies.
About Miraculous Ladybug & Cat Noir
Miraculous Ladybug & Cat Noir is a video game affiliation with the Miraculous Ladybug & Cat Noir animated series. The game is designed to allow lovers and fans of the series to have an enjoyable experience playing as the animation characters. The game was officially released in conjunction with the movie producers, which means you'll be getting all the features and fun you witnessed in the movie.
The game takes players on an adventurous journey where they'll have to face supervillains like Hawk Moth. You'll have to compete with these toxic and despicable enemies if you want tok win each level and progress to the next one. Thankfully, the control system is intuitive and easy to use, and it's similar to other runner games you've probably played or seen others play before. You'll have to slide your fingers across the screen to control your character; pretty simple, right?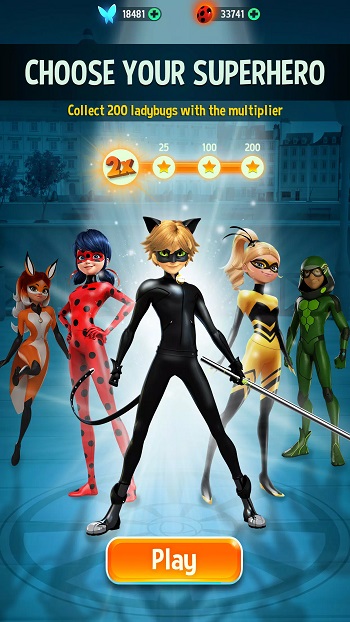 There are obstacles to dodge and various paths to take, so you'll have to make fast decisions and train your reflex to be your best companion. You'll have to complete multiple objectives on each mission, and the entertaining part is that the goals are not fixed. For example, rather than in typical runner games where you collect coins, you might have to manage a specific number of cookies on one level or evade some obstacles on the other.
The game was developed and released by Crazy Labs. It's an Android game with a free license, meaning anyone can download and install it. It's also available in more than 47 languages, allowing players to have a jolly time anywhere in the world. Unfortunately, the content rating does not let anyone below 12 play. Still, the game has over 100 million downloads on Playstore, and about a million of these players left a 4.3 rating for the gameplay experience.
How to Play
It's pretty easy to Miraculous Ladybug & Cat Noir once you understand the objective and master the game controls. The game objectives can change for any game level, so you should always watch for the missions for each level before you start playing. You'll get a decent welcome guide when you begin, taking you through the game features, control, and how to use both.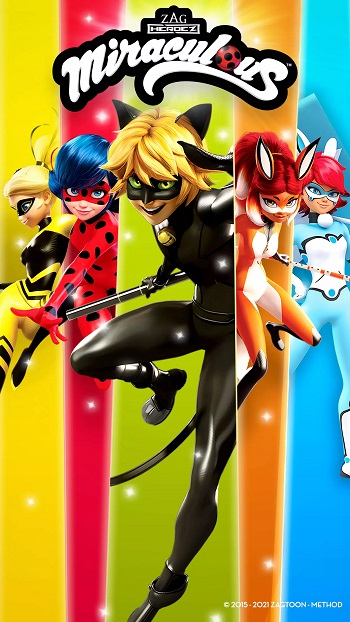 The gameplay revolves around the Miraculous Ladybug trying to escape the Hawk Moth and his akumas. You'll win each level when you manage to avoid the enemy and complete the objective. You can swipe right or left while playing to control your character right or left. You can also slide or jump across obstacles by using the swipe up and swipe down gestures on your screen. You'll also be able to walk on walls by swiping to the side of the screen.
Game Features
The game draws much inspiration from the original movie, so the characters and environment might seem familiar. First, however, check out some impressive features on Miraculous Ladybug & Cat Noir.
Simple and Easy Control
The game uses a straightforward control system that allows players to adjust to the game immediately after they start playing. Since this is a 3D runner game, it only requires you to run forward and dodge obstacles, so the control system is made up of movements and gestures that help you do that.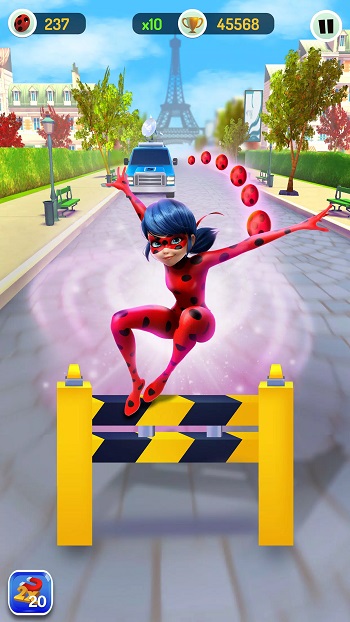 So, you can easily avoid upcoming impediments by swiping right on the screen, which moves the character directly. You can also switch left to move left, swipe up to jump, and down to slide. When you're against the wall, you can swipe right to walk on the walls too, which is ideal if you're in a difficult situation or there are cookies to collect along the wall.
Graphics and Colors
Miraculous Ladybug & Cat Noir is a big fan of simplicity, seeing how simple yet compelling the graphics are. There is an excellent and intelligent use of colours without hurting the game's beauty. The main character is draped in a beautiful, fitted dress resembling a superhero, as seen in the movie. You'll also encounter various game locations, ranging from open space to closed and underground locations. These different game locations are also well detailed and coloured to give the impression of a realistic environment.
Game Levels
There are many levels om this game. Although you will be playing an infinite game, so it will take a while before you can reach the game's limit (which doesn't exist), which is primarily impossible for most players. However, the game allows you to progress across various levels as you master the controls and movements. Each level has many missions and objectives, making it even more fun. There are records for each race, so you can have fun breaking your record and setting new ones or competing with other players by comparing your game scores.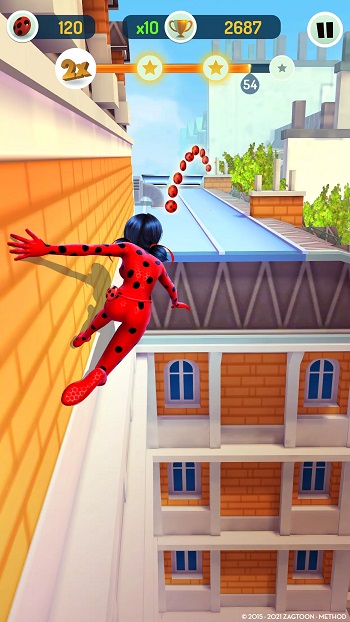 Characters
The game has many characters who are adapted from the movie. So you'll face wicked and cruel villains such as the Moth and his akumas. These include Dark Cupid, Stormy Weather, The Bubbler, and others. Each of ths villains has different skills and points, so you'll spend most of the game running, accumulating points and fighting against the villains. You'll also get to play with the boss on certain levels, so you not only have to avoid obstacles but also ensure you avoid attacks from the villains.
Music and Rhythm
As an infinite game, it's easy to get bored of the gameplay. Jkwrvwry, thanks to the game scenes, changes in the environment, different villains, and mission objectives, you'll likely not get noted easily. However, the music is also an essential feature of the game, making it bearable for the player and even more enjoyable. The background music on Miraculous Ladybug & Cat Noir is exciting and the rhythm every time you collect an item adds to the game's interactiveness.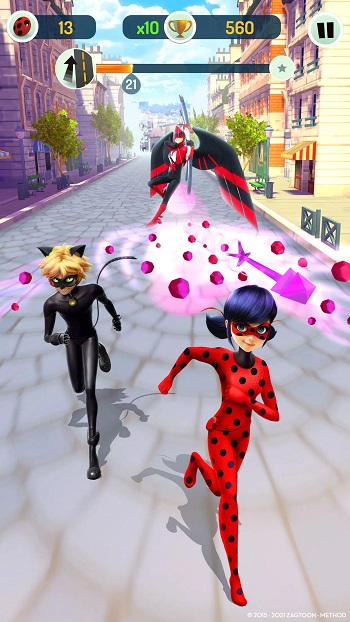 Conclusion
Join the adventure and help the ladybirds throughout the streets of Paris. The game is a perfect option for relaxation and leisure gameplay.


Join Telegram Group
Download Miraculous Ladybug & Cat Noir to join the duo on exciting runs against villains to avoid various obstacles, defend against attacks and collect cookies.