Download GPS Emulator APK to easily switch between various locations on your devices. Fool multiple apps and websites by selecting various locations on the map.
About GPS Emulator
The GPS Emulator app is a mobile device application that allows you to easily change your GPS location without moving from your current position. The app is quite functional and is mainly used for using another area and fooling third-party apps and sites that you're in a different location. This app is also easy to use thanks to its intuitive control system, which allows you to easily change your location by clicking on the desired location on the map.
Hence, the app immediately changes your location to anyone you select on the map. Another impressive feature of the app is its ability to allow you to find your desired location with a search tool. So, rather than select from many recommended places or limited options, you'll be able to choose from a wide range of options worldwide by searching the location you'd like to use. You can also use the coordinate system (if you know it) to narrow down to the location you'd like to use.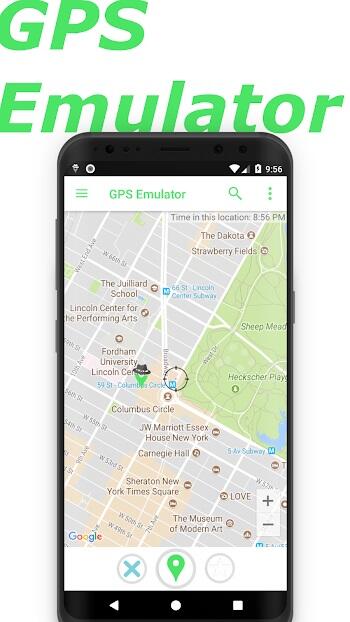 The app is famous for its simplicity and great UI. This is why it's so easy to use and also loved by users. It has a feature that allows you to drag the pin across the map, and then you can tap on the green bottom of the screen to select a specific location. Hence, you'll be able to fool anybody in any app who ok your device into believing it's your actual location. Although several apps offer this service, GPS Emulator is much more robust and easy to use.
The RosTeam developed the app, which is free for Android devices. You'll also be able to use the app from anywhere worldwide since it supports over 47 languages worldwide. In addition, the content rating allows anyone above 3 to use the app. GPS Emulator currently has over a million downloads on Playstore and a superb rating of 4.6 from thousands of its reviewers.
Why Use GPS Emulator?
The app is helpful for a lot of reasons; you can check them out below: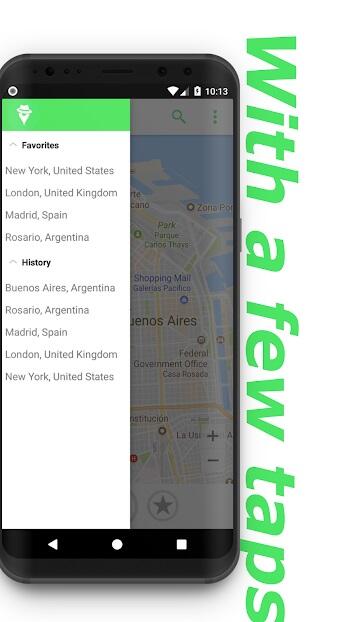 Use GPS Emulator to locate someone on your mobile.
Protect your data and movements with a fake GPS location.
Avoid geographic bans and access platforms that have been banned for your region.
Access, log in and download geo-restricted content on the internet.
Easily pretend to be somewhere else with the GPS Emulator app.
App Features
The app is helpful for a lot of reasons, and this is thanks to the impressive features outlined below: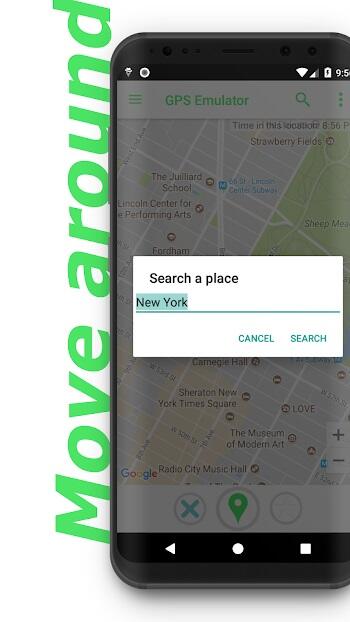 Simple UI
GPS Emulator is a simple app with simple designs and layouts. You'll be able to navigate the app without getting stuck or experiencing lags quickly. The simple UI also makes it easy to find any location you want to use or display when you appear online or use your apps. Thanks to the built-in integration, the app also connects with your device automatically without you setting or making changes to any device settings. So, it automatically changes your device location so that it will convince third-party apps on your device of the new location.
Fast and Convenient
It's pretty fast to navigate through GPS Emulator, partly due to the simple UI and no lags. There are only a few buttons on the screen, so you won't have to go through many steps to change your location, making it faster to get things done. In addition, you won't need to spend time figuring out where and how to access any of its features, even if it's your first time.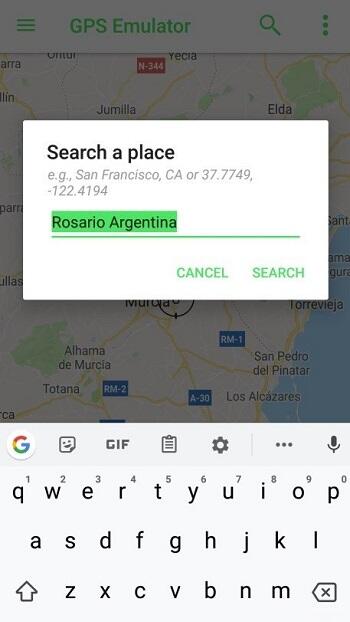 Customizations
There are various changes to make aside from switching your positions; luckily, you can do these with GPS Emulator. The platform not only allows you to fool every app and website into reading a fake location it also enables you to customize the exact location you want. For example, you can select the precise location you wish to display in the country rather than choose a country.
You'll also be able to set the altitude for elevated areas or when you're trying to appear in an airplane. You can even adjust the location's accuracy and access the location's current time to switch your time and completely mock any app (for apps that confirm your device time). These features add to the reliability and authenticity of the fake location you're trying to use.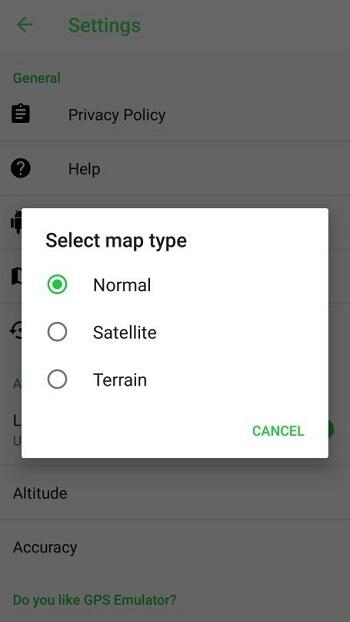 Variable Maps
You have more than one option when choosing your preferred location. The app provides three types of maps to make elaborate location options and allow you to easily navigate various areas worldwide. In addition, you can select between various map options, including Normal, Satellite, and Terrain.
You can use the normal maps for easy access, but satellite maps give you real-time and more accurate details of every location on the map. Lastly, the Terrain maps are even more detailed, showing you the exact topographical factors of each location on the map, such as the elevation, landscapes, etc.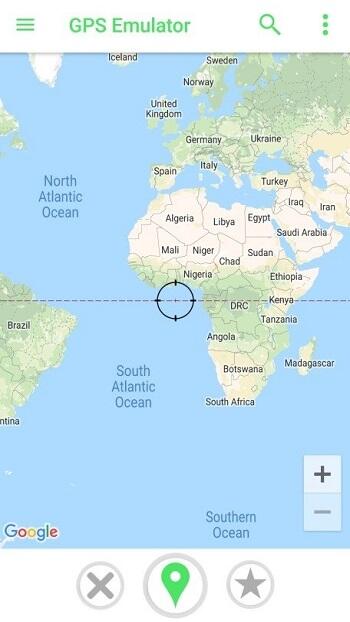 Locations
There aren't restrictions on the locations you can access on the map. Asides from the North Korean borders, which are strictly forbidden to non-citizens and do not use the internet, you will be able to access locations across the globe. Select anywhere on the map from all the seven continents. You can choose the locations with the map by selecting or dragging the pin to any point. You can also use the search bar to switch locations or the coordinates to pinpoint the exact location.
Conclusion
GPS Emulator is a fast and responsive app to quickly change your device locations or use a fake location for apps and websites. It's one of the most famous mock location apps on Playstore over a million downloads on the internet. In addition, the app is free to use and doesn't take up much space on your device.