Download AccuWeather APK for insights about weather conditions in your environment. Get timely alerts and warnings about severe weather in your local area.
About AccuWeather
AccuWeather is a mobile app that helps people know their area's weather forecast as quickly as possible. The app is ideal for anyone in various locations across the globe. AccuWeather has been around for many years and has been popular for providing accurate insights about weather and environmental situations worldwide. Hence, AccuWeather launched the app to provide real-time information about the weather in their areas.
You can access essential weather parameters directly on the map, such as temperature, humidity, visibility, wind, sunrise hour, sunset hours, wind speed, and several others. The app is also easy to set up and uses, even for kids. All you need to do to get this information is to manually input your location in the app or grant it access to your location through the GPS.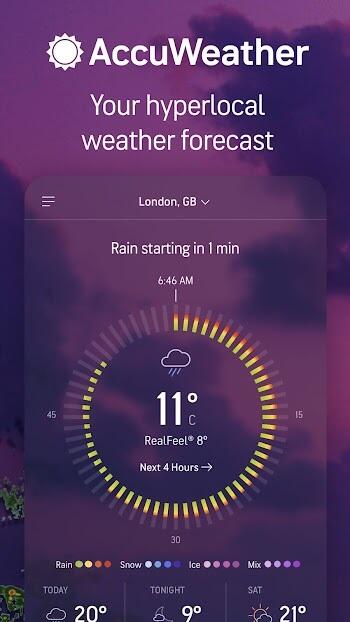 The app has some impressive features that give it an edge over other apps with similar functionalities. For example, you can slide your finger along the screen to check the exact temperature and wind predictions for various times during the day. This can help you plan your day and make smart decisions based on your insight.
When you switch to another tab, you can also check the weather forecast for the coming days. In addition, in-app media allows you to watch videos daily from the weather forecast streams all over Europe. Hence, the app provides the correct information to help you decide what and when to wear certain clothes or go out of your house.
Why Use AccuWeather: Weather Radar?
As earlier discussed, AccuWeather is a resourceful app that gives users access to timely and valuable information about the weather conditions in their environment. Check out some of the reasons millions of users choose AccuWeather below: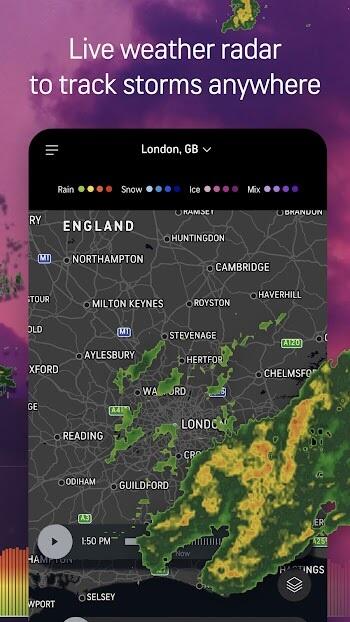 Access the accurate weather forecast you've always known AccuWeather to provide.
Get weather watches and warnings for your local area to stay updated about hazardous weather conditions.
Check weather patterns from space with the contour maps.
Check weather radar views for water vapour, rainfall, storm, etc.
Access the weather condition maps to see the temperature and conditions in your area.
Get insights on precipitation data to check if there'll be rain, snow, or ice in your area in the next few days.
Check out the contour maps to see the changes in temperature over the next few days.
Access data for local forecasts and personalize your app depending on your location.
App Features
AccuWeather has always been known to provide timely weather statistics for users, so here are some of the features that aid users on the app: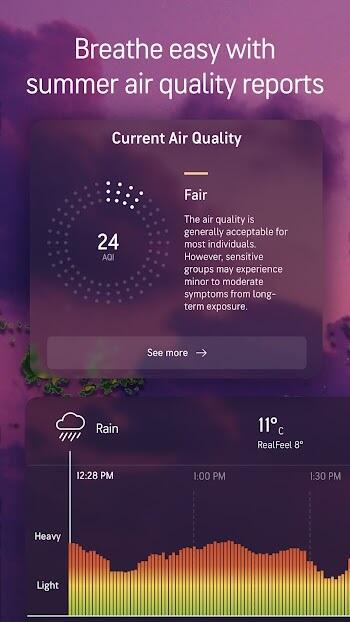 Accurate Feeds
The AccuWeather app gets its information, data, and statistics directly from the AccuWeather server, which is known to be accurate. Hence, users can rest assured of precise data supplied on the app. In addition, the moderators, across all server signals, verify all data to ensure there isn't any glitch that can cause misinterpretation or discrepancy in the calculations.
Live Weather Forecasts
You'll be able to access live weather forecasts anywhere in the world, which is not something that many weather apps can offer. In addition, AccuWeather ensures there I a real-time update for all the insights provided on the app. Hence, if there is any change in the weather, it immediately reflects when you check the love weather forecasts, which are as accurate as possible. There is also a MinuteCast forecasting feature that allows users to check weather updates minute by minute.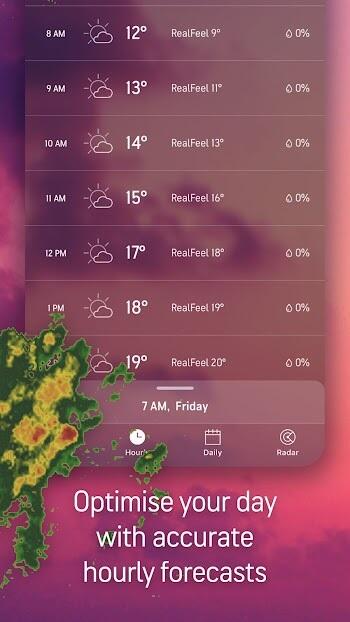 Local Weather
You'll be able to see the weather forecast for your whole region, country, county or state and even your local area. If you'd like to check the temperature and precipitation in your local area, check the Local Weather tab to see these data. This feature allows users to decide what type of clothing to wear or where and when they should go somewhere without coming back sweating or drenched in the rain. This feature also allows anyone to keep track of allergy outlooks to know if it's safe to go out.
WinterCast
This feature is specifically designed for anyone that wants to keep track of winter weather forecasts. So you can get warnings in advance anytime there is an imminent threat of snow falling. You'll also be able to check the degree of the snow once there is a warning of snow in the coming days. So, it helps you prepare ahead for the snowfall probabilities and accumulation.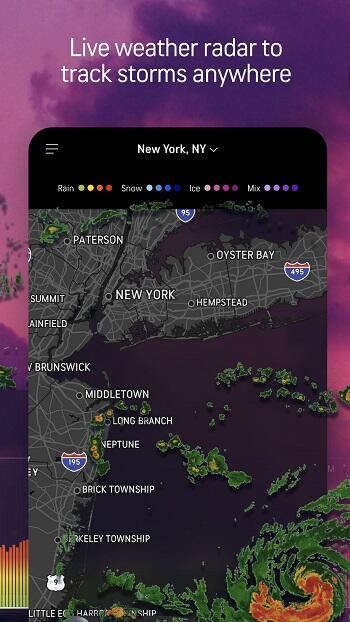 Daily Forecast
You'll also be able to use the Daily Forecast features to keep track of rain probabilities for the next few days. Like the winter forecasts, this feature allows you to get warnings in advance if there will be rainfall, cloud coverage, windstorms, etc. It's also an excellent way to check other atmospheric features such as air quality index, UV index, and snowfall intensity. This data is updated daily, not in real-time, so that you can check the daily updates for the next few days.
Advanced Weather Radar
This is a unique feature on the app that's equipped with more sophisticated weather report tools. You'll be able to access detailed data about the temperature, storm tracking, snow, rain, ice, etc.
RealFeel Temperature Technology
Even though the app can give accurate information about the weather conditions, you will only get the metric data and the real feeling of the temperature. However, the RealFeel Shade Temperature helps you better understand how the weather feels.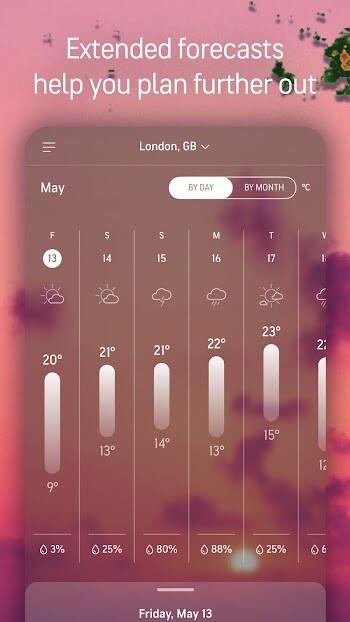 Weather Alerts
You don't have to constantly check the app for changes and updates in the weather conditions. Instead, you can keep track of every update with the Alert feature, which notifies you once there is any change in the data reports. Get weather alerts for severe temperature, precipitation, storm, snowfall, etc.
Conclusion
AccuWeather is a robust and resourceful app that helps you keep track of weather forecasts on your Android device. The app does more than offer weather forecasts for anyone anywhere in the world; it adds a series of other features that helps everyone live in harmony with their atmosphere and environment.